Hobson's Choice Opens Tonight
Today I am delighted to welcome the opening night of fantastic northern comedy Hobson's Choice. You may have already seen the fantastic national praise this production has received at its previous two venues, the Octagon, Bolton and New Vic, Newcastle-under-Lyme. This play is actually a three way co-production between these theatres and ourselves, with each venue pulling together to bring Harold Brighouse's classic tale to life.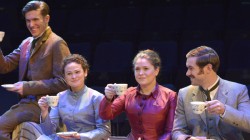 Brighouse was a prolific and popular playwright and novelist during his lifetime, although his enduring reputation rests almost solely on Hobson's Choice. The slightly curious title doesn't just refer to a title character in the play. 'Hobson's Choice' is a proverbial saying originating with one Thomas Hobson, a livery and stable owner from Cambridge. At his stable it was said that customers had no choice of horse but the next one that happened to be available and hence no choice at all. A slightly modernised equivalent came most famously from Henry Ford who said: "You can have any colour as long as it's black".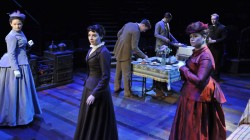 The story of the play focuses on bolshie boot maker Henry Hobson and his three unpaid daughters working in the family shop whilst  Henry spends most of his time in the pub. Maggie, Henry's gutsy eldest daughter, then threatens his cushy life by resolving to marry the underpaid apprentice and set up as her father's rival. Early girl power is brought to the forefront in this hugely popular, gritty comedy that remains a favourite, particularly in Brighouse's native Lancashire. Hobson's Choice runs from Thursday 17 April to Saturday 10 May.
Away from the stage we also have a unique opportunity to appear on the big screen at the Coliseum. Next weekend the theatre's Learning and Engagement team will be inviting all and sundry to join them at Oldham Central Library 11am to 3pm, to appear in a short film. The film will be based on our next production The Life and Times of Mitchell and Kenyon and will be shown at the Coliseum before every performance of the show. For the chance to see yourself on the big screen and more information please ring 0161 785 7007.
I look forward to seeing you throughout the run of Hobson's Choice which promises to be a great night out.
Kevin Shaw
Artistic Director