Hidden talents: Coliseum Housekeeper's paper craft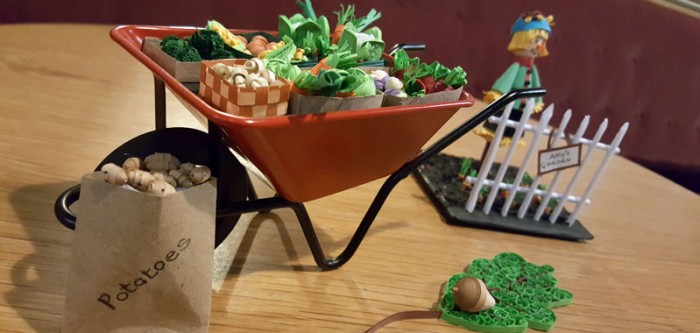 We all know about the talent on stage at the Coliseum, but backstage there are hidden creative talents just waiting to be discovered. One such talent is quilling, a long-time hobby of Shirley Hall, one the Coliseum's Housekeepers.
Quilling, also known as paper filigree, is the art of rolling narrow strips of paper into circles, shaping them, and putting them together to make a variety of artwork. The history of the craft dates back to the Renaissance, where nuns and monks would roll gilded paper remnants trimmed during the bookmaking process and use them to decorate religious objects. It later became a pastime of 18th and 19th century ladies, who would use quilling to decorate tea caddies and pieces of furniture with paper filigree. One such lady was Charlotte Brontë, who famously made a tea caddie as a present for her best friend Ellen Nussey.
These days, quilling is best known as a way of bringing personality to handmade cards, but as Shirley's work proves, you can make just about anything.
Shirley first got into quilling in 1996 after seeing a display of gift cards at the Royton Assembly Hall. She joined a local quilling class in Shaw and has never looked back. For her sister's wedding she handmade the invitations, signing-in book and table decorations and at the Quilling AGM her work was exhibited on the regional tables for the North West.