Hafsah Aneela Bashir on her relationship with poetry and her inspiration for the Poetry Health Service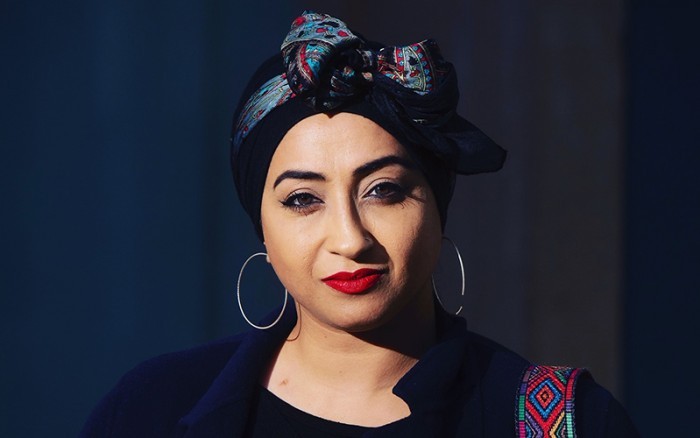 Ever since I was a young brown girl growing up in the East end of London, reading stories always helped me make sense of the environment around me. My curiosity would lead me to worlds different to my own, loving how it would draw the unfamiliar closer to me and expand my knowledge.
Poetry went one step further for me. It helped me articulate experiences that I was trying to figure out while growing up. Trying to come to terms with my place in the world, I found the work of Maya Angelou and Sylvia Plath. I had just got married and had moved to Manchester, my life significantly changing from a wild teenager to now motherhood. When I moved to Lahore, Pakistan, with my four children in a bid to explore my roots the USA bombed Afghanistan under the guise of saving Muslim women. That this was happening across the border, so close to me brought up all kinds of feelings for me and was the beginning of my journey into the world of poetry.
I started to write for the first time not about my past angst as a teenager or the rich beauty of the land I now found myself in but what it means for immigrant communities to belong, questioning my position in the world, what it means to be British but not British enough and how this would affect my children. As a South Asian Muslim woman of colour I could see many speaking for me in the media and vowed to use my voice to speak my own narrative – not have one assigned to me.
I turned to poetry for solace, for comfort, for emotional change and for pleasure. I didn't want to only read the traditional Western cannon we were taught through school and college but yearned for more. I explored Rumi, Bulleh Shah, Alama Iqbal and Ghalib opening up conversations with the elders of my family who knew couplets by these poets by heart.
I wanted variety – different voices, different races, different genders, experiences that I could relate to, concepts that I could understand. I relished Naomi Shihab Nye, Danez Smith, Warsan Shire, Audre Lorde, Claudia Rankine, Fahmida Riaz and Parveen Shakir to name a few of my favourites.
David Whyte once said that poetry is 'a language against which we have no defenses' and that stayed with me. Poetry finds its way through.
Some of the most eventful milestones of my very full life are often translated and remembered through a poem that I associated with it. So while people look back at memories I remember poems.
When my 25 year marriage came to an end and I began another a chapter in a new home, with a different landscape, it was Derek Walcott's 'Love after Love' that reminded me to meet myself again and to 'feast' on my life and who I have become. When my children wanted to venture out to a life beyond us as parents and discover new chapters of their own, it was Kahlil Gibran's 'On Children' that gave me comfort and tamed the pangs of a mother's heart letting 'the bending in the archer's hand be for gladness'. When I lost three very important people together in a short space of time, it was through poetry that I challenged my grief writing a poem titled 'To You' from my collection The Celox And The Clot – a way to channel all the love that had nowhere to go. When I faced challenges as a woman, I read Maya Angelou's 'Phenomenal Woman' and the work of Audre Lorde. I loved the powerful simplicity of Mary Oliver's 'Wild Geese' when my mind would get quite full – a beautiful reminder that we're all part of something much bigger that announces our place 'in the family of things'.
The fact that poetry has an ability to make sense of what you can't put into words sometimes, is not new. That poetry can transcend and communicate something to another human regardless of our common or uncommon background across time and space, and then in that moment create an emotional change within us, feels like nothing short of a miracle to me. Especially in a world that can leave many of us feeling isolated, cold and disconnected at times. Just take lockdown as an example. As the government introduced strict measures to keep us in our homes, I shared poetry and short stories everyday for 75 days straight. It was poetry that connected so many of us together.
.

I guess the Poetry Health Service is there to extend that connectivity. Offer small miracles of warmth and kindness if and when someone needs it. It's born from love and connectivity and I hope it will serve poems to the people by the people for the people for much longer than I'll be around. As poetry does.
---
Hafsah Aneela Bashir is a Manchester-based poet, playwright and performer and is founder and co-director of Outside The Frame Arts. Winner of the Jerwood Compton Poetry Fellowship 2019, she was writer-in-residence with Manchester Literature Festival, is an Associate Artist with The Poetry Exchange, an Associate Artist with Oldham Coliseum Theatre and a Supported Artist at Royal Exchange Theatre. Her play Cuts Of The Cloth was commissioned for PUSH Festival 2019. Her debut poetry collection The Celox And The Clot is published by Burning Eye Books. She has worked creatively with Manchester International Festival, Ballet Black Ldn, HOME Manchester, Manchester Literature Festival and ANU Productions Irl. Before Covid-19 she was developing her SICK! Festival commission, Four Dholis And A Divorce exploring mental health set in the South Asian community. She is currently writing the libretto for The Bridge Between Breaths, a Tête-à-tête commission in collaboration with Gareth Churchill and FormidAbility.
The Poetry Health Service (PHS) is an Oldham Coliseum Theatre Homemakers commission, in partnership with HOME. Interaction design by Coney represented by Gareth Damian Martin & Tassos Stevens
It opens to the public on Thursday 30 July. Learn more on HOME's website and visit the PHS online at www.poetryhealthservice.com
---
More:
Literary apothecary Poetry Health Service (PHS) opens virtual doors
Q&A with Hafsah Aneela Bashir and HOME
---