Growing Talent
From the drawing board to the moment the curtain is first raised on opening night, right through to the final bow of the last performance there are dozens of people involved in every show.
Ultimately though, it is the cast on stage who are the only people an audience sees for the duration of a production. Therefore the need to have a vibrant crop of talented actors, dancers, musicians etc. is vital to allow theatres to put on first-rate shows. This is especially true for rep theatres such as ourselves who could go from a musical, to comedy to drama productions and back again within the space of a few months.
That is one of the reasons The Coliseum has links with ALRA, the Academy of Live and Recorded Arts, which is one of Britain's leading acting and drama schools. Many talented seasoned actors of today learnt their craft at drama schools like ALRA and worked their way up. Having initially been established in London a second school was opened in Wigan which is great for the North-West and the Coliseum with more young acting talent in the area.
Talented actors are invaluable to us as there wouldn't be a show without those extroverted people turning their hand to different characters and throwing themselves into the action. Our last ALRA production burgeoning with young gifted actors was Shakespeare's The Tempest with the young cast putting in some great performances.
The next ALRA production coming up at the Coliseum is George Orwell's classic satire Animal Farm. I am delighted to again be working so closely with ALRA's postgraduate acting students and directing the still pertinent political fable which remains as relevant today as when it was first published in 1945.
Taking place on Wednesday 16 and Thursday 17 October our audience will have a chance to see a hugely talented cast of actors who may well be taking centre-stage in some of our future in-house productions.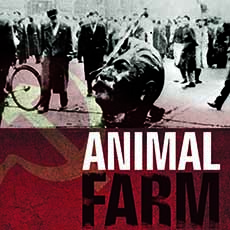 We are just one of a rich vein of producing theatres in the M62 corridor and increasingly other casting directors and agents are looking towards the North West for new and upcoming acting talent. We are lucky to be in an area which is so rich and diverse in its theatre output and offering opportunities to gifted individuals allows for the actors of tomorrow to further hone their craft.
See you at the theatre,
Kevin Shaw
Artistic Director