Outside the Box Festival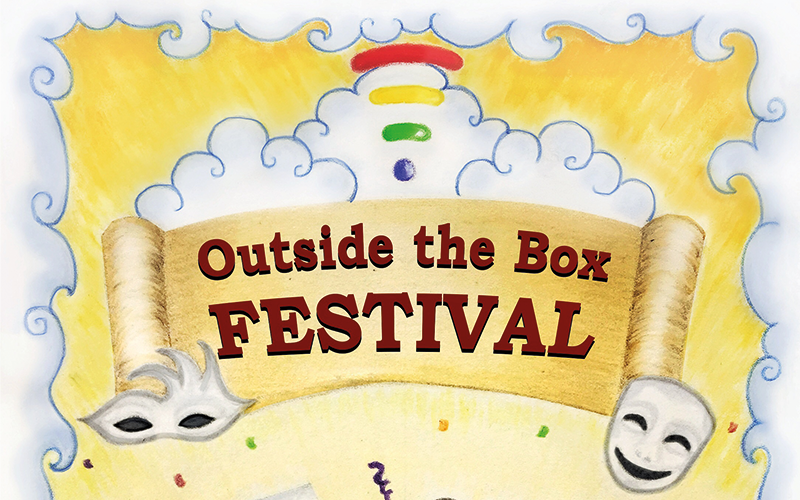 Want to see if your little explorers have what it takes to get to the Magical Make-Believable-Ball? Or perhaps get moving and shaking with some fun Zumba? Maybe you'd like to try your hand at writing, some stretching, or some singing for happiness?
Then Outside the Box Festival is for you – join us for a weekend of creativity and fun!
Outside the Box Festival has been curated, programmed, and delivered by young people who are currently participating in our Teaching Theatre Pathways course. For more information email chelseamorgan@coliseum.org.uk.
---
Saturday 10 April
11am – 11.45am – The Magical Make-Believ-a-ball
Bring your little explorers on an interactive, online adventure filled with drama, dancing, and singing where a little bit of imagination goes a long way!
The Make-Believ-a-ball is suitable for children aged 4-7 and their families.
Tickets: Free

---
1pm – 1.45pm – ZUMBA
Get moving and shaking with Jade Williams.
Let's bring in Spring together and really shake off the Winter. The only requirement is to have fun moving along to some tunes all from the comfort of your own home – no experience needed.
Dance or Die with Jade is about the experience of moving to the music, not getting all the moves right. So let's just have a good time moving to some absolute bangers!
Suitable for any age and any experience level.
Tickets: Free

---
2.30pm – 3.15pm – Singing for Happiness
Get ready to sing your heart out as we guide you thorough some mega music hits you are sure to know, and maybe introduce you to some new tracks!
Bring all the fun of the karaoke to your living room- you are guaranteed to leave this workshop with a huge smile on your face!
Suitable for all ages and all experiences.
Tickets: Free

---
Sunday 11 April
12.30pm – 1.30pm – Take a breath: Yoga & Meditation
Join yoga teacher Cat Fraser for a fun and relaxed introduction to breathwork, yoga and meditation. The perfect way to relax and refresh.
All you need is loose, comfortable clothing that you can move around in (pyjamas are perfect if you are having a lazy Sunday!), and have a cushion or folded blanket to hand. There's no need for a mat as floor space is all you need.
Suitable for the whole family – all bodies welcome.
Tickets: Free

---
2pm – 4pm – Pen to Paper Writing Workshop
Ever wanted to try creative writing but didn't know where to start? Or maybe you have a story in you and need help getting it out? Or do you just want to spend some time being creative and having fun?
Then Pen to Paper beginners writing workshop is for you.
This workshop is suitable for people aged 13+ and aimed at beginners.
Tickets: Free

---
Outside the Box- Festival at Home Boxes
Coming soon…
Can't join us online for Outside the Box Festival? Or just want more? We are releasing some free limited edition Festival at Home boxes filled with creativity and love delivered straight to your front door.
Want to be the first to know when the Festival at Home Boxes are ready to order? Email chelseamorgan@coliseum.org.uk