Festive opportunities for schools
We have created some brand new panto-related offers for schools, planned especially with full Covid-safety and social distancing procedures.
Each year thousands of children look forward to their school trip to see our pantomime, and whilst our usual festive spectacular cannot happen this year because of the Covid-19 crisis, we hope that these offers will help to keep some panto magic alive in 2020. Book by Monday 30 November.
These offers are separate, however schools that book a performance of Panto Storytelling can also receive a Panto Box free of charge a week before their Storytelling performance.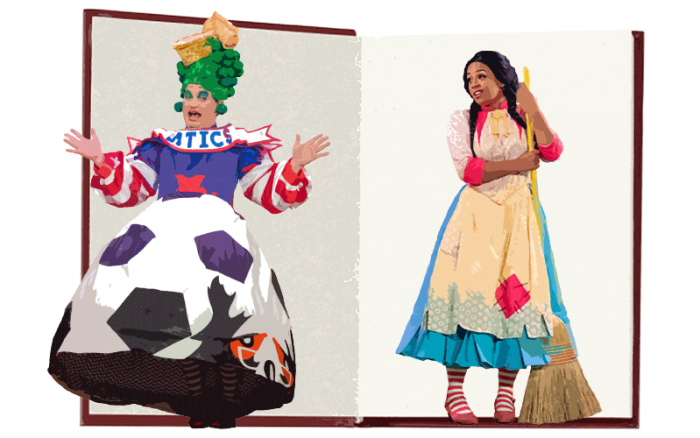 ---
Panto Storytelling
Straight off the Coliseum stage, much-loved panto characters Dame Dotty Trott (actor Richard J Fletcher) and Cinderella (actor Shorelle Hepkin) are heading out on the road to visit schools and tell their stories as you've never heard them before.
Choose from either Jack and the Beanstalk with Dame Dotty Trott (actor Richard J Fletcher) or Cinderella with Cinderella herself (actor Shorelle Hepkin). The famous tales will be told from the perspective of the character, involving the pupils using Mantle of the Expert.
Storytelling with a difference
Whilst journeying through a 45-60 minute version of Jack and the Beanstalk or Cinderella expect a few new twists in these familiar tales. The stories are told from the perspective of the character that pays your school a visit. Does Dotty Trott really think she is the true Giant Slayer? Find out how tough Cinderella really had it when she reveals all the Ugly Sisters' secrets.
Mantle of the Expert
The actor will set out a unique situation in relation to the story, and pupils will take on the role and responsibilities of an expert team. As the team, they work on tasks and contribute to the progression of the story and key decision making. They may also contribute individually or in small groups, delivering the lines of characters we do not see, creating soundscapes for dramatic moments, or voting on which pathway should be taken.
For our storytelling adventure, Dame Dotty Trott will ask the pupils to become 'Trott's Army' who are volunteers from the village that want to protect it from the Giant and keep it tidy. In Cinderella, the pupils take on two roles: the Magic Pumpkins who befriend Cinderella and help her prepare for the ball, and the Palace Police who aide the Prince in his search for the owner of the lost shoe. This technique allows for active participation and links to other curriculum areas.
Mantle of the Expert is not a simulation invented by the actor to 'trick' the pupils into thinking what is going on is real, from the beginning they are aware that they are involved in a fiction. Consciously going in and coming out of the fiction is an important dimension of the Mantle of the Expert approach and much like imaginative play, the pupils are always aware that the fiction is something that can stop and start as and when they or the actor decides.
Covid-Secure
Developed in line with national Covid-Secure policies, the storytelling and Mantle of the Expert model fully operates within Social Distancing guidelines and does not require interaction or close proximity that you may see in a drama lesson or in a usual stage production. Bespoke guidelines will be created for the actor to follow whilst at your school and a risk assessment will be provided before their visit.
Booking Information
Choose between Jack and the Beanstalk with Dame Dotty Trott or Cinderella with Cinderella, subject to availability.
Performances are tailored to be presented in the classroom but can be altered for alternative indoor settings.
One performance per class/bubble.
Performance time: 1 hour
Performances available: Monday 7 – Friday 18 December (excluding weekends).
Multiple bookings available within the same school: up to three per day of the same story (two in the morning and one in the afternoon).
Pricing: £150 per class/bubble  (£100 for each additional performance booked within the same school).
Digital alternative available: £50 for two weeks access to a pre-recorded Storytelling video (available from Monday 7 – Friday 18 December), plus panto activity packs usually found in the Coliseum's pantomime programmes.

Book by Monday 30 November
To book email: boxoffice@coliseum.org.uk / LED@coliseum.org.uk to discuss your school's unique requirements or phone Box Office on 0161 624 2829 (lines open Monday – Friday 10am – 4pm)
If your school visit has to be cancelled for any of the following reasons we will explore options with you to reschedule, offer a digital alternative, or arrange a refund if no other option is available. Cancellation reasons include: one of our actors  becomes ill, a school bubble has to isolate, government COVID-19 guidelines change.
---
Panto Box
A contact-free and interactive virtual workshop with specially recorded videos that introduce and explore the creative elements of a pantomime, plus access to real life costumes, props and set designs. Suitable for Key Stage 1 and Key Stage 2.
The Panto Box helps students delve into the world of the theatre, with specially recorded videos that introduce and explore every single creative element of a pantomime. This contact-free virtual workshop is tailored to allow a class to interact with the videos and explore the resources over the space of one 1-hour lesson, or in smaller bitesize chunks throughout the week. The activities included within the pack help to introduce students to the concept of drama and theatre as a subject, as well as incorporating art-based activities and encouraging group-based discussion and teamwork. The Panto Box is designed to help
creatively inspire your students, as well as providing each pupil with further knowledge of the UK's most popular form of theatre.
Panto Box contents
Your class/bubble will receive:
A unique code to receive specially-recorded videos featuring guided messages from pantomime characters Cinderella and Dame Dotty Trott.

Costumes that have featured in past Oldham Coliseum pantomimes.

An assortment of props that have featured in Oldham Coliseum pantomimes.

Previously unseen laminated designs of past pantomime productions.

Scripts of a scene from a past Coliseum pantomime available for your school to explore within drama sessions.

Further laminated resources to aide the class's learning.

A guidance sheet for the class teacher explaining how each section of the workshop will run, as well as detailing which resource applies to each guided video.
 
Covid-Secure
Developed in line with national Covid-Secure policies, the Panto Box has been specially created so that classes can explore the magic of the pantomime without requiring a Coliseum staff member to visit the school.
The virtual workshop has been designed for students to take part in within their own classroom, and none of the activities require pupils to leave their desks, allowing safe Social Distancing at all times. Coliseum staff will ensure that the contents of the Panto Box is thoroughly sanitised before delivery to each school and we are making sure that public safety comes to the forefront of each of our activities.
Booking Information
Panto Box is available during November and December, subject to resource availability.
Suitable for students in Key Stage 1 and Key Stage 2.
Pricing: £50 per day, up to five days maximum (participating schools will have access to the guided videos until the end of December).
Book by Monday 30 November
Email LED@coliseum.org.uk to book
---