Get Behind Us!
Support the Coliseum's future and Save Christmas in Oldham for generations to come. Donations will be matched by local businesses and Trusts.
For over 100 years generations of people from Oldham, Greater Manchester and across the North West have come to Oldham Coliseum Theatre to experience the magic of our nationally renowned pantomime and enjoy our year round programme, ranging from award-winning drama to music and comedy.
This year to keep all our wonderful audiences safe and adhere to social distancing guidelines, we can't present the pantomime. The Coliseum's pantomime runs for three months presenting over 80 live performances. With 35,000 people coming to see the show during the run our auditorium is regularly at 90% capacity, and the foyer and bar spaces are busy with happy families purchasing drinks, sweets and merchandise before the show and in the interval.
The Coliseum is a charity and having been closed with no ticket income since mid-March – and having had to cancel or reschedule our programme of drama, music and comedy we're facing a very tough Christmas and an uncertain future.


Since we closed the theatre to the public we have been working closely with the Government and our industry body, and we are incredibly grateful for all the support the Coliseum has received. Now, an urgent fundraising campaign to raise £40,000 is our only available option to help secure the Coliseum's future. Thanks to the generous support of local businesses and Trusts donations can be matched.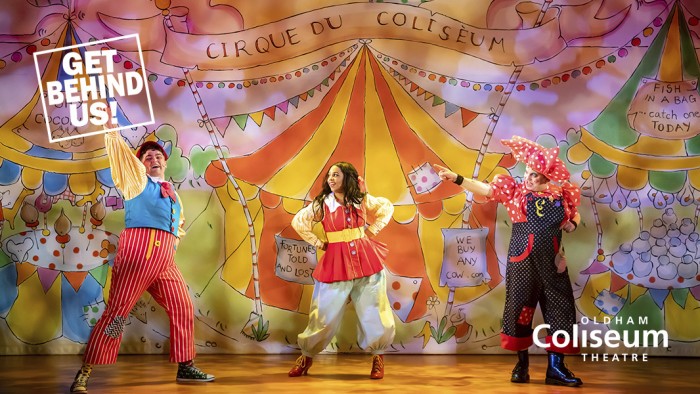 "I joined Oldham Repertory Theatre Club in 1962. Friends and I went every Wednesday night (a different show every week!) and I have seen every panto. The theatre only closed at Oldham Wakes when the whole town closed down. We also used the theatre bar as our local, there most nights of the week!! We made many friends there. Please support the theatre as much as possible… It is a huge part of the history and future of Oldham." – Campbell Robertson, Theatre Patron.
The Coliseum contributes millions to Oldham's economy and has helped to launch the career of many famous faces. Income from our work on stage helps to fund our vital work in the communities of Oldham with over 50,000 sessions per year – supporting some of the most underprivileged young people in the country, working with people with additional needs, offering training, bringing our richly diverse population together and building confidence.
We believe the Coliseum, its history and its future, are worth fighting for. 
For many years you have come to the Coliseum at Christmas to shout 'it's behind you!', now we're asking you to Get Behind Us and help to save Christmas in Oldham for generations to come.
Please donate, share this page widely and do what you can to help us to make sure our theatre survives this crisis.
Thank you.
#GetBehindUs