From the arches to Oldham: 53two present Tinned Up in the Main House Takeover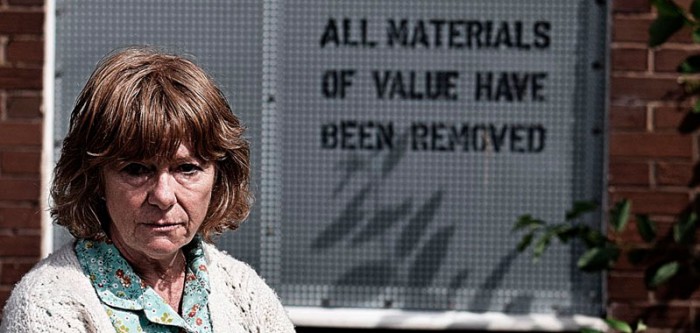 As part of this year's Main House Takeover, Manchester's 53two and Manchester Actor's Platform (MAP) present Chris Hoyle's Tinned Up on the Coliseum's Main Stage from Tuesday 24 – Thursday 26 September.
Tinned Up was inspired by Salford streets affected by demolitions, where people were forced to leave their homes to make way for regeneration.
In it we meet Shirley Parkin, who has lived at number ten Brook Street, Langworthy, all her life and is adamant that she isn't going anywhere. A spirited spinster, she has defied the council for years, refusing to move out of her modest two-up-two-down terrace. Beryl, a foul-mouthed friend, Joy, an unhappy single mother and Daz, a thirty-year-old stoner, campaign alongside her to keep their local park from the cold grasp of profit-hungry developers.
We spoke to Simon Naylor, Artistic Director of 53two, about the production:
Why did you choose to produce Tinned Up?
As 53two is forced to move out of its home for a development, a play about being forced out of a home for development was an obvious choice! Tinned Up is fantastic – a beautiful piece of theatre from Chris Hoyle. I had the pleasure of directing The Newspaper Boy at 53two, which was also written by Chris, and this piece is just as good. Heartwarming, moving, powerful, relevant and hilariously funny – a classic Hoyle!
What are 53two and Manchester Actor's Platform up to right now?
53two are fundraising for our new home! We're a registered charity and we spend as much time and money as we can on supporting emerging talent and providing accessible theatre. Currently, without a theatre to produce in, we're relying on brilliant venues like Oldham Coliseum to give us a home. We've also been lucky enough to secure studio spaces in central Manchester, from which we can still continue to support other charities and artists. Planning is due to be submitted for the new venue very soon, then it's all systems go!
What are you most looking forward to about coming to the Coliseum?
For me, Oldham has always been a part of my career – I started attending the Youth Theatre Workshop there at age 13. I'm also from Bury and so, although a staunch Manc, I feel very strongly about Greater Manchester being as much a part of this great region's bustling personality. Oldham is just that – the theatre is the centre of the community and a beautiful venue, steeped in history and run by a team working incredibly hard to produce quality theatre for everyone. On top of this, Oldham does have some areas that I feel have done or, indeed, are a part of what this piece is about and so, again, it makes sense to use this play to start or continue important discussions about gentrification, a growing population and regeneration of the area.
Spanning two of Deansgate's famous tunnels, 53two were one of the central venues for Manchester's independent theatre scene, operating as a theatre with space for exhibitions, gigs, events, celebrations, rehearsals, classes, conferences and more. Having closed their doors earlier this year whilst they prepare to move to a new premises to continue their work, 53two are currently operating studios in central Manchester providing rehearsal, workshop, meeting and casting space.
Tinned Up runs at the Coliseum as part of the Main House Takeover from Tuesday 24 – Thursday 26 September. Click here to learn more and book tickets.
The Main House Takeover brings the new and often daring work seen across the North West's independent theatre scene to Oldham's historic Main Stage. The Takeover also features a One Night-Special showcasing the Coliseum's pick of this year's Greater Manchester Fringe Festival.
The Greater Manchester Fringe Festival takes place in venues across Greater Manchester throughout July, with over 100 shows covering a range of genres. We're busy seeing as many shows as possible throughout the festival to select the winner of the Coliseum's Pick of the Fringe Award, who will then have the opportunity to perform at the Coliseum in September.
See our Pick of the Fringe on Friday 27 September. Click here to learn more and book tickets.