Four Minutes Twelve Seconds: In conversation with Co-Directors Chris Lawson & Natasha Harrison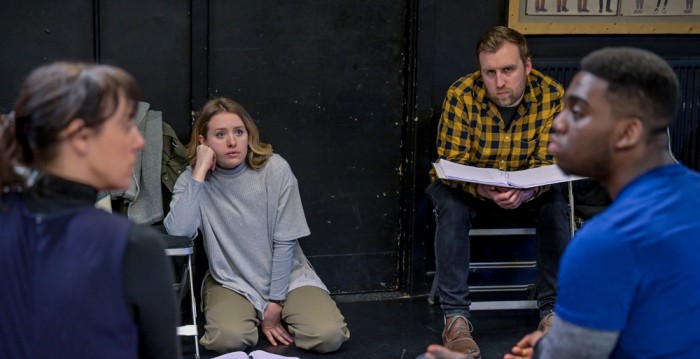 The Coliseum's Northern premiere of Olivier Award nominated play Four Minutes Twelve Seconds runs at the Coliseum from Friday 21 February – Saturday 7 March. In it, we meet Di and David, parents to a teenage son on a journey of discovery to decipher how an intimate video of him wound up on the internet.
We spoke to the production's Co-Directors Chris Lawson and Natasha Harrison about the play and their roles as Directors:
---
How would you describe Four Minutes Twelve Seconds?
Chris: In its simplest form it's about cause and effect; and the consequences of an action that when you do it in that moment you're perhaps not aware of what it could lead to.
Why did you choose to produce Four Minutes Twelve Seconds here at the Coliseum?
Chris: You have to choose the script with your audience in mind. Why should they hear this story? Why is it important for it to be told now?  It's important for the Coliseum to speak to the people who make up our community and Four Minutes Twelve Seconds is a very contemporary play that explores a lot of themes and issues that are relevant today.
The play is particularly interesting for me because it's from the perspective of two parents, and it's about observing things like social media that often young people understand more than parents do. Coercive control, internet safety, and the overly generalised approaches around respect and choice in terms of Social Media are things that are being talked about in the news every day, so we should definitely talk about them on stage.
Natasha: Something that [Chris] told me about this was this idea that 'What happens in this play speaks to different levels of class as well.' It doesn't feel as though it's just a play for one set of people, and it's generational with a lot of the themes running through different age groups as well. I think there's something really exciting about it feeling as though it speaks to the landscape of Oldham really well.
What style of play can we expect?
Natasha: For me it's about finding a balance of something that feels quite stylised, versus something that feels quite domestic. Anna's [Reid, Designer] created a great space for us to be able to work some magic
Chris: It's the theatrical version of something you would binge on Netflix, it's your kind of BBC 9-o'clock drama.
What is the role of the Director when creating a play?
Chris: For me the role of a Director is to create a vision that you believe in in relation to the script. If you're working with a playwright's script your first job is to give justice to their words and pull out your interpretation of meaning and themes within the text.
Following this, it's about collaboration and pulling together a team who support you, from designers to movement directors, to the entire production team. Each time a collaborator comes on board someone fresh brings a new perspective. It's about having a vision and being open to that changing in response to those who are with you in the room. But ultimately what it all comes back to is telling the story told by the playwright.
Natasha: I would agree. I primarily work as a movement Director so for me, as a director, I'm thinking more about the physical landscape of the play and about the characters' bodies. We want to make sure that although we're using the script to work towards our vision, we are also exploring this vision physically with the non-verbal movements of the actors.
Have you got any influences when you think about this play?
Chis: Music influences me quite a lot. I'm a bit obsessed with asking 'if this play was a song what would it be' and there's a lot of Scandinavian music that's influenced it.
Natasha: I'm a big user of Pinterest, so as I'm reading the play I'll compile a list of referenced images that really speak to me and make me think of what the transitional language of the piece is going to be. I would encourage people to think visually about a piece as well as focusing on the language.
What would you like audiences to take away from Four Minutes Twelve Seconds?
Natasha: We're very excited for Oldham to see something that's quite different that they haven't see here before.
Chris: It's about watching something and not taking everything on face value. I think the play does that a lot and it kind of encourages you to be strong and independent in your own thoughts of what you see and what you think of it in times where you might be influenced or made to doubt yourself.
---
Four Minutes Twelve Seconds runs from Friday 21 September – Saturday 7 March. Click here to learn more and book tickets