Forever Young – our first show of the Spring-Summer season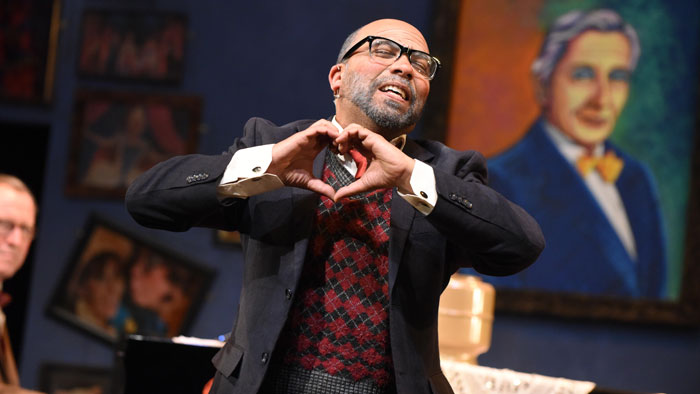 This week we open the first of our spring/summer season shows – Forever Young has already had three sell-out runs at Nottingham Playhouse and this year we're co-producing with their team to take the show out of Nottingham onto its first ever UK tour.
Based on the original 2001 German 'song drama' Thalia Visa Social Club at the Thalia Theatre in Hamburg, Forever Young jumps forwards to 2050 when the Coliseum no longer runs as a theatre – but the pantomime actors are still in residence. The Oldham Coliseum Home for Ageing Thespians has a great pictures of well-known Coliseum faces on the wall – and Kevin Shaw is featured as ashes in an urn on the piano!
The show has a really heart-warming message about growing old but not growing up. There are a lot of high-energy musical numbers with pop songs from over the decades and certain of the characters get up to some quite naughty tricks. One of the things that sets this production aside from most other musical theatre, or theatre as a whole in fact, is that the cast are playing older versions of themselves, so there's a real honesty there that some of the characteristics are natural to the actor playing them.
The Coliseum is well known for its annual pantomime, so a comedy based on retired pantomime actors is very much at home in here. We'd like to think that if the story were true our beloved pantomime dame Fine Time Fontayne would be in residence raising a glass to the theatre each evening.