February 2020 Newsletter
This month we open our first production of 2020, topical thriller Four Minutes Twelve Seconds.
We've also announced the cast for our first Coliseum-produced family show outside of the festive season for almost 20 years, The Jungle Book, and we sat down for a chat with Coronation Street and Whisky Galore actress Christine Mackie about her semi-autobiographical show, Best Girl. 
Read all about it – plus even more updates on what's going on behind the scenes at the theatre – below.
---
Four Minutes Twelve Seconds opens tomorrow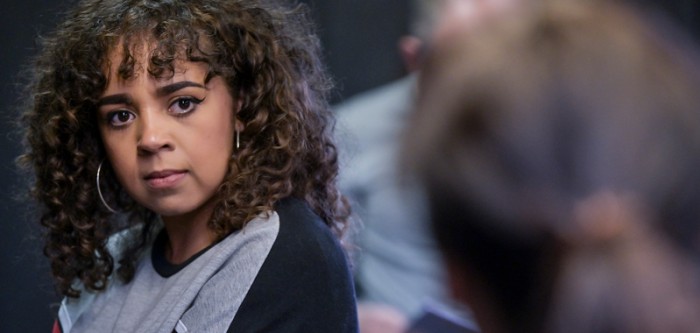 Four Minutes Twelve Seconds won a Critics Circle Award and was nominated for an Olivier Award at its London debut in 2015. The Coliseum's production, opening this Friday, 21 February, is its Northern premiere.
Di and David have devoted their lives to giving their teenage son Jack everything they never had. When Jack comes home one day with a bloody nose they begin a journey of discovery to decipher how an intimate video of him wound up on the internet, what happened in the video itself and how far they are willing to go to protect him.
Our production is Co-Directed by Coliseum Acting Artistic Director Chris Lawson and Natasha Harrison.
Read our interview with Chris Lawson and Natasha Harrison on Four Minutes Twelve Seconds here.
The cast features: Jo Mousley as Jack's mother Di; Lee Toomes as his father David;  Alyce Liburd as his (ex) girlfriend Cara and Noah Olaoye as his best friend Nick. One character you may have noticed missing from this cast list is Jack himself, and that is because we as an audience never meet him. Instead we're forced to rely on his family and friends' versions of events as we, as well as his parents, attempt to decipher the villains from the victims.
Jo Mousley was last seen at the Coliseum in our hit 2018 production of Relatively Speaking and our Manchester Theatre Award winning 2017 production of The Father. Her other recent credits include: Hello and Goodbye at York Theatre Royal and Be My Baby, Hamlet, A Christmas Carol, Europe and Road at Leeds Playhouse.
Lee Toomes completed a national tour playing Brian in The Full Monty earlier this year. His other credits include Beryl at West Yorkshire Playhouse and New Year New Work at Hull Truck Theatre.
Alyce Liburd's notable credits include: the 2019 programme at the award-winning pop-up Shakespeare's Rose Theatre in York, Out of Joint's national tour of Rita, Sue and Bob Too and Red Ladder's The Parting Glass.
Noah Olaoye is a current student at ALRA North, due to graduate in July 2020. His professional experience to date includes the workshop of Hope Mill Theatre's The Exonerated.
Four Minutes Twelve Seconds runs from Friday 21 February – Saturday 7 March. Click here to learn more and book tickets.
---
Cast announcement: The Jungle Book

This Spring the Coliseum presents a musical adaptation of Rudyard Kipling's famous story The Jungle Book, a perfect treat for the whole family to enjoy.
Join Mowgli the man cub, his wolf pack and his friends Baloo the bear and Bagheera the panther in this classic coming of age story; packed with memorable songs, humour and brilliant storytelling. Can Mowgli outwit the cruel and powerful tiger Shere Khan? With the help of his friends he learns the law of the jungle and confronts the dangers in his path.
The Jungle Book is the first family show that the Coliseum has produced outside of the festive season for almost 20 years. We're famous for our annual pantomime and we're excited to build upon this with another brilliant theatre experience for all ages this Easter. Performed by a cast of seven talented actor-musicians who play their instruments whilst singing, dancing and acting, The Jungle Book explores the universal themes of family, belonging and identity.
Our cast features Tamara Verhoven Clyde as Akela the wolf leader, Kaa the snake and Leela the wolf cub, Ebony Feare as Mowgli's wolf mother Raksha, Matthew Ganley as Shere Khan the tiger, Neil Hurst as Baloo the bear, Ani Nelson as Bagheera the panther, Jason Patel as Mowgli and Tarek Slater as Mowgli's wolf father Hiran and Mugger the monkey.
Tamara Verhoven Clyde plays Akela the wolf leader, Kaa the snake and Leela the wolf cub. Tamara is a recent graduate of East 15 Acting School.
Ebony Feare plays Mowgli's wolf mother Raksha. Ebony's recent credits include Treasure Island at Octagon Theatre Bolton, The Winter's Tale at National Theatre and Babe at Mercury Theatre Colchester.
Matthew Ganley plays Shere Khan the tiger. Coliseum audiences will recognise Matthew from his performances in the Coliseum's productions of Bread & Roses, The Ladykillers and Our Gracie. Matthew's other credits include the national tour of Around The World in 80 Days, Prince and the Pauper at New Vic Theatre in Stoke on Trent and Maggie May at Liverpool's Royal Court Theatre.
Neil Hurst plays Baloo the bear. Neil began his career in comedy as a song and dance act supporting the likes of Bruce Forsyth, Bob Monkhouse, Ken Dodd and Cannon and Ball. His theatre credits include the national tours of Early Doors Live and Fat Friends the Musical.
Ani Nelson plays Bagheera the panther. Ani's recent credits include: Little Miss Burden at The Bunker Theatre in London, The Trick at The Bush Theatre in London and Abigail's Party at Hull Truck Theatre.
Jason Patel plays Mowgli. Jason's credits include The Famous Four and a Half Go Wild in Thetford Forest for Eastern Angles and Peter Pan at The Dukes, Lancaster.
Tarek Slater plays Mowgli's wolf father Hiran and Mugger the monkey.  Tarek's recent credits include Fell for Edgeways Productions, Planet Caravan for People Zoo Productions and Down Ashton for Octagon Theatre Bolton. In 2016 Tarek was nominated for Best Actor at the Manhattan Short Film Festival for his role in the short film Hope Dies Last.
Alongside the musical on stage the Coliseum is offering family workshops  Jungle Fun: Family Activities where young people and their grown-ups have the opportunity to make an animal mask and bring jungle characters to life through immersive drama games.
Perhaps best known for the Disney animated version, The Jungle Book was originally a collection of short stories written by Rudyard Kipling in 1894.  Kipling was born in Mumbai (or Bombay as it was called then) in 1865. When he was five he was sent to England to live with a foster family in Southsea, but he returned to India when he turned 16 and became a journalist, writing poems and stories in his spare time.
We've teamed up with Waterstones in Oldham's Spindles Town Square Shopping Centre to offer 10% off the book of The Jungle Book for anyone who has booked tickets to the Coliseum's musical of The Jungle Book (proof of purchase required).
The stage-musical has been adapted by Olivier award winning writer Jessica Swale and will be directed by former Artistic Director of The Dukes, Lancaster Sarah Punshon, with songs by Joe Stilgoe and Musical Direction by Tayo Akinbode. Oldham Coliseum Theatre's production of The Jungle Book is sponsored by Jigsaw Homes.
The Jungle Book runs from Friday 2 – Sunday 19 April. Click here to learn more and book tickets.
---
Coming soon: Absurd Person Singular

London Classic Theatre return to Oldham this March with their production of Alan Ayckbourn's comic masterpiece Absurd Person Singular.
Three married couples. Three kitchens. Three Christmas parties.
Sidney Hopcroft, a small-time tradesman, persuades wife Jane to throw a party hoping to find favour with a bank manager and local architect. As celebrations begin, class differences and naked ambition combine to hilarious effect as, one by one, the characters seek refuge in Jane's kitchen. Over the next two years, the Jacksons and Brewster-Wrights take turns to host festivities. But Sidney's star has begun to rise and roles are increasingly reversed as the cracks in the other couples' marriages begin to show.
Absurd Person Singular is directed by founder and Artistic Director of London Classic Theatre Michael Cabot directs. The cast includes John Dorney as Geoffrey Jackson, Felicity Houlbrooke as Jane Hopcroft, Helen Keeley as Eva Jackson, Rosanna Miles as Marion Brewster-Wright, Graham O'Mara as Ronald Brewster-Wright and Paul Sandys as Sidney Hopcroft.
Michael Cabot has directed all forty-one London Classic productions since their touring debut in 2000, including: No Man's Land, My Mother Said I Never Should, Private Lives, Hysteria, The Birthday Party, Waiting for Godot, Absent Friends, Entertaining Mr Sloane and Equus.
John Dorney plays Geoffrey Jackson. His previous credits include Hysteria, Absent Friends, The Caretaker and Humble Boy for London Classic Theatre.
Felicity Houlbrooke plays Jane Hopcroft. Felicity will be familiar to Coliseum audiences from her previous roles in London Classic's My Mother Said I Never Should and the Coliseum's production of Hard Times.
Helen Keeley plays Eva Jackson. Her previous credits include Private Lives and The Importance of Being Earnest for London Classic Theatre.
Rosanna Miles plays Marion Brewster-Wright. Her theatre credits include The Crucible UK tour and Cinderella  at Winchester Theatre Royal.
Graham O'Mara plays Ronald Brewster-Wright. Graham was last in Oldham for the London Classic Theatre production of No Man's Land in September 2019. His other theatre credits include Romeo and Juliet, The Merry Wives of Windsor, Othello, A Midsummer Night's Dream and The Wind in the Willows for Storyhouse, Chester.
Paul Sandys plays Sidney Hopcroft. His previous credits include Private Lives, Entertaining Mr Sloane and The Importance of Being Earnest for London Classic Theatre.
Absurd Person Singular comes to Oldham as part of a national tour from Tuesday 10 – Saturday 14 March. Click here to learn more and book tickets.
---
Coliseum out and about: The Last Quiz Night on Earth and Plant Fetish

In collaboration with live@thelibrary we're bringing innovative independent theatre to venues across the town centre next month.
Performance artist Chanje Kunda invites you to take a leaf out of her book with Plant Fetish at Oldham Library.
Chanje was suffering with stress and anxiety when she first discovered that plants soothe the soul. She learnt that some women in Mexico, fed up with men, were getting married to trees instead. Trees aren't very talkative, but they are tall, do great things for the planet and are renowned for their wood.
This show maps her journey and features a harem of stunning tropical plants that dress the stage. We are forever comparing our lives to those of others on Social Media and the superficial numbers game that is online dating apps. Plant Fetish will inspire you to embrace foliage over FOMO (fear of missing out). It runs on Tuesday 10 March at Oldham Library.  Click here to learn more and book tickets
The Last Quiz Night on Earth is an immersive new play combined with a pub quiz, with pie and peas included in the ticket price, at The Bank Top Tavern.
An asteroid is heading toward the earth, what would you do? Head to your local for a pub quiz of course! Landlady Kathy invites audiences to the last quiz night on earth with quizmaster Rav. He's the host with the most, but with time ticking Fran and Bobby bring plenty of drama when they arrive at the quiz with some unresolved business. Expect the unexpected to the bitter end as the show gets quizzical.
The Last Quiz Night on Earth is presented by Manchester's Box Of Tricks Theatre. It runs on Monday 16 & Tuesday 17 March at The Bank Top Tavern on Oldham's King Street (postcode OL8 1ES). Click here to learn more and book tickets.
---
Best Girl: Interview with Christine Mackie

Coming to the Coliseum Studio this April, Best Girl is a semi-autobiographical play written by actor Christine Mackie inspired by the loss of her father, and starring her daughter, actor Lois Mackie.
In a tour-de-force one-woman show about the power of the past and the search for a hopeful future we meet Annie, a veteran's child on the way to change her life.
Well known as Coronation Street's Dr Gaddas, Coliseum audiences may also recognise Christine from her role in our production of Whisky Galore, which made its world premiere in Oldham before embarking on a national tour in 2018. We sat down with Christine for a chat about Best Girl, working with her daughter and her history with the Coliseum.
What inspired you to write Best Girl and tell people your story?
My daughter Lois is an actor and was offered a twenty minute slot at a Scratch Night at Hope Mill Theatre in October 2018. We talked about possible material, looked at some existing monologues and then I said I'd write something. And this is the miraculous bit – Lois said, okay! Kayleigh Hawkins directed it and there was a rather overwhelming reaction from the audience on the night and I was encouraged to develop it. So to make me do that I entered it in the Greater Manchester Fringe which was terrifying but certainly concentrated my mind! We also got to the final of the LETS AWARD in London run by the Pleasance Theatres. We didn't win but were asked to apply for Edinburgh with the promise of a venue at the Pleasance Courtyard so we did. At the Greater Manchester Fringe it was nominated for Best Drama and Best Actor and we had a brilliant run throughout the Edinburgh Festival playing to great houses and lovely reviews.
What can audiences expect when coming to see Best Girl?
Best Girl is a one-woman semi-autobiographical piece and though it has been updated to present day Manchester the story of its central character, Annie, is based in part on my life. She is in her late twenties, pretty ordinary, friendly and funny but struggling with a recent break-up and attempting to come to terms with her childhood traumas. She has secrets, and she doesn't know how to open up and tell her loved ones. She confides in the audience, speaking directly with great warmth and humour. Best Girl is small story but it has resonated for a lot of people and is a tremendously positive and uplifting play.
How does it feel watching Lois perform?
Working with Lois has been a privilege. Not just because she chose to spend so much time with me and we never fell out, but because she's so impressively professional. Whenever we talked about the script, looked at another draft, she treated me as The Writer not as Mum even though this was my first play. And Lois is TERRIFIC as Annie, it's a real tour-de force performance. Now I would say that cos I'm her mum, wouldn't I, but it is true and watching her is emotional but also a great joy. And we've done a lot of laughing! I wouldn't have missed sharing Best Girl with her for the world.
What advice would you give to your younger self?
I think that's tough to answer. I was so full of uncertainty growing up. Seemingly ok but all the time absolutely convinced that a real future with happy outcomes was simply not for me. I wish I'd known that patterns of behaviour can be broken through counselling and that being given the means to fully grieve would be transformative. So I would tell little Christine to talk about how she's feeling and keep on talking, because there are people out there who really want to listen and to help.
Tell us about being part of Venue's North with the Coliseum
Lois and I were absolutely thrilled that Best Girl Productions were be asked to be one of the Coliseum's Venues North companies. It was lovely to get to know the other creative companies and see them in Edinburgh, it made going there less scary and we were proud to be part of the North's representation of new work. It was great to see people from the Coliseum during our run and being able to bring the show back to Oldham is fantastic. I had such a ball when I worked here in Whisky Galore and I really hope the famous Coliseum audience will support our show and have a chat with us afterwards. I've been busy this year on the Coronation Street cobbles as GP Dr Gaddas and this is a chance for you all to see that she writes more than prescriptions!
Best Girl comes to the Coliseum's Studio from Thursday 16 – Saturday 18 April. Click here to learn more and book tickets.
---
Build your own Season Ticket

With our flexible Season Ticket your love of theatre is rewarded with big savings. You have complete control over which shows you see and when.
How does the offer work?
It's simple, the more you book the more you save
Book two shows – save 5%
Book three shows – save 10%
Book four shows – save 15%
Book five shows – save 20%
Book six shows – save 25%
The shows available in the Spring-Summer 2020 Season Ticket are: The Jungle Book, The Glee Club,  Friendsical, Jeeves and Wooster in Perfect Nonsense, Shandyland and Cooking With Elvis.
There are no set shows that you have to see with a Season Ticket deal, giving you complete control over what you see and what you don't.
Because our Season Ticket is a flexible offer you can also include shows from our current Autumn-Winter Season: Four Minutes Twelve Seconds and Absurd Person Singular.
Four Minutes Twelve Seconds (21 February–7 March) is a topical drama that looks at how we see ourselves and others and highlights the dangers of modern technology.
Absurd Person Singular (10-14 March) is Alan Ayckbourn's much-loved classic set over three successive Christmas parties.
The Jungle Book (3-19 April) is a modern musical reworking of Rudyard Kipling's famous children's story.
The Glee Club (12-16 May) is a raucous comedy about a group of miners preparing for the local gala.
Friendsical (18-20 May) is a musical parody inspired by the gang in Friends.
Jeeves and Wooster in Perfect Nonsense (26 & 27 May) is a joyous re-imagining of the classic PG Wodehouse characters.
Shandyland (9-20 June) is a story of life, love, death and drink at the heart of a small, northern, family-run pub.
Cooking With Elvis (11-26 September) is a provocative dark comedy about disability, sex, food and the King.
Season Ticket holders can also save 10% on tickets for award-winning pop-up theatre Roundabout, which comes to Oldham town centre from 27 June – 18 July in co-production with the Coliseum.
Roundabout features three world premiere plays: Hungry by Chris Bush, Black Love by Chinonyerem Odimba and family show Really Big and Really Loud by 2019 Bruntwood Award winner Phoebe Éclair-Powell performed in rep, directed by Paines Plough Joint Artistic Director Katie Posner, plus a new 'trailblazer' 30-minute short play, The Inconvenience Store by Charlotte Keatley. It will also host a programme of visiting companies, comedy, music and local community events. Full listings will be announced in due course.
As always, Season Ticket holders can take advantage of free parking on Bradshaw Street for evening performances and, if booking four or more shows, the option to spread the cost by Direct Debit.
To book your Season Ticket click here to book online or call our Box Office on 0161 624 2829
---
Get involved: Scripts and Scribbles

The Coliseum's play reading and writing groups meet fortnightly to explore a range of submitted texts, different aspects of playwriting and the commissioning process in a theatre.
Scripts is a friendly play reading group exploring a range of submitted texts, looking at potential work for our Studio and Main House. In this group you'll find more about the commissioning process in a theatre and you can listen or be part of the reading.
Scribbles is our playwriting group for everyone aged 18+, including complete beginners. Over five sessions each term, the group work on different aspects of playwriting including: character, structure, dialogue, generating ideas, and developing a writing practice. Participants work towards writing a full-length play by the end of the course, with a sharing and feedback in the summer term.
This year the course will be taught by local playwright Amie George. Amie is the writer and Co-Artistic Director of Rogue Bones Theatre Company. She was part of the Royal Court writers' group in 2016, and has recently had two shows performed in the Coliseum's studio.
Scripts runs fortnightly on Wednesdays from 11am-1pm. The next term starts on Wednesday 25 March. There will be a break over Easter and sessions will recommence from Wednesday 22 April. £3 per session.
Scribbles runs fortnightly on Wednesdays from 11am-1pm. The next term starts on Wednesday 1 April. There will be a break over Easter and sessions will recommence from Wednesday 29 April. £3 per session.
For more information about getting involved in any of our groups, contact Carly or Ben on LED@Coliseum.org.uk or call 0161 785 7008
---
Pearson Solicitors and Financial Advisers on supporting Four Minutes Twelve Seconds

Sponsors of Four Minutes Twelve Seconds Pearson Solicitors and Financial Advisers say the message behind the play is one that everyone needs to be aware of.
Suzanne Wright, PR Manager for the Oldham based law firm commented: "Supporting the Coliseum is part of our commitment to the local community but the message behind this play is clearly one our clients need to be aware of not only in running of their businesses, but also in daily life."
Four Minutes Twelve Seconds is a morality thriller for our time. Parents of a teenage son go on a journey of discovery to decipher how an intimate video of him found its way onto the internet, what happens in the video itself and how far they're really willing to go to protect him.
Suzanne added: "Challenging the norm and bringing new innovative theatre to Oldham is what the Coliseum does best. We are keen to support and encourage a younger generation to the theatre and a play like this will hopefully appeal to them and show how four minutes and 12 seconds can last a lifetime online.
"Any student, but especially law students, now need to realise the importance social media plays in their profile, future employers and clients can access them in a whole new way and it is something we take very seriously.  Social Media policies operate in the workplace and we have many clients coming to us to facilitate this, but as in this play, it's how the family is also affected that can have a significant impact."
"As a progressive law firm we have a young workforce and I am sure they will recognise the social media subtleties at play here."
Alongside sponsoring Four Minutes Twelve Seconds, Pearson are holding a VIP evening with Rochdale Development Agency and the Coliseum during a performance of the play, where guests are invited to network at a special reception at the theatre before heading into the auditorium to watch the show.
Four Minutes Twelve Seconds earned an Olivier Award nomination at its world premiere in London in 2014. The Coliseum's production is the first professional production outside of London. It runs from Friday 21 February – Saturday 7 March. Click here to learn more and book tickets.
(Pictured: Suzanne Wright, PR Manager for Pearson Solicitors and Financial Advisers meets the cast of Four Minutes Twelve Seconds in rehearsals).
---
Family fun this March

If your little ones are fans of fairy tales or delighted about dragons (one specific much-loved dragon, actually) a visit to the Coliseum this March is a must – as we welcome Rapunzel on Saturday 21 March and Zog from Friday 27 – Sunday 29 March.
Let your hair down and get tangled in a brand new musical based on the classic fairy tale Rapunzel. Immersion Theatre come to the Coliseum with a witty pantomimic, tongue-in-cheek retelling of the family favourite complete with a laugh-out-loud script, a host of catchy songs and heaps of audience interaction.
With an exciting array of magical characters including a wickedly boo-able witch, a clumsy prince and a feisty princess with the longest hair you're ever likely to come across, this is one hair-raising adventure you won't want to miss. Rapunzel runs on Saturday 21 March at 1.30pm and 4.30pm on Saturday 21 March. Click here to learn more and book tickets.
Zog roars into Oldham with a smash-hit stage adaptation of Julia Donaldson and Axel Scheffler's much-loved book that promises to be more roar-some than ever before.
Large and size and keen in nature Zog is eager to win a golden star at Madam Dragon's school, where dragons learn all the things that dragons need to know. Luckily Princess Pearl is here to help him get ready for his biggest challenge yet. With brand new songs and a cast of actor-puppeteers Zog is brought to life in a magical production. Zog runs from Friday 27 – Sunday 29 March. Click here to learn more and book tickets.
We've teamed up with Waterstones in Oldham's Spindles Town Square Shopping Centre to offer 10% off Julia Donaldson's book, Zog, for anyone who has booked tickets to see Zog at the Coliseum (proof of purchase required).
Click here to see all forthcoming family events at the Coliseum.
---
Our Coliseum

Our Coliseum is a new membership scheme with exclusive offers and discounts.
For just £30 per year Our Coliseum members receive:
£10 off your first booking
10% off at our bars and kiosk
2for1tickets for the opening night of all Coliseum productions
Exclusive offers in a monthly newsletter
Invites to our exclusive Season Launch events with the opportunity for priority booking on the night
An annual car park pass for evenings at Bradshaw Street Carpark
To sign up for Our Coliseum phone our Box Office on 0161 624 2829.
---
Join the Ladies that Bus flashmob

If you've got tickets to our sold out performances of Ladies That Bus and you love to sing you may be interested in joining the flashmob and becoming part of the performance.
During the show the actors will sing a song called One Day Together three times and they would love for people in the audience to sing it with them the third time, right at the end of the show.
Ladies That Bus is a heart-warming and hilarious tale of journeys taken and not taken, of regrets and celebrations, of isolation and what it means to be free… Based on real-life interviews with bus travellers in the North West, and peppered with humour, songs and live music, it shows a day-in-the life of the Route 555 bus travelling from Lancaster to Keswick, and the kaleidoscope of different characters that travel on it – each with their very own tales to tell…
To get involved in the Ladies That Bus Flashmob email ladiesthatbus@outlook.com with your name and which show you're coming to. Click here for further information.
---
Mind-blowing magic with BGT finalist Ben Hart

Multi-award winning magician and Britain's Got Talent 2019 finalist Ben Hart comes to the Coliseum this April.
With the simplest of props, using the objects and minds of the audience, Ben Hart conjures an altogether new kind of magic. Expect his most mind-blowing and exciting magic in a show that shines a light on magic, life, the universe and the darkest corners of your imaginations.
Funny, subversive, often dark and always amazing, Ben has established a reputation for always creating wonderfully alternative magic. At the age of 16 he was awarded the prestigious Young Magician of the Year award by the Magic Circle and is one of the youngest ever members of The Inner Magic Circle (with gold star) – the highest level of the famous Magic Circle.
"The living embodiment of magic" – David Walliams
When not performing magic, Ben invents writes and directs magic tricks and illusions for tv, theatre and film. His ideas have been performed by some of the top magicians working in the world and he has designed illusions for The Royal Shakespeare Company, The Old Vic, The Globe and Hampstead Theatre and was the mind behind the acclaimed special effects in the West End production of The Exorcist.
Ben has also performed as part of Impossible, one of the world's biggest magic shows and performed in the West End for two consecutive years. His visit to the Coliseum is part of his debut solo tour.
Ben Hart comes to the Coliseum with Wonder on Tuesday 21 April. Click here to learn more and book tickets.
---
Customer Experience Volunteers: Join us

We're always on the lookout for friendly and reliable people to join our team of Customer Experience Volunteers, who help to look after our audiences from greeting them in the foyer, to selling programmes and ice creams, taking them to their seats and much more.
Customer Experience Volunteers must be 18+ and able to commit to a minimum of three months volunteering with us. No experience is needed as full training is provided.
Click here to learn more about becoming an Oldham Coliseum Theatre Customer Experience Volunteer or contact Kyle Wilcock on 0161 785 7021 or email kylewilcock@coliseum.org.uk.
---
Oldham Coliseum Theatre gratefully acknowledges funding from:

Oldham Coliseum Theatre is a Registered Charity, No: 508829.
Oldham Coliseum Theatre Ltd Reg No: 1415547