February 2019 Newsletter
This month we opened our production of multi-award winning writer Martin McDonagh's A Skull in Connemara on the Main Stage to rave reviews, announced our Studio programme for Spring and Summer and held an exhibition on set and costume design by the participants of this year's Teaching Theatre Pathways.
Read all about it – plus even more updates on what's going on behind the scenes here at the Coliseum – below.
---
A Skull in Connemara is cracking good fun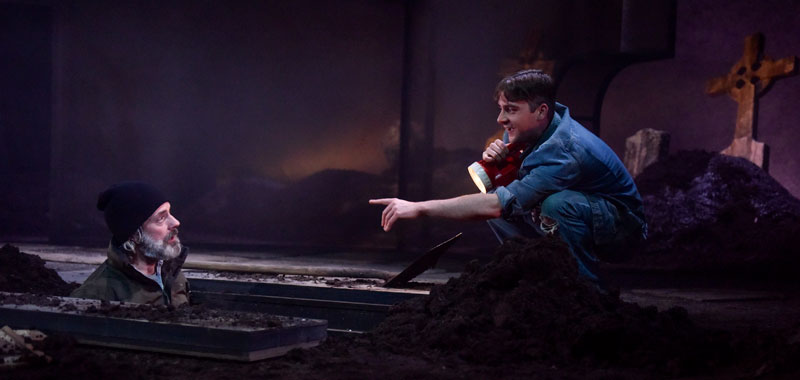 We opened our production of Martin McDonagh's devilishly clever black comedy A Skull in Connemara last Friday to rave reviews from audiences and critics.
In a small town on the west coast of Ireland we meet four people whose morals and histories may or may not be entirely good – whether you believe their sides of the story, or the aspersions cast by the community, is entirely up to you.
Mick is a gravedigger tasked with exhuming bodies from the graveyard every autumn to make space for new arrivals. This year, the priest has tasked young troublemaker Mairtin to help him, and the corner of the graveyard they're dig just so happens to contain Mick's late wife's grave. But when they dig into Oona's grave he finds her coffin empty…
"Chris Lawson, recently appointed acting artistic director of Oldham Coliseum, faithfully captures the spirit of the play with hilarious effect."
★★★★
– The Stage
"This black comedy literally offers a new definition of graveside humour"
– Theatre Reviews North
.
Penned by Martin McDongah, the multi-award winning writer and director of In Bruges, Seven Psychopaths and Three Billboards Outside Ebbing, Missouri, A Skull in Connemara is devilishly funny and mysterious.
Directed by Acting Artistic Director, Chris Lawson, our production features John O'Dowd – last seen here for English Touring Theatre's The Weir – as Mick Dowd, Liam Heslin – last in Manchester for the immersive On Corporation Street – as Mairtin Henlon, Hollyoaks regular Jenny Lee as his grandmother Maryjohnny Rafferty and Griffin Stevens – who recently performed in HOME Manchester's Inkheart and Romeo and Juliet  as local policeman Thomas Hanlon
"McDonagh is always worth seeing, and here a good cast delivers his blackest of black humour well in an efficient and unfussy production, so it's definitely worth a visit."
– British Theatre Guide
"A delightfully dark comedy, perfectly poised with mystery and intrigue. Only a 'feckin idjit' would miss it!"
– The Play's the Thing
 A Skull in Connemara runs until next Saturday, 9 March. Click here to learn more and book tickets.
---
This weekend: A joyful celebration of LGBTQ+ teenagers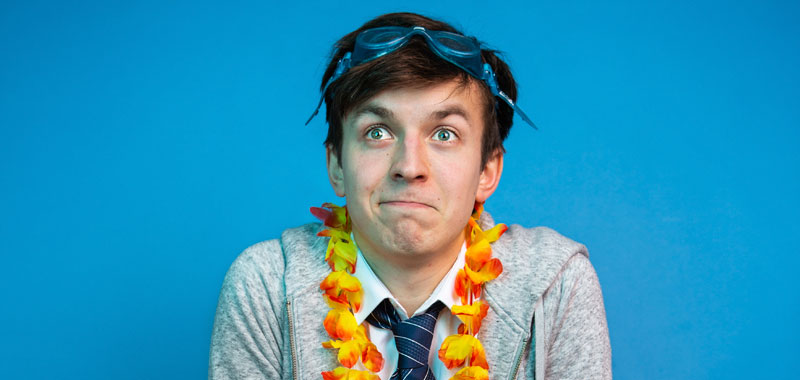 Set in writer Tom Wells' hometown of Hull, Drip is a new one-man musical comedy about a proudly out, but otherwise slightly awkward 15 year old.
Liam has just signed up for Bev Roads Baths' first ever synchronised swimming team. It's for his best mate Caz really. She needs to get a team together to win the annual Project Prize at school. She tries every year. She always loses. But Liam's an optimist, he's determined to help. There's just one problem. Liam can't swim.
With original music by Matthew Robins performed with live guitar, Drip was originally presented for Hull UK City of Culture. It has since been performed at Edinburgh Fringe Festival in 2018 and on the road with Paines Plough in their pop-up roundabout.
"Victoria Wood for a new generation"
– The Stage
.
.
"Tom Wells' writing finds the beauty in the ordinary, and embraces the slight let down of each day."
– Guardian
Tom Wells is the writer of the Coliseum's hit Main Stage productions of Jumpers For Goalposts (2016) and The Kitchen Sink (2018). Tipped as one of Britain's best young writers, he won the Critics Circle Award  for Most Promising Playwright and the George Devine Award in 2012.
Drip is presented by Boundless Theatre and Script Club. It comes to the Coliseum Studio on Friday 1 and Saturday 2 March. Click here to learn more and book tickets.
---
Emmerdale's Ian Kelsey stars in The Verdict

Following the success of their world premiere tour, Middle Ground Theatre bring their critically acclaimed courtroom drama The Verdict to the Coliseum this March.
Based on Barry Reed's 1980 novel, which also inspired the five time Oscar nominated Sidney Lumet film starring Paul Newman and James Mason, The Verdict follows Frank Galvin, a washed up veteran lawyer and an alcoholic. He is presented with one last chance to redeem himself when he is given an open-and-shut medical malpractice case that no one thinks he can win.
Up against the unforgiving medical establishment, he courageously refuses an out of court settlement, believing it is negligence that has condemned a young mother. Smelling a cover up, he instead takes the case and the entire legal system to court.
Middle Ground Theatre's production features star casting including Ian Kelsey as Frank Galvin. Ian Kelsey is best known for his regular roles in Blue Murder, Emmerdale, Casualty, Down To Earth, Where The Heart Is, Doctors and Coronation Street.
He's joined by Denis Lill (Only Fools and Horses), Paul Opacic (Bad Girls, Emmerdale, Hollyoaks), Christopher Ettridge (Goodnight Sweetheart), Richard Walsh (London's Burning) and Karen Drury (Brookside).
The Verdict comes to the Coliseum from Tuesday 12 –Saturday 16 March. Click here to learn more and book tickets.
---
Learning and Engagement: Dementia Friendly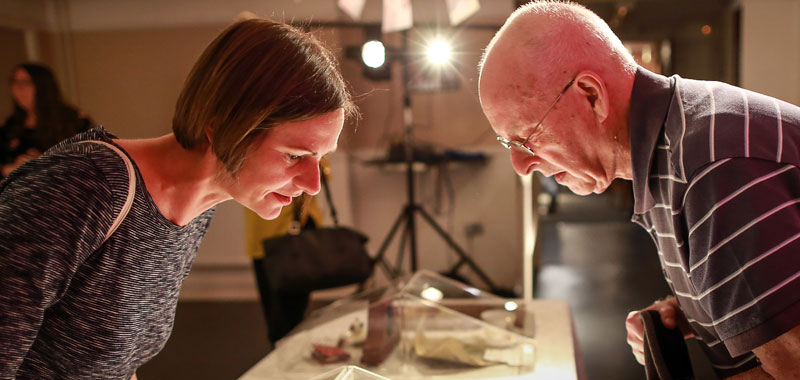 We're passionate about making the Coliseum a creative and accessible space for our community. Last year, we piloted a series of Dementia Friendly sessions, engaging over 30 people living with dementia and their carers, in theatre related activities.
We're delighted to announce that with thanks to the Big Lottery Community Fund we are relaunching our dementia friendly programme in April, with an enhanced focus on storytelling, puppetry and prop making. The work will culminate in a small festival that will be open to a public audience at the Coliseum  next year, exploring storytelling through these mediums.
The sessions take place at the theatre between 11am and 12pm, in a relaxed environment, and are free to attend. Please note that booking in advance is essential as there are limited places available. However, we know that things crop up, and understand if you're unable to make it on the day.
Our upcoming sessions take place on the following dates:
Tuesday 2 April
Tuesday 16 April
Tuesday 7 May
Tuesday 21 May
Tuesday 4 June
Tuesday 18 June
For more information please phone 0161 624 2829 or email boxoffice@coliseum.org.uk
This project is art of the Coliseum's Adults, Arts and Health programme; exploring ageing, well-being and place through theatre.
---
Announcing our full Spring-Summer Studio season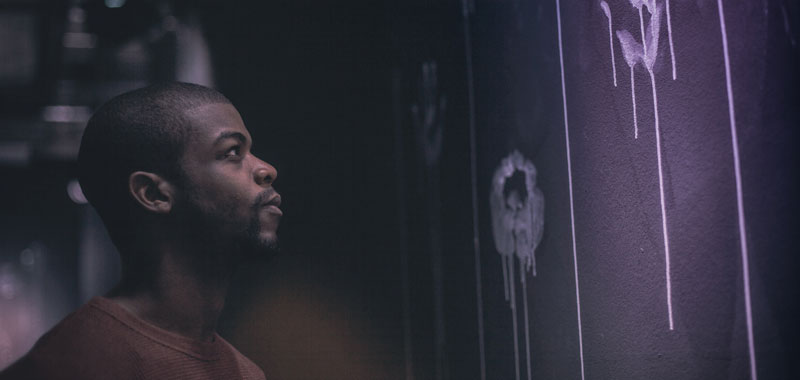 This month we announced our Spring-Summer Studio programme, with a mix of comedy, drama, new writing and musicals from artists across the country as well as talented companies closer to home.  Alongside 11 independent productions, the Studio will also play host to Scratch Nights and New Writing events, and in June the second annual Cultivate Festival for theatre makers takes over the building with a week of workshops, opportunities and industry insights.
Chris Lawson, Acting Artistic Director of the Coliseum commented: "Now in its third year, the Studio programme continues to grow running alongside our productions on the Main Stage. We're extremely proud of the reputation our Studio has built and will continue to develop artists, showcase the best in new work and inspire conversations long after the show has finished."
Hard-hitting productions inspired by real events and true stories feature throughout the season. Hiding Place Theatre's Bottleneck by Luke Barnes tells the story of the Hillsborough disaster through the eyes of a 14 year-old football fan growing up in 'the boot' in Liverpool; Crowded Room's The Listening Room tells the true stories of five people whose lives were transformed by three moments of violence; Coliseum Associate Company Fine Comb Theatre's Not Yours, Mine looks at the complexities involved in the family court system and Useful Productions' Three Mothers tells three stories of immigration.
We take a look inside ourselves and at modern day society with Holly Gallagher's Tensile Strength (Or How to Survive at your Wits End) and Jess Gibson's Work in Progress. Presented by Arc Stockton, Tensile Strength is a performance about stress and why so  many people feel it to an unhealthy degree. In Work in Progress we meet Jess, a Scouse girl who struggles to manage her mental health, borderline personality disorder, anxiety and depression, but through a passion for dancing to Britney Spears, has learnt to feel comfortable with being uncomfortable.
Following our Manchester Theatre Award winning 2017 production of The Father on the Main Stage, the Studio programme for 2019 features an independent production which continue to explore the vital topic of dementia. Smashing Mirrors Theatre's Three Emos is the story of three friends whose lives are changed when one of their grandparents is diagnosed with dementia. With an original rock soundtrack, generations clash and come together in a tale of finding inspiration in the most unlikely of places.
Further cross-overs between the Main Stage and the Studio include Drip by Tom Wells, the writer behind our 2016 and 2018 hit productions of Jumpers For Goalposts and The Kitchen Sink, and Freedom Studios' production of Adelle Stripe's Black Teeth and a Brilliant Smile, which is inspired by the life and work of Andrea Dunbar, writer of Rita, Sue and Bob Too. Drip is a one-man musical comedy about 15 year-old optimist, Liam, who has just signed up for Bev Road Baths' first ever synchronised swimming team to help out his friend Caz. The problem is, Liam can't swim. Black Teeth and a Brilliant Smile introduces us to Andrea Dunbar in 1990 as she struggles with her latest work with an aching head full of voices telling stories from her past.
The Coliseum's commitment to developing emerging artists and their work remains at the heart of the Studio programme. Following on from Scripts Aloud, What The Dickens (a response to Hard Times) and A Taste of Home (a response to A Taste of Honey), the Coliseum's relationship with Manchester ADP continues with two nights of their second full-length production, Purge. In this show about women, their bodies and their relationship with the internet we meet 16 year old Regina, who has gained 125million subscribers in 24 hours, and her mother, who knows her as 'Sarah'. The Coliseum's Associate Company Fine Comb Theatre present their first Scratch Night in the studio, showcasing brand new work from four companies in an informal and inclusive environment.
In June our festival for theatre-makers, Cultivate, returns for the second year with a week dedicated to artist development and theatre upskilling. Taking place across the entire building Cultivate features opportunities including open auditions, scratch nights, funding application guidance and guest speakers and workshops covering acting, voice, movement and puppetry, with much more to be announced.
Click here to see all upcoming events in the Coliseum Studio.
---
Teaching Theatre Pathways: Experiencing Set and Costume Design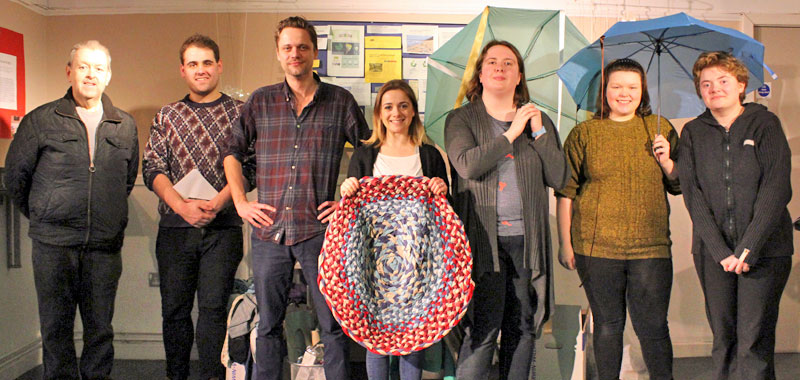 Earlier this month Sophie Taylor-Hall and Jennie Holdsworth, two of our Teaching Theatre Pathways participants, exhibited their work from this year's projects in the Coliseum's Education Suite.
Teaching Theatre Pathways is a hands-on work experience programme for young people who are not currently in education,  employment or training, providing practical experience and knowledge in all aspects of theatre making and production.
After exploring the different disciplines of theatre making though a series of workshops in Costume Design, Set Design, Lighting Design, Stage Management, Marketing and Playwriting, this year's Teaching Theatre Pathways group used a script from our previous pantomime of Aladdin as a stimulus to follow a project brief in their chosen field, in Sophie and Jennie's case – Costume and Set Design.
Sophie commented: "I chose to focus on the Costume brief because I have enjoyed design and crafts in the past and wanted to challenge myself by creating a full-sized costume. I chose to make a prototype out of paper, having done a similar activity during one of the previous workshops on the course. In the end my dress turned out to be slightly different than planned but I am extremely happy with that I have managed to create with the material available (and my lack of sewing skills!)"
Jennie commented: "I love to write and draw my own stories and I had taken Drama at both GCSE and A Levels. This course has further inspired me to write plays and stories. Maybe, one day they will be on the big stage."
The group's final project was to design and make a set for Play in 3 Days. Following the (very brief) brief of 'Rubbish' Sophie and Jennie create a set made entirely from recycled materials
Catherine Morefield, Producer of Fine Comb Theatre and practitioner of the Teaching Theatre Pathways programme said: "The participants have worked incredibly hard, and its brilliant to see how dedicated and passionate they are about theatre production. It's amazing how much they have achieved in just 12 four hour sessions".
Play in 3 Days was an opportunity for young theatre makers to create a completely new theatrical performance in three days over half term, working with one of the Coliseum's professional theatre practitioners. Their performance on the final day took place on the set made by the Teaching Theatre Pathways participants.    
---
Assistant Director Heather Carroll discusses Approaching Empty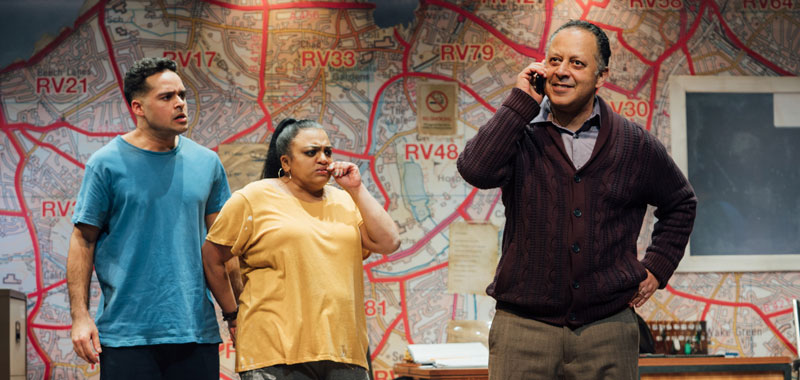 Coming to the Coliseum in April, taxi driver-come-playwright Ishy Din's Approaching Empty is a razor sharp new drama giving an honest reflection on the impact of Thatcher's government on working class families. In a guest blog for Tamasha Theatre, Assistant Director Heather Caroll spoke about her connection to the story and why it still resonates today.
"Talking about Thatcher in the North East is like saying Lord Voldemort's name at Hogwarts… or it is in my grandad's company. His family were all miners and he saw first-hand how she starved a community into submission, left men without purpose and flattened economies here in the North East. I knew instantly when I read Approaching Empty that I had to be part of the production; listening to Mansha – his politics, his dreams, his distain of Thatcher is like hearing my grandad talk. The great thing about Ishy's writing, however, is that he isn't one sided – this is not a play of pure Thatcher bashing. Mansha may echo a lot of peoples feelings of her, but Raf, his counterpart and boss, argues Thatcher was a great visionary who saw the mines for what they were – unprofitable and from the past, and he, like many others, flourished in Thatcher's capitalist economy
…
Approaching Empty is relevant because it's about us, it's about what our families went through and what impact this had on the younger generations. Did our families succeed or were they broken by Thatcher's politics? What is it like to be the new generation in those families? Can we still chase our dreams or are we hindered by the fears of what our parents and grandparents went through?"
Read Heather's full blog here.
It's April 2013; Margaret Thatcher has died but, is Thatcher's Britain really over?
For many it's not. Mansha used to have a great job working at a now closed steel factory. He is in desperate need of change and new opportunity. Sitting in a shabby taxi office belonging to his friend Raf, Mansha makes a snap decision. He offers to buy the business from Raf who is more than keen to sell him the failing taxi firm. Big changes are needed and he's determined to make them…whatever the cost. Suddenly this is no longer friendship – this is business.
Approaching Empty is produced by Tamasha, Kiln Theatre and Live Theatre. It comes to the Coliseum from Thursday 11 – Saturday 13 April. Click here to learn more and book tickets.
---
Coliseum and Pilgrim International celebrate decade long relationship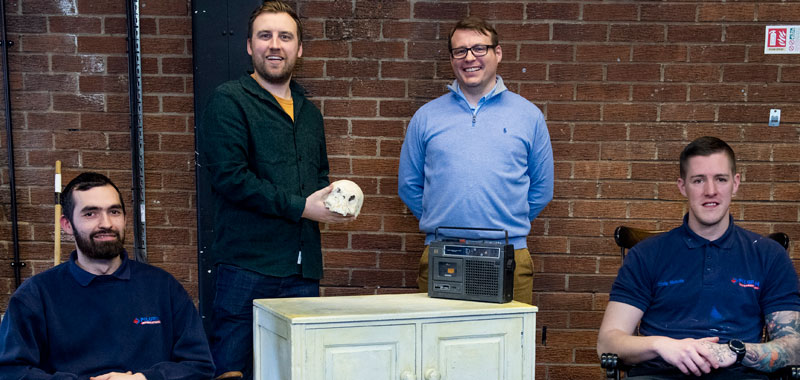 Marking ten years of support for theatre in Oldham, General Manager of Pilgrim International Damian Lewis and former Pilgrim apprentices, Jake Gane and Craig Nicholls, met with the Coliseum's Acting Artistic Director Chris Lawson to celebrate continuing the long standing relationship of the two prolific organisations.
Pilgrim International is a major local employer. Working from their manufacturing site in Oldham, they are an internationally recognised technology leader in Engineered Fastening Solutions with over 60 years' experience and thousands of successful installations in many industries including Power, Marine and Mining. With high profile clients including GE Systems and Siemens, they export sales to over 55 countries.
The firm is proud to support culture in Oldham while providing their staff the opportunity to witness top quality live theatre at the Coliseum on a regular basis, including our current production of A Skull in Connemara, a black comedy from the writer of multi-award winning film Three Billboards Outside Ebbing, Missouri.
Alongside long histories in the town, Pilgrim International and the Coliseum share a mutual commitment to providing hands-on training opportunities for young people from across the borough; Pilgrim International with its engineering apprenticeship schemes and the Coliseum with its Teaching Theatre Pathways programme offering hands-on backstage work experience for young people who are not currently in work, education or training.
Damian Lewis, General Manager of Pilgrim International, commented: "We at Pilgrim are very proud to be associated with the town of Oldham and in particular the Coliseum, who share similar values to us. In addition to the high quality of theatre production, it's the work the Coliseum does with young people in the region which is really impressive. Pilgrim also share this passion to develop the next generation through its successful engineering apprenticeship schemes, of which currently five former apprentices continue to work and contribute to the success of the company.  We look forward to our continued association with such an icon of the local community and to continue our work of developing the next generation of engineers."
Chris Lawson, Acting Artistic Director of Oldham Coliseum Theatre, added: "Both the Coliseum and Pilgrim are firmly rooted in the communities of Oldham and over the past ten years their support has helped us to produce and present hit shows including Chicago, Our Gracie and Meat Pie, Sausage Roll and run workshops and sessions for tens of thousands of people from the borough. We're honoured that Pilgrim have been sponsoring the Coliseum for ten years already and their continued support is a true testament to the value of theatre in Oldham." 
Alongside producing award-winning plays and musicals, the Coliseum utilises the unique expertise found in a producing theatre to provide a vast range of opportunities for learning, professional development, artistic development and community cohesion for people of all ages from Oldham and the surrounding areas. The theatre's current work in the community includes: regular Dementia Friendly Coffee Mornings, The Exam Play – an in depth look at Shakespeare's language with professional actors for GCSE students, Teaching Theatre Pathways and plans for the fourth annual International Women's Day event at the theatre for Jigsaw Homes residents.
---
Bringing the magic of theatre into the classroom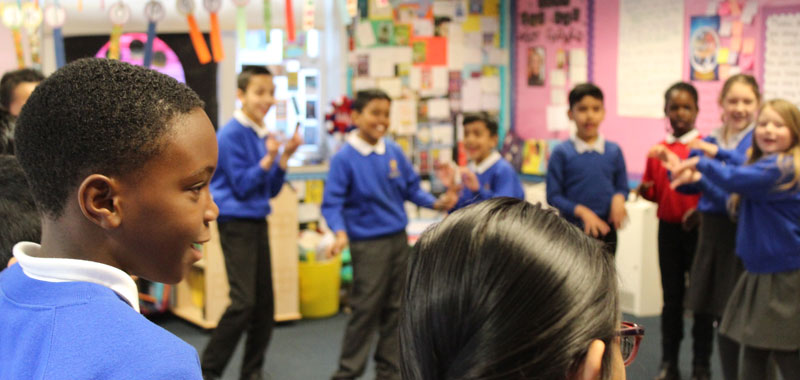 Sponsors: N Brown Group and George Hill Timber and Building Supplies, and Educational Partner Oldham Hulme Grammar School have helped to bring the magic of theatre into schools by supporting bespoke classroom-based workshops.
Performance and theatre making workshops lead by the Coliseum's Learning and Engagement Officer Ben Cain proved to be a highlight to start the year for pupils at Oldham's Holy Cross Primary School, who had the opportunity to explore the art of constructing sets and designing costumes as well as putting on their own performance in the classroom.
Ben Cain, Learning & Engagement Officer at Oldham Coliseum Theatre, commented: "The children from Holy Cross Primary school were able to learn a great deal about what goes into creating a professional performance at a regional producing theatre and they loved developing their personal confidence by taking on the multiple roles required to perform onstage, as well as being encouraged to develop and share their own creative stories. A massive thank you to all of our sponsors for enabling this workshop to go ahead and allowing each young person this unique opportunity."
John Edwards, the Coliseum's Development Manager & Lead Capital Fundraiser, added: "On-going support from local businesses and partner organisations is ever more important and this group truly epitomises supporting and celebrating the things that make Oldham great, with all of them having great tradition in the town in common with the theatre."
N Brown Group, George Hill Timber and Building Supplies and Oldham Hulme Grammar School have been annual supporters of the Coliseum's annual pantomime since 2016. With the additional help of their sponsorships, the Coliseum is able to spread festive good-will well into the new year to beat the winter blues.
---
Spotlight on: Adam Gent, Deputy Production Manager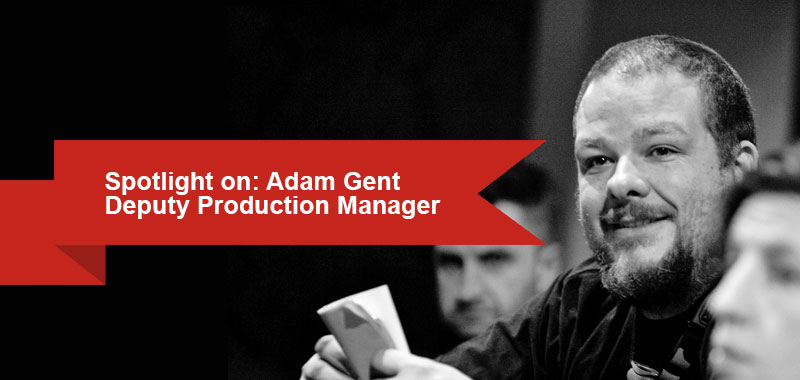 Introducing Adam, the Coliseum's Deputy Production Manager
How long have you worked at the Coliseum?
I first worked at the Coliseum in 2001, but only a short term basis. I have been here full time since November 2003, so just over 15 years.
What is your favourite production that you've seen at the Coliseum?
There are so many to choose from, I have worked on well over 100 Coliseum productions. Recently I was blown away by Bread and Roses but I also have fond memories of Travels with My Aunt.
What is your favourite aspect of working at the Coliseum?
The fact that no two shows are the same, we have had all sorts of challenges on our stage in my time here, we make it rain, we have had a lake, we have built a working ski slope. I once had to make a prop snowman shake his head and trundle off stage via remote control.
You need to be fairly knowledgeable about several things, but more importantly you need to be able to learn very quickly.
What are you currently working on?
We currently have A Skull In Connemara on stage, the set-up of which involves clearing up smashed 'skulls', refilling graves and managing the erosion of soil from actors and staff walking on a stage covered in earth.
At the same time we are in the planning stages of Visitors, Handbagged and The Hired Man.
What are you currently looking forward to?
I'm looking forward to The Hired Man, I was at a design meeting last week and I can see it being a brilliant production with plenty of great music and a set that will allow plenty of flow and movement of the cast and chorus.
Can you tell us an interesting fact about yourself?
I once played the role of  Gary Lineker  in 'An Evening With Gary Lineker',  despite looking nothing like Gary Lineker.
At All.
---
Customer Experience Volunteers: Join us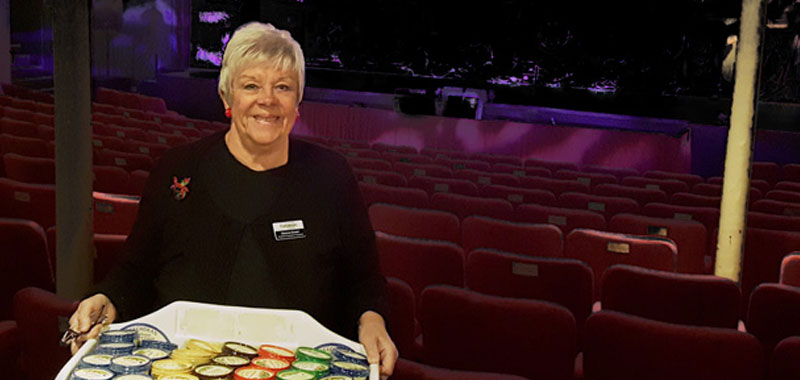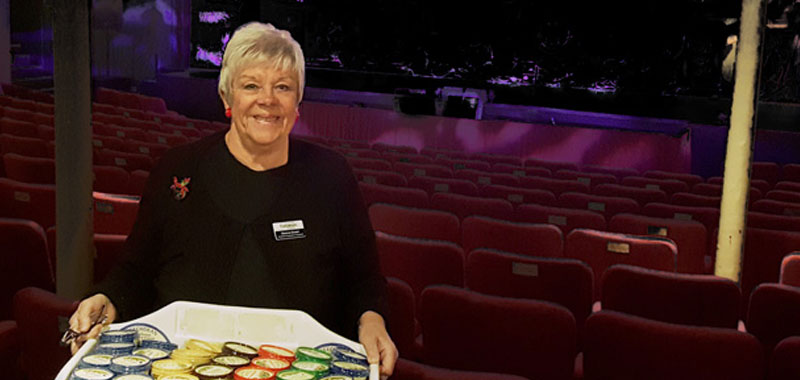 We're always on the lookout for friendly and reliable people to join our team of Customer Experience Volunteers, who help to look after our audiences from greeting them in the foyer, to selling programmes and ice creams, taking them to their seats and much more.
Customer Experience Volunteers must be 18+ and able to commit to a minimum of three months volunteering with us. No experience is needed as full training is provided.
Click here to learn more about becoming an Oldham Coliseum Theatre Customer Experience Volunteer or contact Heather Shaw, House Manager,  by phone on 0161 785 7021 or email heathershaw@coliseum.org.uk.
---
Oldham Coliseum Theatre gratefully acknowledges funding from:

Oldham Coliseum Theatre is a Registered Charity, No: 508829.
Oldham Coliseum Theatre Ltd Reg No: 1415547