February 2018 Newsletter
This month we opened The Kitchen Sink to rave reviews, began preparations for our first show of the Spring-Summer 2018 season, Whisky Galore, and welcomed Oldham's Active Citizens back from an International Study Visit to Sri Lanka.
Read all about it – plus even more updates on what's going on behind the scenes here at the Coliseum – below.
See you in the stalls,
Kevin Shaw
Chief Executive & Artistic Director.
---
The Kitchen Sink is a hit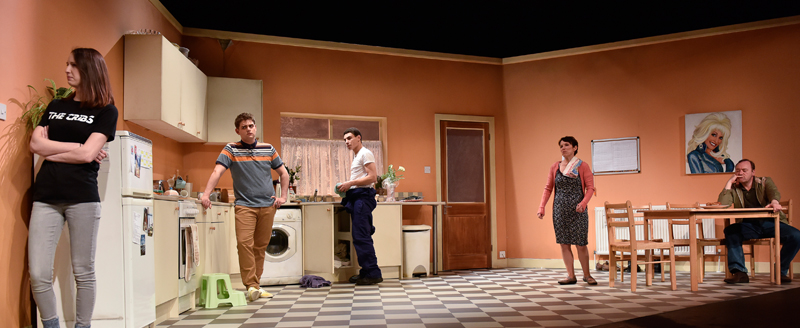 Our production of The Kitchen Sink opened last week to rave reviews. The story of one ordinary family played out in their kitchen touched the hearts of audiences, with a healthy dose of down-to-earth northern humour leaving many in hysterics at regular intervals.
Kath, played by Sue Devaney, has a lot of her plate. She's working two jobs and experimenting in the kitchen, and her family's aspirations aren't going to plan. Her husband, Martin (William Travis), is a milkman whose career is going down the drain, son, Billy (Sam Glen), is worried about going to art college and daughter, Sophie (Emily Stott), is fighting for a career in Ju Jitsu while being pursued by Pete (David Judge), a trainee plumber with a pink van.
The pressure is on and something's got to give, but will it be Kath's last nerve, or the kitchen sink?
"This appealing, funny, gentle and heart-warming production is highly recommended"
★★★★
The Reviews Hub
"A very funny, vividly written and winningly performed depiction of the ups and downs of family life"
★★★★
The Stage
The Kitchen Sink was first produced in 2011, written by one of Britain's most exciting young playwrights, Tom Wells. An irresistibly funny and touching play, it earned him multiple awards and nominations for Most Promising Playwright.
"Full of domestic laughs and warmth"
★★★★
Attitude
"It's about ordinary people with ordinary lives, and the audience liked it so much they gave it a standing ovation"
★★★★
Northern Soul
The Kitchen Sink runs until Saturday 24 February. Learn more and book tickets here.
---
Next up: Whisky Galore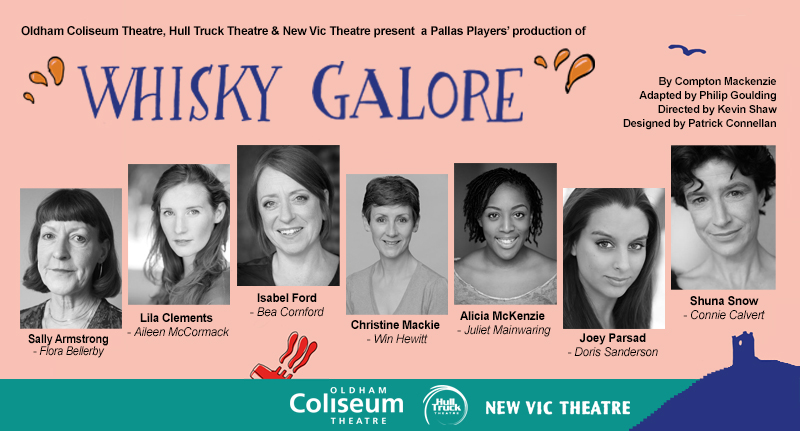 Next week we start rehearsals for our first production of the Spring-Summer season, Whisky Galore.
This new production, set in 1955, is a tribute to the feisty, fearless all-female touring theatre companies of the post-war years. Under the dogmatic direction of the redoubtable Flora Bellerby, witness the Pallas Players – Win, Doris, Flora, Bea, Aileen, Connie and last-minute replacement Juliet – as they play all the hilarious and diverse characters from Compton Mackenzie's comedy classic, in an innovative and beguiling adaptation that breathes fresh life into a well-loved, internationally acknowledged masterpiece.
We have a brilliant cast joining us for this show, including: Isabel Ford (recent shows for the Coliseum include: Hard Times, Spring and Port Wine and Brassed Off) and Shuna Snow, (last at the Coliseum in 2004 as Jane in Absurd Person Singular).
They're joined by actors treading the Coliseum's boards for the first time: Sally Armstrong; Lila Clements; Joey Parsad (who recently finished a UK tour of Around the World in 80 Days); Christine Mackie and Alicia McKenzie (who recently starred in A Christmas Carol at the Stephen Joseph Theatre in Scarborough).
Whisky Galore, based on the novel by Compton Mackenzie is a new adaptation by Philip Goulding and is a co-production between Oldham Coliseum Theatre, Hull Truck Theatre (30 April-12 May),  and New Vic Theatre (14 May-2 June). In addition to these venues, Whisky Galore will also be washing up on the shores of Haymarket Theatre, Baskingstoke (9-14 April), York Theatre Royal (23-28 April), Theatre Royal Bury St Edmunds (4-9 June) Cast, Donacaster (11-16 June), Belgrade Theatre, Coventry (18-23 June) and Salisbury Playhouse (25-30 June).
Whisky Galore opens at the Coliseum on Friday 16 March. Book tickets online here, or phone Box Office on 0161 624 2829.
---
Studio Theatre: Manchester ADP & Finding Alice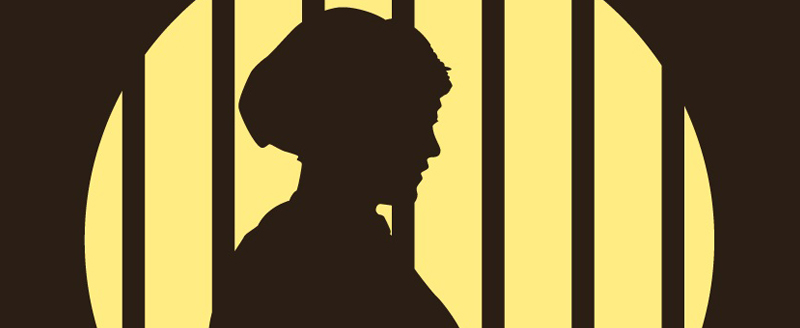 On Saturday 10 and Thursday 15 February, Manchester ADP present Finding Alice, their new show in the Coliseum's Studio Theatre.
Set in a Belgian prison in 1918, German officer, Himmel, is interrogating the prisoners who he believes to be part of a spy network. He is desperate to find the spy Alice Dubois. To what lengths will he go to find her and what measures will the inmates take to protect themselves?
Manchester ADP supports new writing, hosting the popular new writing night Scripts Aloud in Manchester, where Finding Alice was selected as the choice of 285 script submissions. 
We spoke to ADP Producer, Hannah Ellis, who gave an insight into the company and their exciting new production:
Could you tell us a bit more about ADP and what you do?
ADP is a collective of actors, writers, directors and producers, who come together twice a month to stage script-in-hand performances of new writing. Since establishing two years ago, we have proudly grown to a collective of over 1,000 local creatives and Finding Alice marks our first full length, fully funded production. We are also an actors' agency (ADP Agency), an audio drama production company, and a community charity.
Why did Finding Alice appeal to you?
Finding Alice appealed to us, firstly because of its quality. Seeing it come through ADP, it stood tall amongst our submissions as a script that had clearly had years of passion, research and energy poured into it. Seeing it read aloud at one of our regular nights, I truly felt I was sitting in a theatre, watching a finished piece, and didn't even notice the actors had scripts. It's a gripping true story. In addition to this, as a female-led theatre company, we were automatically drawn to Alice, as it has three complex, rich female leading characters, which is sadly too rare in the submissions we receive.
How often do you look for script submissions?
We're always open for submissions!  Please do send in a script if you have one lying in your desk draw, or have a story in you that you've always wanted to tell. ADP still meet twice a month to read new scripts, and are always taking new entries. Info for how to apply is at manchesteradp.com.
Are you working on anything else currently?
I'm proudly opening a wonderful show next week at Hope Mill Theatre called The Replacement Child, directed by Martin Gibbons. This is the company debut for Abooo Theatre Company who specialise is staging work by parents, for parents. Amongst evening performances at 7:30pm, there is a baby-friendly matinee on Thursday 22nd February at 11am, where babies are welcome to attend with their parents. 
---
Learning and Engagement: Oldham's Active Citizens in Sri Lanka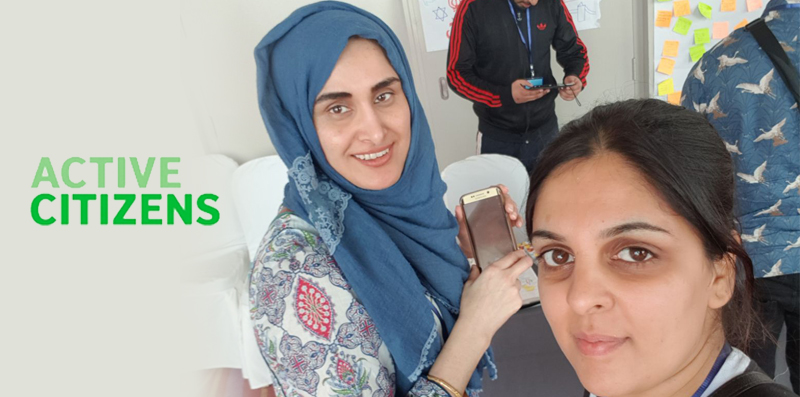 In December the Coliseum welcomed a group of community workers from across the globe to Oldham as part of The British Council's Active Citizens programme. Last month, two Active Citizens from Oldham, Safa Khan and Shazia Iqbal, set off on an International Study Visit (ISV) to Sri Lanka for seven days to explore social development issues and the methods communities have found to address them.  
Safa came to the Coliseum to tell us about her trip:
"I've met so many amazing people and I was really inspired by them. What I found amazing was that the problems I heard about were similar to situations that still go on in most societies, it just depends on the degree. We've all got the same problems everywhere we go.
When we arrived in Sri Lanka we met up with the other participants on the ISV – people from the UK, Bangladesh, India, Ukraine, Vietnam, Egypt and Sri Lanka – and we discussed our own social action projects amongst ourselves and learnt about each other's countries and communities. We spent time at The British Council in Colombo where we heard from guest speakers about social action projects in Sri Lanka. It was really quite inspiring and a few of us were moved to tears. I felt so empowered by them, they have so few resources but they make do with what they have – and the people that are a part of The British Council over there give 110% in everything they do.
I went to Jaffna, where sexual abuse, alcohol abuse and domestic violence had become prominent after the civil war. At the Jaffna Social Action Centre I learnt about their initiatives to educate the women to be more aware of the situations and not to keep quiet about it, and to provide counselling for the men and help them to get back into work. A lot of the sexual harassment was happening on  public transport on Tuk Tuks, so they educated all the drivers, hired female drivers, and launched a scheme which gave Tuk Tuks a badge to display that they were safe.
There were a lot of women whose husbands had left them which meant they had no means of income; so they taught them skills so that they could make things to sell at the local market. We met a lady who was running to be the first ever female Councillor in her area. They say she has a lot of support from both men and women!
At the Jaffna Women's Development Foundation we met one lady that I was especially drawn to. She called herself 'the iron lady' and she was a very intelligent woman. When she was quite young she was recognised for her poetry and the President of Sri Lanka wanted to give her an award. She missed out on that opportunity because she didn't have the money to travel to collect the award. She has a child now who is disabled and the doctors have told her that by the age of 25 she will lose the use of her limbs, but she encouraged her daughter to believe that she could do anything and now her daughter is studying at Jaffna University.  They were really lovely, I told them my own story as well. It might feel like a struggle at the time but it's going to benefit future generations to come. I was really amazed by them.
We visited some amazing places including a few temples where we learnt about the history of the Buddha and their faith. We tasted Sri Lankan food in a banana leaf with rice, curries and spices. It was absolutely amazing, and the local people would watch in anticipation as we ate – they were so pleased that we liked it!
I've had this wonderful experience and now I want to put it into practice here".
The British Council's Active Citizens programme is a social leadership training programme that promotes intercultural dialogue and community-led social development. It is delivered by the British Council in partnership with organisations who share the same objectives. It has been delivered in over 50 countries worldwide, through local organisations, who deliver the programme to small groups at community level. These people go through a 'learning journey' and then go on to do social action projects for the benefit of their local community.
Learn more about The British Council's Active Citizens programme here. 
---
Spotlight on: Alice Rogers, Admin Placement

Alice Rogers first came to the Coliseum in 2016 with Future Finders, an initiative via New Bridge School  which provides supported internships for 19 to 25 year olds with learning disabilities. She attended two sessions a week with her support worker, Nicola, and at the end of her internship she joined the Coliseum independently as a permanent volunteer placement, coming into the theatre one day per week.
"Alice has become extremely confident in completing her tasks. She now works across many departments, helping our community group Full Circle every other Tuesday, Housekeeping, Box Office – just to name a few. Alice completes all of her work with a smile and enthusiasm and is a pleasure to work with."
– Rose Sergent, Admin Officer
What has been your favourite production at the Coliseum?
Dick Whittington was brilliant and I recently came to see The Greatest Hits of Motown, which I really enjoyed.
What are you currently looking forward to?
Everything! I'm coming to watch The Kitchen Sink this week.
Can you tell us an interesting fact about yourself?
I was in a Dark Horse show called You Have Been Watching last year. We opened at LBT in Huddersfield, then went onto Barnsley Civic, Cast in Doncaster and the Stephen Joseph Theatre in Scarborough.
---
Customer Experience Volunteers
We're always on the lookout for friendly and reliable people to join our team of Customer Experience Volunteers, who help to look after our audiences from greeting them in the foyer, to selling programmes and ice creams, taking them to their seats and much more.
Customer Experience Volunteers must be 18+ and able to commit to a minimum of three months volunteering with us. No experience is needed as full training is provided.
Click here to learn more about becoming an Oldham Coliseum Theatre Customer Experience Volunteer or contact Heather Shaw, House Manager,  by phone on 0161 785 7021 or email heathershaw@coliseum.org.uk
---
Oldham Coliseum Theatre gratefully acknowledges funding from:
Oldham Coliseum Theatre is a Registered Charity, No: 508829.
Oldham Coliseum Theatre Ltd Reg No: 1415547