Dame Trott meets her heroes at Boundary Park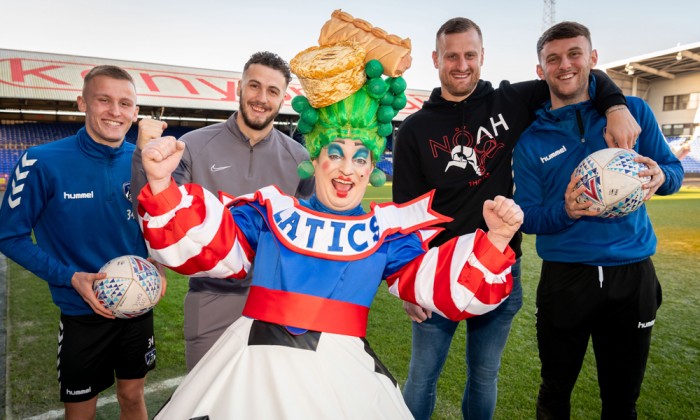 Christmas came early for Dame Dotty Trott (AKA Richard J Fletcher) when she visited the home of Oldham Athletic, Boundary Park, to meet some of the players and enjoy a special tour.
In  Jack and the Beanstalk Dame Trott is a lifelong Latics fan who makes her first entrance in a specially designed Oldham Athletic dress complete with a meat pie sausage roll wig and an Oldham Athletic mobile phone.
The delightful Dame met Latics players: Jamie Stott, Alex lacovitti, Tom Hamer and Captain David Wheater on the pitch at the end of training. Dame Trott then enjoyed a tour of the grounds, calling her son Jack (…and the Beanstalk) from the Home Team box and finding her own mini Chaddy the Owl for Christmas.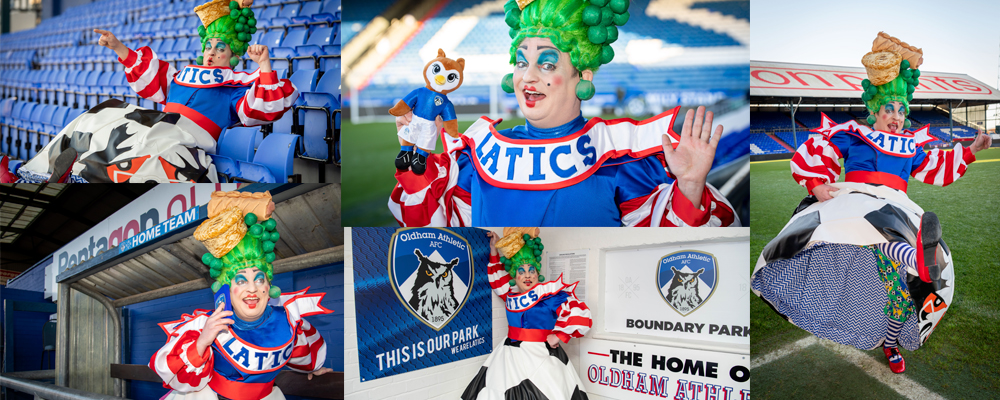 Dame Dotty Trott is played by Oldham pantomime legend Richard J Fletcher, who has been a part of the Coliseum's pantomime family since 2008.
Richard said: "It's great to be back at Boundary Park. When I was a schoolboy I used to play our home games for Oldham Town on the astroturf here on a Saturday morning, so it feels like coming back home."
Richard, from Greenfield, grew up watching the Coliseum's pantomime with Kenneth Alan Taylor and Jeffrey Longmore playing the Dame in the 1980s and 90s. He trained in physical theatre at drama school and lived in London for twenty years, when he returned to Oldham he joined the Coliseum's pantomime as the Comic. After 11 years as Oldham's beloved high flying, heel kicking Panto Comic this year Richard plays the Pantomime Dame for the first time.
Richard's other recent credits include the Coliseum's 2017 musical ode to Oldham Athletic, Meat Pie, Sausage Roll, the Coliseum's productions of Oh What A Lovely War and Up 'N' Under and a national tour of Northern Broadsides' Much Ado About Nothing.
Oldham Coliseum Theatre's nationally renowned pantomime has been putting the extra sparkle into the festive season for generations; with all the ingredients for fantastic family fun: hit songs, silliness, a sprinkling of fairy dust and a generous helping of It's Behind You! With a fairy, a GIANT and a hippy cow,  Jack and the Beanstalk is the perfect Christmas treat for kids and not-so-grown-up grown-ups.
Jack and the Beanstalk runs at Oldham Coliseum Theatre from Saturday 16 November 2019 – Saturday 11 January 2020.
Click here to learn more and book tickets