Coliseum wins three Manchester Theatre Awards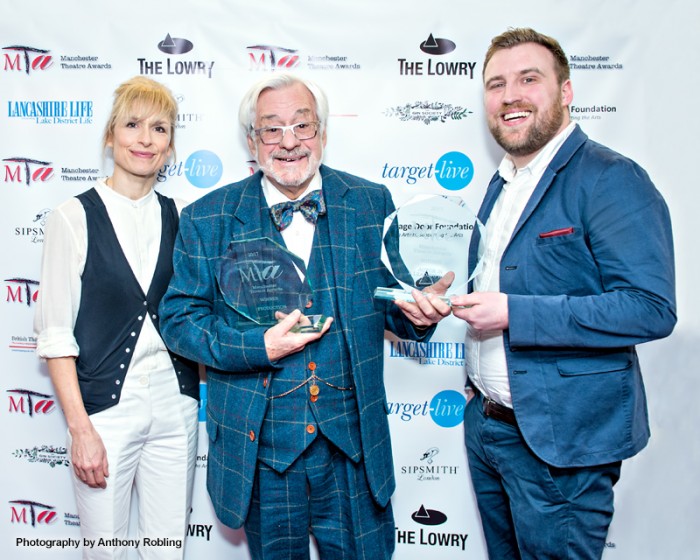 On Friday 9 March representatives from the Coliseum hopped on a tram and headed over to Salford Quays for the star-studded Manchester Theatre Awards ceremony held at The Lowry.
The Manchester Theatre Awards is the most important theatrical prize giving outside of London, honoring productions seen in Greater Manchester during 2017. The Coliseum had 10 nominations this year and we were thrilled to join up with some of the talented actors who had been nominated for their performances on our stage for the ceremony.
The Father wins Best Production
One of the biggest prizes of the night, the award for Best Production was presented to  Kenneth Alan Taylor and the Coliseum's Associate Director, Chris Lawson.
The Coliseum produced the North West premiere of The Father in June-July 2017, directed by Chief Executive and Artistic Director, Kevin Shaw, and starring actor, director and twice former Artistic Director of the Coliseum, Kenneth Alan Taylor, in the lead role of André. Our production  received praise across the board, including four five-star reviews.
André is a charming elderly gentleman who once had a glittering career as a tap dancer. He lives with his daughter Anne and her husband Antoine in a chic Parisian apartment. Or was he once an engineer whose daughter Anne moved to London with her new partner Pierre? The trouble is, he can't quite remember, and he can't find his watch…
Taking the audience on a journey through André's perspective, The Father is a powerful and moving black comedy about the devastating impact of dementia on one man and the people in his life.
The Father was originally written in French by literary sensation Florian Zeller and won the Moliere Award for Best Play in 2014. Translated into English by Christopher Hampton (Dangerous Liaisons), it earned a further string of accolades and nominations from hit runs in London's West End and New York's Broadway, including a Lawrence Olivier Award and a Tony Award. The Coliseum's production adds a Manchester Theatre Award to that list.
The Coliseum's production of The Father was sponsored by Aksa Homes / New Charter Group. 
Kenneth Alan Taylor wins Best Actor in a Leading Role for his performance as André in The Father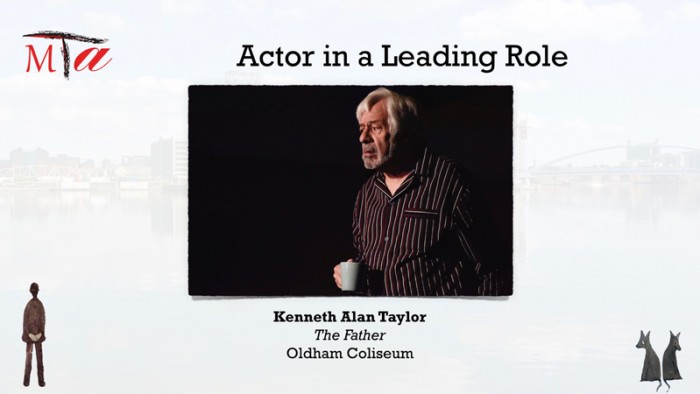 Kenneth Alan Taylor's brilliant performance as Andre moved audiences at every performance. Throughout The Father we see André's charming, playful and dark sense of humour shine through despite his weakening memory and increasing sense of worry.
One reviewer said: "Kenneth Alan Taylor's central performance as Andre is riveting and heart-breaking in equal measure. Rarely has this reviewer seen vulnerability by a male actor portrayed so convincingly on stage. Alan Taylor's performance is guaranteed to reduce even the hardest hearted theatregoer to tears." (The Reviews Hub)
Kenneth Alan Taylor has performed in over 320 Oldham Coliseum Theatre productions since his first appearance at the then Oldham Repertory Theatre in 1959. He became Artistic Director from 1978 to 1982, reopening the theatre after a nine month closure and reconstituting the Oldham Repertory Theatre as Oldham Coliseum Theatre. He returned as Chief Executive of the theatre from 1996 – 2002 and was presented with the Horniman Award for Outstanding Achievement in Theatre in 1997.
Kenneth commented: "I'm absolutely delighted, really more for the play than anything else. I stand by what I've always said, it's the best play I've ever been in and it's thanks to Kevin Shaw, the Coliseum's Chief Executive and Artistic Director, for daring to put it on."
English Touring Theatre's The Weir won the Target Live Award for Best Visiting Production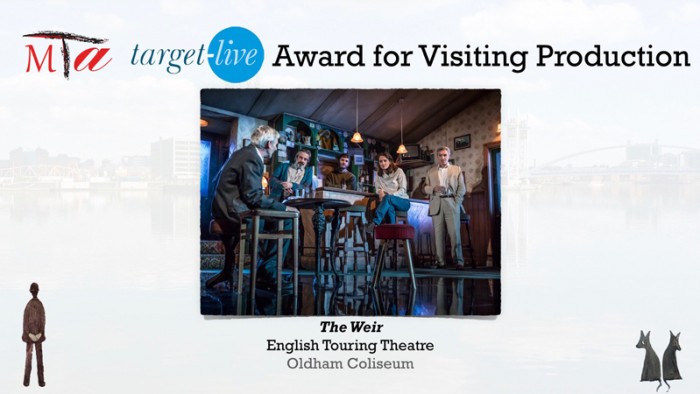 English Touring Theatre's The Weir had a hit run at the Coliseum in October 2017. Winner of the 1997 Olivier Award for Best New Play, Conor McPherson's chilling, modern classic is set in a small Irish town, where the locals exchange stories around the fire of Brendan's pub one stormy night.
The Weir came to the Coliseum as the second production to be toured to the Regional Touring Network, an Arts Council England Strategic Touring consortium of nine regional venues, with whom English Touring Theatre produce and tour high quality drama. It followed the success of English Touring Theatre and Orange Tree Theatre's production of Terence Rattigan's French Without Tears which toured in autumn 2016.
"There is nothing like a ghost story or two as the nights draw in. and there is no better setting than the Oldham Coliseum, with the old world charm of the theatre setting the perfect atmospheric backdrop." – Oldham Times.
Also nominated were:
Karen Henthorn for Best Actress in a Leading Role for her performance as Daisy Crompton in Spring and Port Wine
Cliff Burnett for Best Actor in a Leading Role for his performance as Mr Gradgrind in Hard Times
Kerry Peers for Best Actress in a Supporting Role for her performance as Anne in The Father
Thom Michael Blyth for Best Actor in a Supporting Role for his performance as Stephen Blackpool in Hard Times
Isobel Bates, Matt Connor, Richard J Fletcher, Jeffrey Harmer, Barbara Hockaday, Anthony Hunt, Thom Petty, Lauryn Redding, Reece Richardson and David Westbrook for Best Ensemble for their performances in Oh What A Lovely War
Natalie Radmall-Quirke for Best Actress in a Visiting Production for her performance in English Touring Theatre's The Weir
Sean Murray for Best Actor in a Visiting Production for his performance in English Touring Theatre's The Weir
The 2018 Manchester Theatre Awards were in association with Target Live, who managed the PR for the awards.
Awards photograph by Anthony Robling