Cast announced for Four Minutes Twelve Seconds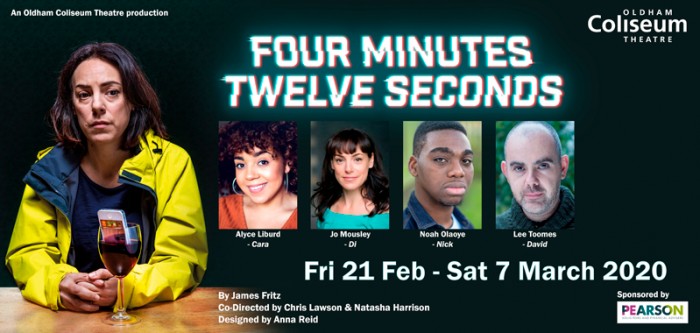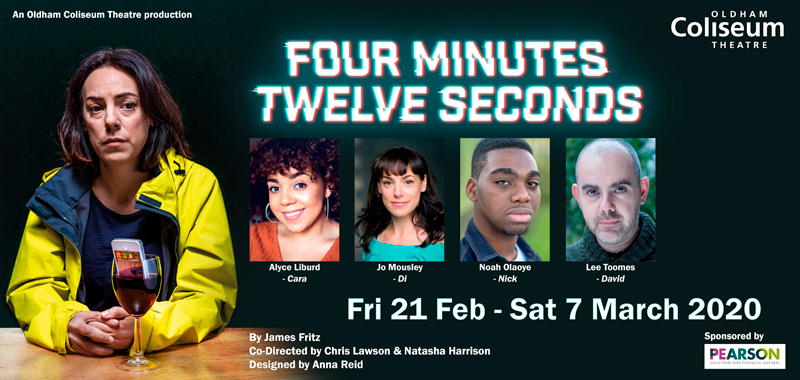 In February 2020 the Coliseum presents James Fritz's modern morality thriller, Four Minutes Twelve Seconds.
Nothing dies online, except reputation.
Seventeen year old Jack has a bright future ahead of him; he's smart, outgoing and well on his way to leaving Oldham to study law at university. His parents have devoted their lives to giving him every opportunity they never had, but when an intimate video of Jack appears on the internet they are forced to doubt their son, his friends and ultimately themselves. In a hyper connected society, Four Minutes Twelve Seconds asks how well we really know the ones we love and how far we're willing to go to protect them.
The cast of the Coliseum's production features: Jo Mousley as Jack's mother Di; Lee Toomes as his father David;  Alyce Liburd as his (ex) girlfriend Cara and Noah Olaoye as his best friend Nick.
Jo Mousley was last seen at the Coliseum in our hit 2018 production of Relatively Speaking and our Manchester Theatre Award winning 2017 production of The Father. Her other recent credits include: Hello and Goodbye at York Theatre Royal and Be My Baby, Hamlet, A Christmas Carol, Europe and Road at Leeds Playhouse.
Lee Toomes completed a national tour playing Brian in The Full Monty earlier this year. His other credits include Beryl at West Yorkshire Playhouse and New Year New Work at Hull Truck Theatre.
Alyce Liburd's notable credits include: the 2019 programme at the award-winning pop-up Shakespeare's Rose Theatre in York, Out of Joint's national tour of Rita, Sue and Bob Too and Red Ladder's The Parting Glass.
Noah Olaoye is a current student at ALRA North, due to graduate in July 2020. His professional experience to date includes the workshop of Hope Mill Theatre's The Exonerated.
One character you may have noticed missing from this cast list is Jack himself, and that is because we as an audience never meet him. Instead we're forced to rely on his family and friends' versions of events as we, as well as his parents, attempt to decipher who posted the video.
Four Minutes Twelve Seconds made its world premiere at Hampstead Theatre, London in 2014. It earned writer James Fritz the Critics Circle Most Promising Playwright Award, was nominated for an Olivier Award and was runner up for Soho Theatre's Verity Bargate Playwriting Award the previous year. Originally set in Croydon, the play is being specially adapted by James Fritz for the Coliseum's production and Greater Manchester's audiences.
James Fritz is a multi-award winning writer from South London whose plays for stage and radio also include: Parliament Square (Royal Exchange Theatre, Manchester and Bush Theatre, London, 2017) and Ross & Rachel (Edinburgh Festival Fringe, 2015; 59E59 Theaters, New York).
Four Minutes Twelve Seconds runs from Friday 21 February – Saturday 7 March 2020. Click here to learn more and book tickets.