Bread & Roses is "An honour to watch"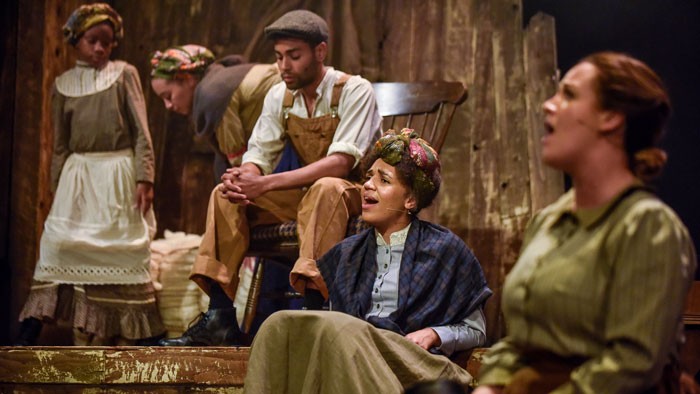 Ian Kershaw's brand new musical Bread & Roses made its world premiere at the Coliseum on Friday 22 June, and the reaction from audiences and critics has been incredible. The run ends this Saturday, 7 July and we can guarantee that you don't want to miss it. Click here to book your tickets now for Bread & Roses.
This uplifting and heartfelt production uses a mix of gospel and Americana music, including songs by legendary songwriter Joe Hill – who inspired the likes of Bruce Springsteen and Billy Bragg, to tell the true story of the millworkers strike in Lawrence in 1912. Each song is performed beautifully by our phenomenally talented cast, who, in true Coliseum style, also play instruments live on stage.
"I would happily buy the soundtrack to this production if it's made available"
– Live Art Alive
"I very nearly stood up and joined in, despite the tears in my eyes."
★★★★
– Northern Soul
Much like Oldham, Lawrence at the time was awash with textile mills and workers travelled from all over the globe to find work at the looms. Single mother Lucy-Rose Atkins (Emma Naomi) works in Dukes Mill alongside her close friends and colleagues – Anna (Claire Burns); Abbie (Sophie Mercell); Joe (Rupert Hill); Salvation Army Captain, Martha (Lauryn Redding); and newcomer, Cal (Oliver Wellington). When Dukes (Matthew Ganley) cuts their wages to reflect a law reducing working hours for women and children they find themselves short of the funds required to live.
Enter Elizabeth Gurley Flynn (Tupele Dorgu) from the IWW (Industrial Workers of the World), who has come to empower Lucy-Rose and her friends and colleagues to fight back, not just for the bread on their tables, but to enrich their lives with roses, too.
"It's been a long time since I loved something this much"
– Russel T Davies
"I laughed, I cried, I was filled with happiness and I was genuinely sad when it came to an end."
– Oldham Reporter
"This is one of the most pleasurable pieces of theatre you'll see this year, or any year probably"
★★★★★
– Remote Goat
The Bread & Roses strike was one of the most significant labour movements in American history – but it is as resonant today, both in the US and the UK, as it was then. Ian Kershaw's new musical, masterfully directed by Amanda Huxtable, is a moving story about hope and the power of people coming together.
"A heart achingly beautiful, uplifting night at the theatre, full of hope & ideas & heavenly music"
– Julie Hesmondhalgh
"To miss seeing this show would be to miss an invaluable experience."
★★★★★
– North West End
"This is quite simply one of the best productions I have ever seen in a provincial repertory theatre."
– Oldham Times
A story encompassing love, loss, laughter, lies and deceit, emotional songs and an ultimate feeling of empowerment and joy make Bread & Roses the must-see hit of the summer.
What audiences have been saying:
"There simply aren't enough words in a tweet to say how amazing this piece of writing is and how soul lifting the performance is"
"If you do one thing for your soul today, book tickets to see this play"
"I can honestly say that I am proud to be from this town after watching this production, which was conceived, commissioned, written, and performed here for the first time ever tonight. Everything about it was quite superb"
"An important moment in history with resonance today. Strong cast, terrific music. You have until 7th July to try not to cry within the first 2 minutes"
"So brilliant in every respect that I could have just watched it all over again"
"Wow. I am speechless. I am bowled over. I AM SHOOK. Bread & Roses at Oldham Coliseum is glorious. An honour to watch"
"What a great show, beautiful, moving, truly a story that needs to be told"
 "One word! UNMISSABLE!!!!"
Bread & Roses must end this Saturday, 7 July. Tickets have been selling like hot-cakes, but there are still some seats available. Don't miss it!
 Click here to book your tickets now for Bread & Roses.
Friday 22 June – Saturday 7 July
Bread & Roses
An Oldham Coliseum Theatre Production
By Ian Kershaw
Directed by Amanda Huxtable
Designed by Kate Unwin
Musical Director Howard Gray
Lighting Designer Stewart Bartles
Sound Designer Lorna Munden