Bread & Roses, a play with songs – what some people may call a musical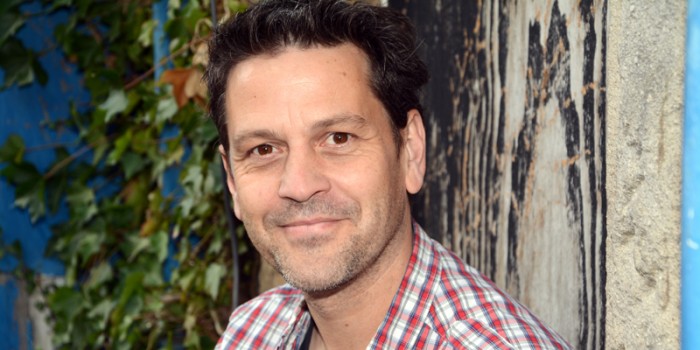 In this special guest blog, Bread & Roses writer, Ian Kershaw, discusses his new play for the Coliseum
The Coliseum's Chief Executive & Artistic Director, Kevin Shaw, commissioned me to write a state-of-the-nation play about what's going on now under austerity, how we're not really 'all in this together' and how people are struggling to exist – this is what we wanted to say BUT we also knew that whatever we decided to do that it shouldn't be depressing! 
We wanted it to somehow be uplifting – the same as Brassed Off is, but isn't really, about the miners strike and The Full Monty is, but isn't really, about the collapse of the steel industry in Sheffield.
We try to give an audience a great night out – and I count myself as an audience member – WE buy tickets, we leave our home comforts (kettles and tellys) to negotiate the new one-way system in Oldham town centre before realising we've not brought enough change for the pay & display car park – we have battled to get to the theatre and that battle needs a reward!  Yes the reward comes initially from the theatre staff that are all lovely and welcoming, then the bar with its happy 'excited-to-be-out' buzz around it and hopefully that should continue into the auditorium and beyond.   That's not to say that we don't want to be challenged, that we don't want our thoughts provoked and our hearts smashed to bits but we also want entertaining, we want to meet people onstage who think and act like us – we want to share their pain and their joy – we want story.
Before I agreed to write the play I went on a search for a story and I eventually found one in 1912 in Lawrence, Massachusetts where the first mass strike by unskilled workers occurred.  The strike was led by women who 'fought their way through to the front of the demonstrations' – it was known as 'The Bread & Roses Strike', it's also known, thanks to the songs of Joe Hill, as 'The Singing Strike'.  This strike was a story of struggle but also about hope and community and people coming together, standing shoulder to shoulder and fighting together – fighting not just for the basic essentials of bread but also for a better life, a good life – roses.  This could give us all a good night out and could also make us think, make us weep and make us belly-laugh. 
When I eventually finished the first draft of the play I wrote on the front page – 'Bread & Roses, a play with songs – what some people may call a musical' – I still thought of it as a play.
The wonder that is Amanda Huxtable came to direct it and she said that she thought of it as a play. 
My first conversation with genius Howard Gray, who would arrange the songs and be the musical director, he said that he believed it is a play. 
When we met actors for the play – nearly 2,000 submissions and over 40 interviews to get our beautiful 8 actors – everyone agreed that it was a play. 
It's a play!
End of the first week of rehearsals and Tupele Dorgu tells me that she and the rest of the cast had been chatting about the show and have decided that it's a MUSICAL!  "There are fourteen songs, Kersh – this isn't just a play!  There are FOURTEEN songs!!!"
So is it a play or is it a musical? 
You'll find out on the first night – the world premiere in Oldham – after you've successfully negotiated the one-way system and having had the foresight to bring enough change for the pay & display, having laughed with the theatre staff and sipped a drink in the bar, I hope you go into the auditorium knowing that you're in for a great night – a night featuring eight of the greatest and heart-smashingly astonishing actors who tell the story of the strike full of love and heart and hope and community and belt out beautiful songs – and then when you have found out if it's a play or if it's a musical please can you tell me and Tupele!
Bread & Roses makes its world premiere at Oldham Coliseum Theatre on Friday 22 June, running until Saturday 7 July. Click here to learn more and book tickets.