August 2020 Newsletter
As you may have already heard, we have made the difficult decision to postpone our annual family pantomime, which this year would have been Aladdin, to 2021. The first article in this newsletter is a statement from Coliseum Artistic Director Chris Lawson and Chief Executive Susan Wildman, explaining this decision in full, with a link to our FAQ's page for the pantomime
Following that, learn all about #ColiseumCreates – a package of fun family-friendly activities for people of all ages to get involved in – with the opportunity to win tickets to our Easter 2021 family show, The Jungle Book, and learn more about our Homemakers commission, the Poetry Health Service.
We're working on putting together an exciting and unique Autumn season, designed specifically around social distancing and keeping each other safe, and will announce details of this in due course.
We have recently changed our Box Office and Email systems. The next time you come to book a ticket online our website may ask you to reset your password. You will receive an email to register a new password, please check your junk folder if you have not received it after a couple of minutes. This will only happen once and afterwards you will benefit from a much-improved and easier to follow booking process. If you would prefer not to receive future emails from the Coliseum you can update your preferences using the link in the bottom of the newsletter email.
---
Aladdin postponed to 2021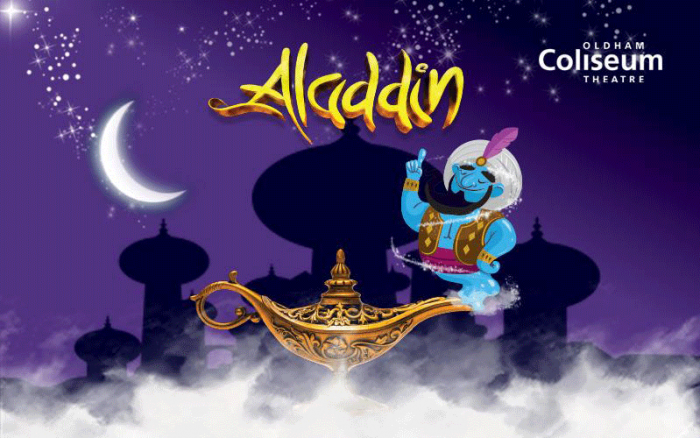 It is with a very heavy heart that we announce that our 2020 pantomime Aladdin is postponed to Christmas 2021.
A trip to the Coliseum's annual pantomime has been a festive tradition for the people of Oldham and beyond for many generations and we're incredibly disappointed that this year will be different. We have been working on Aladdin for months now with our amazing staff and creative team and we're saddened that we'll have to wait another year to share this with you all.
However, our first priority as an organisation is to ensure the safety and wellbeing of our staff, audiences, cast and crew, and our second priority is to ensure that we as a company are here to create the magic of theatre in Oldham for years to come. We feel that trying to stage Aladdin as planned this Christmas would put both of these priorities in jeopardy.
It is simply not possible for us to stage our pantomime with social distancing in place. The high quality panto you've come to expect from the Coliseum requires significant investment – an investment we cannot afford to make if we're only able to sell a small percentage of our seats. The Government has stated that it cannot give theatres any indication of when they can reopen without social distancing until November at the earliest – the month our panto was due to open.
In addition, we have seen locally in Oldham how quickly Coronavirus can spread and lockdown measures reinstated. Usually at this point in the year, the making of our panto would be well under way. We would have our cast, our community chorus, be making set, props and costumes, planning to start rehearsals in October. In a year that is incredibly financially challenging because of our extended closure, we cannot commit to investing money in making Aladdin knowing that we might not be able to open the show for our audiences. This would be financially catastrophic for us as an organisation and we cannot risk our future and those of the staff, artists and creatives we support.
If you've bought tickets, you do not need to do anything and our team will be in touch with you as soon as possible. We have rescheduled all tickets to our new dates and will be contacting ticket holders about next steps.
We are currently working on putting together an exciting and unique Autumn season, designed specifically around social distancing and keeping each other safe, and we will announce details of this in due course.
Right now, more than ever before, the Coliseum needs your support. Please consider making a donation to support the Coliseum today – you can help to keep the magic of live theatre here in Oldham.
Chris Lawson




Artistic Director

Susan Wildman




Chief Executive
(Pictured: artwork for Aladdin)
---
#ColiseumCreates  –  Join in

#ColiseumCreates is a series of fun activities for all the family, designed by our Learning and Engagement Team, with the opportunity to win four tickets to next year's family show The Jungle Book.
Why not get creative outdoors with your little adventurers, or become a storyteller using our Coliseum Cubes? See if your little ones can recognise some Oldham landmarks whilst they give the Coliseum a bit of colour.
Young people and adults can design some costumes for three charismatic characters, find the perfect place in your home to set a play, write a monologue exploring lockdown or write a duologue for some colourful characters who have previously graced the Coliseum stage.
Each activity has been created with an age range in mind, and can be adapted for all to enjoy!
Colour-in Coliseum (children aged 10 and under)

Outdoor Adventures (children aged 12 and under)

Coliseum Cubes (ages 7+)

'Set the Scene' Photo Challenge (family activity)

'Off-Out' Monologue Challenge (ages 11+)

'Take Two' Duologue Challenge (ages 11+)
Click here to learn more and take part
You could win four tickets to next year's family show The Jungle Book by sharing any of the work you have created, or by sending us photos of your family taking part in the #ColiseumCreates activities.
It could be a photo, drawing, comment, or story – the more you share the more chances you have to win!
Share your work on Social Media using the hashtag #ColiseumCreates, send an email to LED@coliseum.org.uk or post your discoveries to: Learning & Engagement Office, Oldham Coliseum Theatre, Fairbottom Street, Oldham, OL1 3SW.
Click here to learn more and take part
(Pictured: #ColiseumCreates)
---
Have you got your free poetry prescription yet?

Founded by Coliseum Associate Artist Hafsah Aneela Bashir, the Poetry Health Service (PHS), is a brand new, free creative service that prescribes contemporary poems as a tool for connection and healing.
PHS embodies and champions the importance of art in supporting our mental and emotional health, sharing a range of exciting, inspiring, heart-warming and healing poetry. Users are prescribed a complimentary poem following the completion of a colour-based flowchart. They are then invited to respond to their poetry panacea with a Haiku of their own.
Poems were contributed by writers from across the world including: Hafsah Aneela Bashir (Jerwood Compton Poetry Fellow 2019/20), Roger Robinson (winner of the 2019 TS Eliot Prize), Theresa Lola, Anthony Anaxagorou, Keisha Thompson, Shagufta Iqbal, Salena Godden and USA-based poets: Roya Marsh, Buddy Wakefield and Aisha Sharif.
PHS is an Oldham Coliseum Theatre Homemakers commission, in partnership with HOME, Manchester. It is available free online at poetryhealthservice.com or by texting POETRY to 07401 257 351 (texts are charged at your normal rate to a UK mobile)
Learn more:
Hafsah Aneela Bashir on her relationship with poetry and her inspiration for the Poetry Health Service
(Pictured: Poetry Health Service logo)
---
Zog flies into Oldham in March 2021

Due to the constantly evolving situation and conversations with the production company, Julia Donaldson's much-loved dragon Zog has been rescheduled a second time, and will now fly into Oldham in March 2021.
Original dates
(2020)

Old rescheduled dates
(2020)

New rescheduled dates
(2021)

Saturday 28 March, 2pm

Saturday 10 October, 4.30pm

Friday 12 March, 4.30pm

Saturday 28 March, 11am

Sunday 11 October, 10.30am

Saturday 13 March, 10.30am

Sunday 29 March, 11am

Sunday 11 October, 1.30pm

Saturday 13 March, 1.30pm

Sunday 29 March, 2pm

Sunday 11 October, 4.30pm

Saturday 13 March, 4pm
All ticket holders have been contacted with their new dates and options for how they would like us to handle their booking.
Large in size, and keen in nature, Zog is so eager to win a golden star at Madam Dragon's school, where dragons learn all the things that dragons need to know. Zog tries so very hard, perhaps too hard, and he bumps, burns and roars his way through years one, two and three.
Luckily, the plucky Princess Pearl patches him up ready to face his biggest challenge yet…a duel with a knight, Sir Gadabout the Great!
Julia Donaldson and Axel Scheffler's much-loved Zog has been imaginatively adapted in Mike Shepherd's (founder and Artistic Director of Kneehigh) magical production with Johnny Flynn's (award-winning actor and singer-songwriter with The Sussex Wit) sumptuous folk score featuring live musicians. Katie Sykes' design lifts the book from the page and creates a real and fantastical world.
From the team behind Tiddler and Other Terrific Tales and Tabby McTat, Zog promises to be roaring fun for all ages.
We sincerely apologise for the inconvenience caused, yet again. The decision to postpone this brilliant family show further hasn't been taken lightly. We're really looking forward to presenting Zog for our family audiences in 2021 and hope that you can join us.
(Pictured: Zog production photograph. Image by Mark Senior)
---
Our favourite Coliseum memories

Over the past few months we've been asking our team to tell us their favourite memory of the Coliseum.
Our latest memory comes from Front of House Deputy Manager, Kyle Wilcock, who said: "It's a hard choice! I have seen so many fantastic shows at the Coliseum, but I would have to choose Hot Stuff. Hot Stuff was a 70's jukebox musical devised for the Coliseum in 1990 by Paul Kerryson and Maggie Norris. The show tells the tale of Joe Soap, a young, aspirant musician who sells his soul to the devil for fame and fortune. I saw the Coliseum's revival in 2015 and it was a magical evening of 70's tunes, larger than life comic characters and fantastic set pieces. I saw the production four times and I was hooked!"
"My favourite character was the devil in heels Lucy Fur played initially by David Dale and then by Alan French in the 2015 production."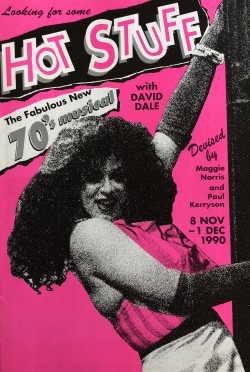 "I have a keen interest in the history of the Coliseum and have a vast programme collection, my oldest being from 1940! The Coliseum has produced some fantastic musicals throughout its rich history including Godspell, Hold Tight it's 60's Night, Marlene (Starring Sian Phillips), Chicago and The Hired Man."
(Pictured: Alan French as Lucy Fur in Hot Stuff (2015) and the front cover of the 1990 Hot Stuff programme)
---
Oldham Coliseum Theatre gratefully acknowledges funding from:

Oldham Coliseum Theatre is a Registered Charity, No: 508829.
Oldham Coliseum Theatre Ltd Reg No: 1415547