August 2019 Newsletter
This month we announced the winners of our Pick of the Fringe Award, who will be performing as part of our Main House Takeover in September. We also held a special event sharing work made in creative Dementia Friendly workshops as a puppetry show, working with Horse + Bamboo Theatre, opened applications for our Associate Companies/Artists for the next year and launched an opportunity for inspiring theatre critics – GM Critics 2019, working with five other Greater Manchester Theatres.
Read all about it – plus even more updates on what's going on behind the scenes here at the Coliseum – below.
---
Join us: Associate Artists / Companies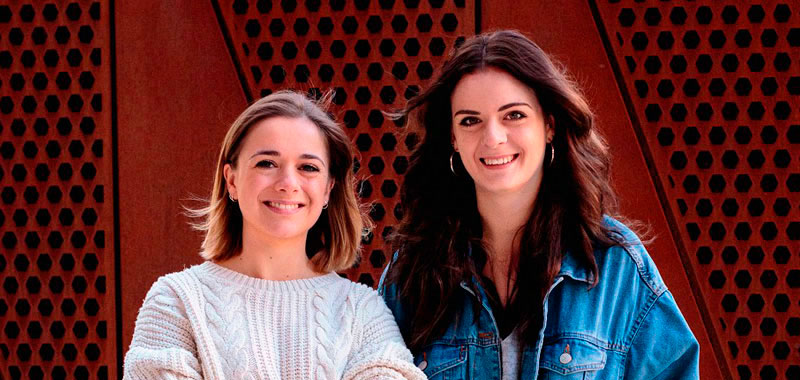 We're looking for an Associate Company or Artist to work with us September 2019 – September 2020. Our Associate Artists have access to individually tailored experiences to support their development and strengthen their networks.
Associate Companies/Artists are embedded in the Coliseum company, giving them access to valuable development opportunities including: administrative and technical support, one to ones with staff, office and development space, performance and networking opportunities.  The chosen Company or Artist will be mentored by Acting Artistic Director Chris Lawson, current Associate Company Fine Comb Theatre and staff relevant to their areas of interest who will support them to produce a development plan for their time as associates and beyond.
"It's not often that an established theatre not only supports your work so passionately, but supports it enough to give you the opportunity to develop under their roof.  It's such a privilege to work with Oldham Coliseum." – Rachel and Cat, Fine Comb Theatre
Associate Companies work closely with the Coliseum to develop new audiences and provide critical feedback for other Coliseum productions. They are a part of a peer-to-peer support network and act as mentors for aspiring creatives working with the theatre.
Our Associates are supported to try new forms and produce new work across the building and site specific locations.
We're looking for an early career company or performance artist with strong links to the North West, and preferably Oldham in particular.
If the points below sound like you, we'd love to hear from you:
a company or individual making work in a broad performance context including but not limited to: theatre, digital, site specific, circus, dance/ movement, spoken word

making work in the North West;

understand who we are, our programme and be dedicated to working with us.

an excellent collaborator;

committed to developing your practice further;

dedicated to inclusive practice which reflects the artistic vision of the Coliseum;

motivated to explore new ideas and forms.
The deadline for applications is Tuesday 27 August. Click here to learn more and find out how to apply
This engagement is for a twelve month period. We encourage applications from underrepresented Artists with a connection to/strong knowledge of the community/region.
---
LipService go off the rails in Strangers on a Train Set

Comedy duo LipService return to Oldham this September with their brand new show Strangers on a Train Set – a murder mystery set on a model railway with references to train related dramas including Brief Encounter and Murder on the 4.50 from Paddington.
Challenging a youth to turn down his music, Irene Sparrow, inventor of the left-handed crochet hook finds herself under suspicion of murder after the train emerges from a tunnel with the young man dead. But this is no ordinary train, each passenger is reading a book, each book is a portal into a parallel universe of train related crime fiction.
With clever mixture of live action on stage, projected sequences and model train sets, LipService give you a whistle stop tour of train related crime fiction that will leave you breathless and racing for the refreshment coach.
So don't blow your stack, this show is just the ticket to help you let off steam and overuse many more railway metaphors.  A show that appeals to crime aficionados and narrow gauge railway enthusiasts alike.
LipService are a multi award winning company specialising in literary spoofs, described as "The Laurel and Hardy of literary deconstruction" by The Independent. Maggie Fox and Sue Ryding have been writing and performing since 1985 – Strangers On A Train Set is their 21st production. As well as their work on the stage, they had their own series on Radio 4 – nominated for a Writer's Guild Award – and have twice won the Critics' Award for Comedy at the Edinburgh Festival.
LipService have toured nationally and internationally, with a reputation for their high quality and idiosyncratic comic take on popular culture. After 34 years, LipService remain fresh and vibrant. Strangers on a Train Set comes to the Coliseum from Wednesday 11 – Saturday 14 September. Click here to learn more and book tickets.
---
Call for applications: GM Critics 2019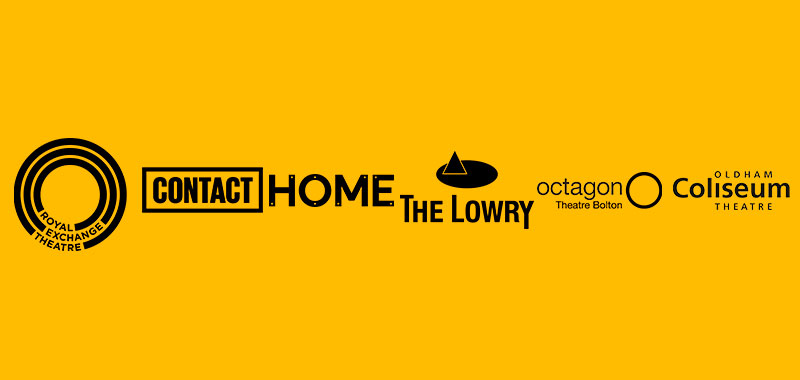 Greater Manchester's theatres – the Coliseum, Royal Exchange Theatre, Contact, HOME, The Lowry and Octagon Theatre Bolton, are seeking 10 participants from across the region to take part in the third year of their free theatre criticism scheme. We're inviting applications from anyone aged 18+ with an interest in critical evaluation for the theatre. Both new and emerging writers, video and audio bloggers are encouraged to apply. No previous experience is necessary, only a love of and interest in live performance.
The scheme, which runs over a twelve-week period starting in the last week of September, will be run by professional theatre critic Catherine Love. Over those twelve weeks, you will have the opportunity to see ten pieces of theatre across Greater Manchester, sharpen your critical writing skills and hear from two professional guest speakers. You will analyse what you see, discuss it with your fellow participants and learn how to set up your own blog.
"I absolutely loved my time on the course. It was fantastic to meet like-minded people and to see so many varied performances, from classic plays to children's theatre and opera. Catherine Love was an inspirational course leader and it was great to receive encouragement and words of wisdom from other influential critics along the way. Experimenting with the form and style of our reviews was an invaluable process and the feedback I received was always useful and supportive. The scheme comes highly recommended!" – Natalie Douglas, Reviewsmith
To apply all you need to do is write, film or record a short piece, (200 words / 1min) about a performance you have seen and write a paragraph about who you are and why you want to be involved (200 words).
The deadline for applications is Sunday 1 September 2019.
Please send all applications to GMcriticsearch@royalexchange.co.uk or post them to: C/o Paula Rabbitt – Royal Exchange Theatre, St Ann's Square, Manchester, M2 7DH
---
Dementia Friendly: Hands and Hearts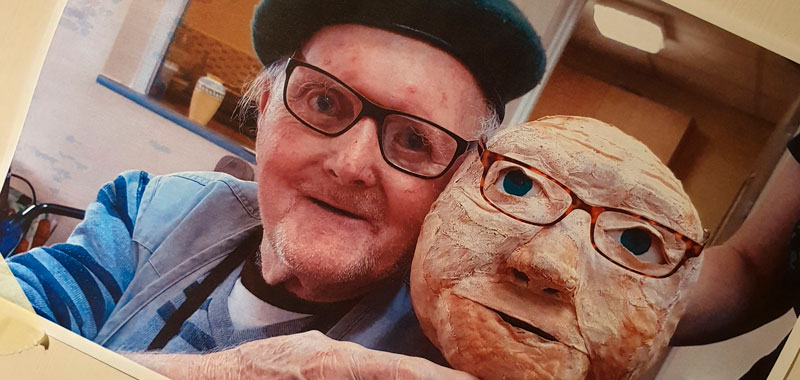 Earlier this week we held a special performance sharing work made in creative Dementia Friendly sessions enacted as a puppet show on our Main Stage.
This year, with support from The Big Community Lottery Fund, we've been working with Horse + Bamboo Theatre Company to deliver creative sessions with people living with dementia and their friends and carers, both at the Coliseum and in care home settings. Using puppetry our participants have been making and sharing stories and bringing them to life through playful hands-on approaches.
Hands and Hearts invited the participants and their friends and carers to see their work on stage, followed by creative activities in our Education suite. See a gallery of photographs from the event here.
The puppet show performance, Suitcase Full of Letters, was performed by Tom and Alice from Horse + Bamboo Theatre Company. It depicted a man in his later years living with dementia and social isolation and included physical puppetry, shadow puppetry, projection and a recorded reading created by the participants reflecting on their experiences.
To find out more about the Coliseum's Dementia Friendly sessions contact Carly, Head of Learning and Engagement at LED@coliseum.org.uk
---
Early bird offer for Zog at the Coliseum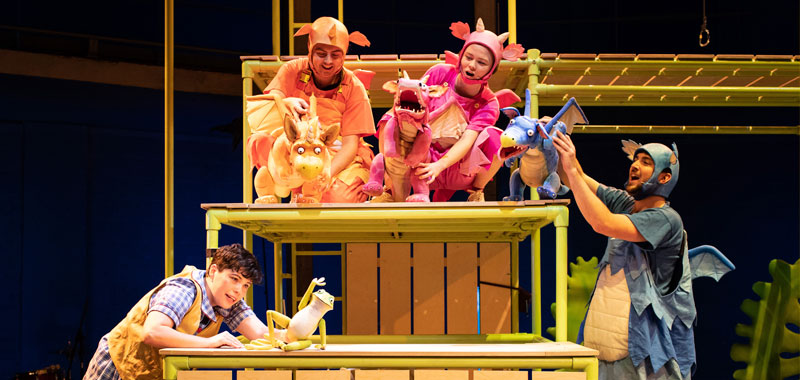 Julia Donaldson's much-loved dragon Zog comes to the Coliseum next Spring in a magical live production featuring musicians playing a sumptuous folk score.
Large in size, and keen in nature, Zog is so eager to win a golden star at Madam Dragon's school, where dragons learn all the things that dragons need to know.  Zog tries so very hard, perhaps too hard, and he bumps, burns and roars his way through years one, two and three.
Luckily, the plucky Princess Pearl patches him up ready to face his biggest challenge yet…a duel with knight, Sir Gadabout the Great!
"The cast were brilliant, engaging and hilarious. Utterly, utterly brilliant from start to finish" –  Modern Mummy
Zog flies into the Coliseum from Friday 27 – Sunday 29 March 2020. Early-bird bookers can benefit from £1 off all Zog tickets until Saturday 31 August. Click here to learn more and book Early Bird tickets.
---
Boarshurst Silver Band present traditional Autumn concert
Boarshurst Silver Band present their traditional Autumn concert at the Coliseum combining Albert Hall classics and original brass band pieces including Jerusalem, Pomp and Circumstance No 1, Fantasia and Rule Britannia.
The 27 strong Boarshurst Silver Band are one of the top bands in the North West today – a tribute to their long and distinguished history.  Celebrating their 170th year, the band are past winners of the prestigious North West Area Championships, National Brass Band of Great Britain, are current 1st Section Butlin's Champions.
Boarshurst Silver Band was founded in 1849 at Boarshurst School in Greenfield. Rehearsals took place in a loft above the stale at Casey Mill and during the summer months under the railway arch at Arthurs Lane. In 1979 new headquarters were established with the purchase of the Boarshurst Band Club, which was close to the original home of the band on Greenbridge Lane acquired some 80 years earlier. In 2000 the band commissioned Peter Graham to create the song Northern Landscapes, which was used as both National Third Section Area Test Piece and the Third Section Test Piece for the National Pontins Brass Band Championships. In 2016 the band featured in a special advert on ITV during the Queen's 90th Birthday celebrations, performing on a stage on the Coronation Street cobbles with opera singer Katherine Jenkins.
At this year's famous Saddleworth Whit Friday Brass Band Contests they won prizes at Uppermill, Scouthead and Austerlands, Lees and Springhead, Greenfield and Dobcross.
Boarshurst Silver Band come to the Coliseum on Friday 20 September. Click here to learn more and book tickets.
---
Coliseum Pick of the Fringe: Double Bill announced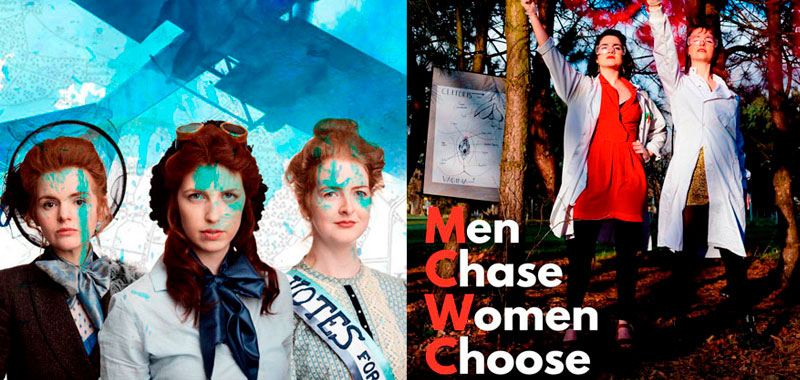 Women in STEM (Science, Technology, Engineering and Maths) links two independent productions from this year's Greater Manchester Fringe Festival due to double bill on the Coliseum's historic stage as part of our hugely successful Main House Takeover.
Men Chase Women Choose by People Zoo Productions, one of the Coliseum's supported shows at this year's Edinburgh Fringe Festival, will be joined by the theatre's Pick of the GM Fringe Award winner, Clouds by Time & Again Theatre Company on Friday 27 September.
Chris Lawson, Acting Artistic Director of the Coliseum, commented: "The Coliseum is dedicated to supporting theatre makers creating fresh and interesting new work in our region. This year our Picks of the Fringe share messages of feminism – past, present and future – and science and education. The double bill is a brilliant opportunity for these companies and their shows to gain a bigger platform and a wider reach."
Clouds by Time & Again Theatre Company
The year is 1913 and women are rising up…
Amidst the flock of pioneers fighting to rule the skies, Winifred Baxter is determined to become the first Englishwoman to enter an air race and fly right around the country!
In the open fields of Moorhanger Grange, Freddie learns to take to the skies during Britain's last glorious summer, weathering the chaos of friends and family, the suffragette movement, a glorious garden party and far too much nephology – the study of clouds.
The second play by new young writer Laura Crow, Clouds combines the suffocating society of pre-war Britain with a touch of comedy, early feminism, and pure vintage flair. It shows the characters of 1913 navigating many of the problems still experienced by women today, albeit to a more extreme level, and asks why there is still such a low proportion of women in science and aviation, and how can we change this?
Clouds by Time & Again Theatre Company ran at the Greater Manchester Fringe Festival on 25 July at The Pankhurst Centre.
Men Chase Women Choose by People Zoo Productions
People Zoo's feminist science sketch Men Chase Women Choose takes its title from one of many gender myths that pervade our society. This show is intent on skewering some widely held beliefs and unearthing the bad science behind them.
Men: Are you tired of chasing women down the street? Women: Are you deafened by the hoarse mating cries of your prospective suitors? Darwin says it's our biology. But is it?
Taking the form of a sketch show, with co-creators Sophie Giddens and Eve Shotton at the helm, Men Chase Women Choose is an informative and uproarious feminist romp that features fruit flies, film, physical theatre and a flute solo, putting women, sex and science under the microscope.
Men Chase Women Choose ran at the Greater Manchester Fringe Festival on 6 and 7 July at Hope Mill Theatre. It heads to the Edinburgh Fringe Festival supported by the Coliseum as part of Venues North alongside Best Girl by Best Girl Productions.
The Main House Takeover brings the new and often daring work seen across the North West's independent theatre scene to Oldham's historic Main Stage. Clouds and Men Chase Women Choose double-bill on the Coliseum's Main Stage on Friday 27 September. Click here to learn more and book tickets.
Putting the spotlight on Greater Manchester's eclectic fringe theatre scene, the Main House Takeover also features a three-night run of Tinned Up by Chris Hoyle, presented by 53two and Manchester Actor's Platform Productions (24 – 26 September). Click here to learn more and book tickets.
---
National tour of No Man's Land opens at the Coliseum this September

London Classic Theatre open their Autumn 2019 national tour of Harold Pinter's dark comedy No Man's Land at the Coliseum on Thursday 5 September.
A chance meeting of two elderly writers – Hirst, an alcoholic upper-class litterateur, and Spooner, a down-at-heel poet, leads to a drunken night of reminiscence. As the shadows lengthen and the whisky flows, their stories become more elaborate and improbable, forcing us to question whether the two men actually know each other. The comedy and ambiguity intensify when the arrival of two younger men, Briggs and Foster, forces events to take an unexpected turn.
Playwright, director, actor, poet and political activist, Harold Pinter was born in 1930 in East London. He was one of the most influential modern British dramatists, with a writing career that spanned over 50 years and a Nobel Prize for literature under his belt. His best-known works include The Birthday Party, The Homecoming and Betrayal. No Man's Land premiered at The Old Vic in London in 1975, starring John Gielgud and Ralph Richardson. Other notable revivals include Almeida Theatre in London in 1993 in which Pinter himself played Hirst and a production which ran on New York's Broadway in 2013 and London's West End in 2016 staring Sir Ian McKellen and Sir Patrick Stewart.
Launched in 2000, London Classic Theatre is one of the UK's leading touring theatre companies. Their recent visits to the Coliseum include: Charlotte Keatley's My Mother Said I Never Should earlier this year, Terry Johnson's Hysteria (2017), Harold Pinter's The Birthday Party (2016) and Samuel Beckett's Waiting for Godot (2015). The Coliseum is the first of 22 venues across the country to receive their new production of No Man's Land.
No Man's Land comes to Oldham from Thursday 5 – Saturday 7 September. Click here to learn more and book tickets.
---
Oldham in 100 Words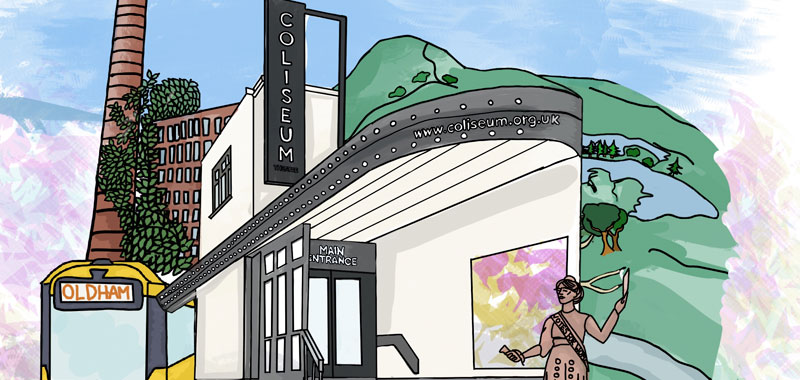 This September the Coliseum will be brimming with short plays about Oldham, and we'd like you to write them. The deadline to submit your play is Monday 19 August.
We're inviting writers of all ages and levels of experience to submit plays about our town that are 100 words or less (including stage direction). The plays can be about anything connected with Oldham – the people, the history, the future, the landmarks, even the tubular bandage!
We'll select 100 of the 100 Word Plays to exhibit at the Coliseum – all around the theatre in crafty and creative forms and places, from September, and another 20 of the 100 Word Plays to be recorded and curated into a podcast.
The deadline to submit 100 Word Plays is Monday 19 August at 10am. Click here for full details and submission guidelines.
---
From the arches to Oldham: 53two present Tinned Up in the Main House Takeover

As part of this year's Main House Takeover, Manchester's 53two and Manchester Actor's Platform (MAP) present Chris Hoyle's Tinned Up on the Coliseum's Main Stage from Tuesday 24 – Thursday 26 September.
Tinned Up was inspired by Salford streets affected by demolitions, where people were forced to leave their homes to make way for regeneration.
In it we meet Shirley Parkin, who has lived at number ten Brook Street, Langworthy, all her life and is adamant that she isn't going anywhere. A spirited spinster, she has defied the council for years, refusing to move out of her modest two-up-two-down terrace. Beryl, a foul-mouthed friend, Joy, an unhappy single mother and Daz, a thirty-year-old stoner, campaign alongside her to keep their local park from the cold grasp of profit-hungry developers.
We spoke to Simon Naylor, Artistic Director of 53two, about the production:
Why did you choose to produce Tinned Up?
As 53two is forced to move out of its home for a development, a play about being forced out of a home for development was an obvious choice! Tinned Up is fantastic – a beautiful piece of theatre from Chris Hoyle. I had the pleasure of directing The Newspaper Boy at 53two, which was also written by Chris, and this piece is just as good. Heartwarming, moving, powerful, relevant and hilariously funny – a classic Hoyle!
What are 53two and Manchester Actor's Platform up to right now?
53two are fundraising for our new home! We're a registered charity and we spend as much time and money as we can on supporting emerging talent and providing accessible theatre. Currently, without a theatre to produce in, we're relying on brilliant venues like Oldham Coliseum to give us a home. We've also been lucky enough to secure studio spaces in central Manchester, from which we can still continue to support other charities and artists. Planning is due to be submitted for the new venue very soon, then it's all systems go!
What are you most looking forward to about coming to the Coliseum?
For me, Oldham has always been a part of my career – I started attending the Youth Theatre Workshop there at age 13. I'm also from Bury and so, although a staunch Manc, I feel very strongly about Greater Manchester being as much a part of this great region's bustling personality. Oldham is just that – the theatre is the centre of the community and a beautiful venue, steeped in history and run by a team working incredibly hard to produce quality theatre for everyone. On top of this, Oldham does have some areas that I feel have done or, indeed, are a part of what this piece is about and so, again, it makes sense to use this play to start or continue important discussions about gentrification, a growing population and regeneration of the area.
Spanning two of Deansgate's famous tunnels, 53two were one of the central venues for Manchester's independent theatre scene, operating as a theatre with space for exhibitions, gigs, events, celebrations, rehearsals, classes, conferences and more. Having closed their doors earlier this year whilst they prepare to move to a new premises to continue their work, 53two are currently operating studios in central Manchester providing rehearsal, workshop, meeting and casting space.
Tinned Up runs at the Coliseum as part of the Main House Takeover from Tuesday 24 – Thursday 26 September. Click here to learn more and book tickets.
The Main House Takeover brings the new and often daring new work seen across the North West's independent theatre scene to Oldham's historic Main Stage.
The Takeover also features a One Night-Special showcasing a double bill of the Coliseum's pick of this year's Greater Manchester Fringe Festival: Clouds by Time and Again Theatre Company and Men Chase Women Choose by People Zoo. See our Pick of the Fringe on Friday 27 September. Click here to learn more and book tickets.
---
Build your own Season Ticket

This Autumn and Winter we're giving you control of your Season Ticket with a multi-buy offer.
Following feedback from you, our audiences, we've created a more flexible Season Ticket offer that rewards your loyalty with bigger savings. We've also reduced our drama ticket prices for the first time in seven years and put together a programme with more variety than ever before.
The Autumn/Winter 2019-20 Season Ticket includes: No Man's Land, Strangers on a Train Set, Gym & Tonic, Black Men Walking, Trojan Horse, Four Minutes Twelve Seconds and Absurd Person Singular.
For the first time, there are no set shows that you have to see with a Season Ticket deal, giving you complete control over what you see and what you don't.
No Man's Land (5-7 September) is a dark comedy by Nobel Prize winning writer Harold Pinter which sees two elderly writers – one famous and wealthy and the other a down-at-heel poet, in an alcohol fuelled night of reminiscence and power games.
Strangers on a Train Set (11-14 September) is a new show from Britain's favourite literary lunatics, LipService. This time, the comic duo are taking on train related crime fiction.
Gym & Tonic (1-2 October) is John Godber's laugh-out-loud comedy set in a health spa.
Black Men Walking (24-26 October) follows three friends who walk through the Peak District, and 2000 years of Black British history.
Trojan Horse (6-7 February) looks at the true story of a community torn apart by racial divisions following accusations of 'hardline' Muslim teachers and governors plotting extremism in Birmingham schools.
Four Minutes Twelve Seconds (21 February–7 March) is a topical drama that looks at how we see ourselves and others and highlights the dangers of modern technology.
Absurd Person Singular (10-14 March) is Alan Ayckbourn's much-loved classic set over three successive Christmas parties.
How does the offer work?
It's simple, the more you book the more you save
Book two shows – save 5%
Book three shows – save 10%
Book four shows – save 15%
Book five shows – save 20%
Book six shows – save 25%
Season Ticket holders can still take advantage of free parking on Bradshaw Street for evening performances and, if booking four or more shows, the option to spread the cost by Direct Debit.
To book your Season Ticket click here to book online or call our Box Office on 0161 624 2829
---
Join the cast on stage in this year's pantomime

We're on the lookout for talented young people aged between 8 and 15 to join the young chorus of this year's pantomime, Jack and the Beanstalk. The deadline to register for an audition slot is Monday 26 August.
The Coliseum's annual pantomime is nationally renowned, described last year  by The Guardian as "A lovingly made dessert of a panto" and Upstaged Manchester as "the best traditional panto in the North".
Pantomime is the biggest show of the year at the Coliseum, attracting audiences of 35,000 people. Joining the pantomime as part of the chorus gives young people the opportunity to perform alongside the theatre's cast of professional actors, including pantomime favourite Richard J Fletcher, who makes his debut as the Pantomime Dame this year after 11 years as the Coliseum's beloved Pantomime Comic.      
Oldham Coliseum Theatre's nationally renowned pantomime has been putting the extra sparkle into the festive season for generations; with all the ingredients for fantastic family fun: hit songs, silliness, a sprinkling of fairy dust and a generous helping of It's Behind You! In Jack and the Beanstalk poor young lad Jack sells his cow for magic beans, much to the dismay of his mother. But when the beans grow into a gigantic beanstalk Jack and Jill set off for an adventure in the magical land above the clouds.
We're looking for three teams made up of both boys and girls to form the chorus for Jack and the Beanstalk. Auditions will take place on Sunday 1 September at the Coliseum. Audition times will be allocated based on age and slots can be registered for by downloading the form here and returning it to casting@coliseum.org.uk. The deadline to register for an audition slot is Monday 26 August at 9am.  
Those interested in joining the pantomime chorus must be able to dance and should wear clothes that they can easily move around in to their audition. There is no need to prepare anything in advance. If chosen to be part of the chorus, each young person will need to have approximately six full days and four half-days off school for performances. Rehearsals for Jack and the Beanstalk young chorus will take place on two weekday evenings and Saturday days each week between 28 September – 16 November (exact dates to be confirmed). Successful chorus members will need to have excellent availability for rehearsals.
Oldham Coliseum Theatre's annual pantomime has been entertaining families of Oldham and beyond for generations. Joining the pantomime's chorus is an amazing opportunity for young aspiring performers to take part in a professional, fun-filled and much-loved theatre tradition.
---
Fantastic Family events coming to the Coliseum

As well as pantomime, this season we've added more great family shows to our programme to delight little-ones of all ages.
On Saturday 21 September four enormously talented girls bring you up close and personal with the greatest female pop stars of today in a fun packed show featuring all the best songs from Meghan Trainor, Ariana Grande, Beyonce, Rihanna and more. With dazzling choreography, state of the art videos and superb vocals Pop Divas Live! is the perfect pop concert experience for the little divas in your life. Click here to learn more and book tickets.
Following two sell-out shows at the Coliseum earlier this year Sing-a-Long-a The Greatest Showman returns on Saturday 25 January, giving you the opportunity to experience The Greatest Showman with on screen lyrics so you can join in as loud and proud as you like. Fancy dress is strongly encouraged! Click here to learn more and book tickets.
On Saturday 21 March 2020 Immersion Theatre presents a brand new musical adaptation of Rapunzel. This witty, tongue-in-cheek retelling of the family favourite is complete with a laugh out loud script, catchy songs, audience interaction and an exciting array of magical characters, including a wickedly boo-able witch, a clumsy Prince and a feisty princess with the longest hair you're ever likely to come across. Click here to learn more and book tickets.
From Friday 27 – Saturday 29 March Freckle Productions and Rose Theatre Kingston bring a magical stage adaptation of Julia Donaldson's much loved children's book Zog to the Coliseum stage. Zog is eager to win a gold star at Madam Dragon's school, where dragons learn all the things that dragons need to know, and he's about to face his biggest challenge yet: a duel with a knight, Sir Gadabout the Great. Click here to learn more and book tickets.
Click here to see all forthcoming family events at the Coliseum
---
Antiques expert and BBC presenter David Harper comes to Oldham with Unexpected Tales

Famous for his colourful trousers, TV antiques expert David Harper is swapping the TV camera for the stage as he brings his one-man theatre show to the Coliseum.
David has been a regular on BBC programmes such as Bargain Hunt and Antiques Road Trip for more than a decade. In Unexpected Tales, he will treat audiences to all the funny behind the scenes gossip from some of the BBC's most popular daytime and early evening shows, telling of his encounters with the famous faces he has appeared alongside for celebrity specials.
David said: "You can't believe what goes on in the world of art, antiques and in the making of television shows. You will not be expecting what you will hear. It's a very interactive show and I never know where each story is going to go…or how far it'll go"
Unexpected Tales is David's first major theatre tour and follows the success of his first foray into stage work in his native North East.
He continued: "For many years, I've been giving talks for business groups, after dinner events and other presentations and I always enjoy them, so the next stage was to take what I do on tour through theatres. I absolutely loved it and the theatre atmosphere is fantastic. People were interested in how things were put together, making the TV shows, how things could go wrong and the celebrities I had worked with. People also like to hear stories of the TV disasters, the antiques profits, the bigger losses, the fakes and the fabulous''
David Harper's Unexpected Tales comes to the Coliseum on Thursday 19 September. Click here to learn more and book tickets.
---
Five Northern-created shows vie for new £3,500 Edinburgh Fringe Award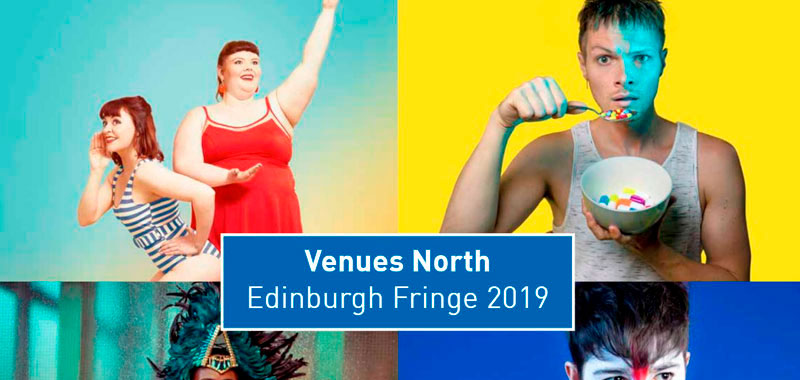 New theatre shows developed by companies based across the North of England are in the running for a unique new Edinburgh Fringe Award – funded and judged by the region's arts venues. Right now programmers from across the North are in Edinburgh watching each show before voting. The winning show will receive £3,500 cash and support to tour the work widely.
The shortlisted entries for the Venues North Edinburgh Fringe Award 2019 are:
22 venues across the region – all part of the Venues North network – are supporting this inaugural award. Organisations involved include the Coliseum; HOME, Manchester; Hull Truck Theatre; Royal Exchange Theatre, Manchester; Sheffield Theatres; Stephen Joseph Theatre, Scarborough; The Lowry, Salford; Waterside Arts, Sale and York Theatre Royal.
Venues North Chair Annabel Turpin, Chief Executive & Artistic Director of ARC Stockton, said: "One of our core purposes is to raise the profile of new theatre and performance work made in the North of England. The shortlisted shows highlight the diverse, exciting and exceptional quality of work created and produced by artists in the North. The award creates a new platform for artists and companies. As a group of like-minded venues, we are committing to provide the winner with the support to help to take their work to wider audiences."
Venues North members shortlisted the shows from entries which had to meet the following criteria:
be living and making work in the North of England, as defined by Arts Council England (ACE) area boundaries and not be part of ACE's National Portfolio

meet the Venues North definition of 'new work' – new theatre and performance, usually devised work or new writing, or work that explores the boundaries of theatrical form – and:

Is ambitious, exciting and relevant to audiences

Has a distinctive voice that reflects the people that made the work

Responds to the world around us, and provides opportunities for new thoughts and conversations

Has carefully considered the experience it offers audiences

Makes a contribution to the work already available to programmers and audiences
The winner will receive:
£3,500 cash

A tailored package of support in kind, which can include support to tour the show in the North of England, based around the needs of the artist

Fundraising advice, guidance and advocacy from the Venues North network
---
Spotlight on: Kyle Wilcock, Box Office Assistant and Customer Experience Volunteer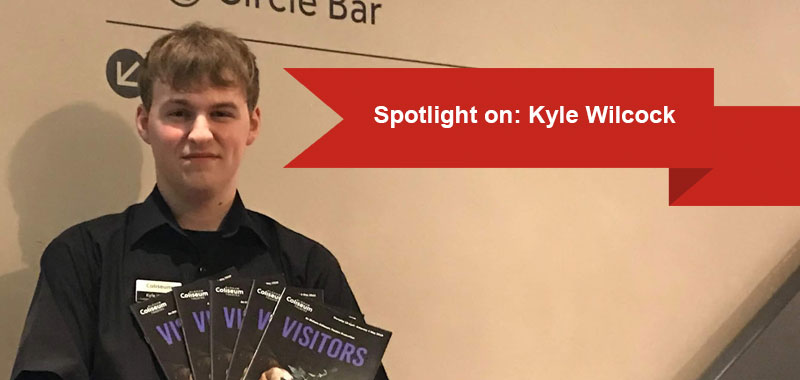 Tell us about your relationship with the Coliseum
I started volunteering here in 2015. I'd been involved in some of the participation groups here prior to that: Drama Daze, which I started aged 7, and then I progressed to TheatreLAB as a teenager. I saw the theatre was looking for volunteers and so I applied. I've really enjoyed it ever since.
Through volunteering here my confidence has really grown and I wanted to become more involved with the theatre. I now also work as a part-time assistant on Box Office, and I also work as a Front of House Assistant during pantomime. Before volunteering here I wouldn't have had the confidence to apply for a job in theatre or to know what to say in an interview – I've loved being able to progress here.
I am now in my first year at Manchester Met University studying history with a view to becoming a teacher – working and volunteering fits in well with my studies as I can work on my days off uni on box office, and volunteer front of house in the evening.
You now work for the Coliseum in a paid position as a Box Office Assistant – why do you continue to volunteer also?
I just love working here and love meeting the audience. I work some regular nights as a volunteer which means I've built up relationships with some audience members who always come on certain nights. I love meeting like-minded people and the volunteers here all have similar interests; we've become like a little family. We go out for meals and meet up outside work.
What skills have you developed volunteering at the Coliseum?
I'm definitely more confident and can mix with different groups of people much better. I've learned a lot about good customer service and even basic skills like cash handling. I think being a Customer Service Volunteer gives you a broad range of skills that can be used elsewhere.
You do a broad range of jobs as a volunteer: one week you might be ushering, which is nice as you can sit in and watch the shows, other weeks you might be selling programmes and merchandise.
Volunteering at the Coliseum is a commitment, but they are completely flexible and you can pick when you are available, which has meant that I have been able to volunteer elsewhere and take on other part-time jobs to develop other skills, and of course it's great that it's been able to fit around my studies.
What do you love about the Coliseum?
I think this theatre is so special. When you walk into other theatres they can feel big and impersonal, whereas the Coliseum has always felt homely and friendly to me. My gran and grandad have been bringing me here since I was little; I've grown up here and I love it.
What are the perks of being a volunteer?
You get to see a lot of the shows. I particularly love volunteering for performances in our Studio Theatre, which is something the Coliseum is developing, and the shows in there are unlike anything you'd see on the Main Stage and have expanded my tastes – I love seeing the smaller shows, new writing and emerging artists and companies.
What's your favourite show you've seen at the Coliseum?
The pantomimes are always fantastic and I've been watching them for years. I loved Hot Stuff in 2015 – it was written and first performed at the Coliseum in the 1990s and I love that this place has history like that.
I really enjoyed Handbagged last season and came to see it with some of my friends studying Politics and History with me at University – because we're all under 26 we can take advantage of the £7 offer so it's worth the money to take a chance on a play you don't know much about.
What are you most looking forward to coming up at the Coliseum?
The preparation for Pantomime starts really early with the Front of House department and is always really exciting.
What would you say to someone considering volunteering at the Coliseum?
If you're interested in live theatre and what goes on behind the scenes volunteering at a theatre is something I'd definitely recommend. You get to see such a mix of shows, all whilst working with a group of like-minded friends. You get to volunteer in a way that suits your lifestyle and learn new skills; it's just a really great way to spend your free time.
---
Customer Experience Volunteers: Join us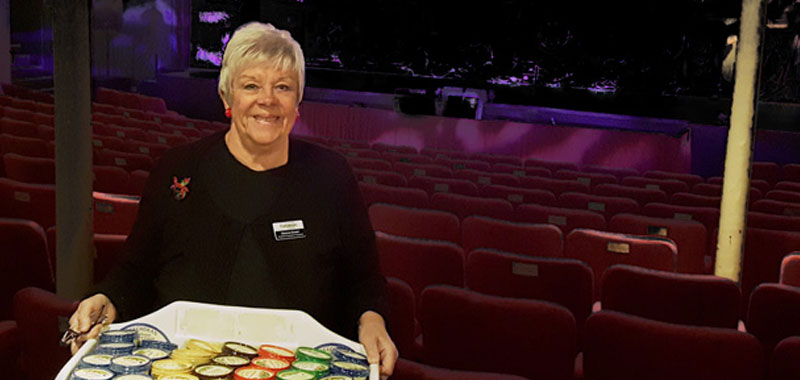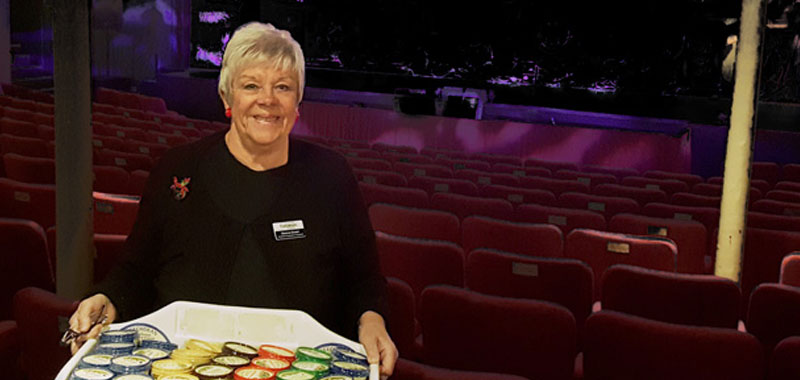 We're always on the lookout for friendly and reliable people to join our team of Customer Experience Volunteers, who help to look after our audiences from greeting them in the foyer, to selling programmes and ice creams, taking them to their seats and much more.
Customer Experience Volunteers must be 18+ and able to commit to a minimum of three months volunteering with us. No experience is needed as full training is provided.
Click here to learn more about becoming an Oldham Coliseum Theatre Customer Experience Volunteer or contact Heather Shaw, House Manager,  by phone on 0161 785 7021 or email heathershaw@coliseum.org.uk.
---
Oldham Coliseum Theatre gratefully acknowledges funding from:

Oldham Coliseum Theatre is a Registered Charity, No: 508829.
Oldham Coliseum Theatre Ltd Reg No: 1415547