April 2020 Newsletter
As you know, the Coliseum closed to the public with immediate effect on Monday 16 March to help slow the spread of Coronavirus. Whilst our building remains closed our teams are working to ensure the show goes on when it can, to reschedule events and contact ticket holders and to launch new art, projects and initiatives so that we can continue to serve our audiences and communities whilst we're all at home.
The first article in this newsletter is an important announcement from our Artistic Director Chris Lawson and Chief Executive Susan Wildman about the future of the Coliseum and our ongoing plans.
Following that, learn all about our new Mini-Podcast Series, the ways in which we're supporting artists across Greater Manchester and what our team are up to during lockdown. We've also rounded up a list of our recommended online theatre that we're sure you'll love.
---
Oldham's stage will light up again once the crisis is over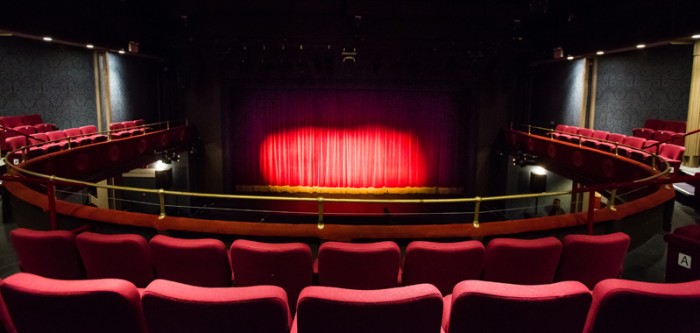 No-one knows how long our society will be battling Coronavirus or how it will look once the crisis is over.  What we do know is that art is – and will continue to be – as important as ever, providing us with a form of escapism, a quiet moment of reflection and a connection to others.
On Monday 16 March we closed the Coliseum's building on Fairbottom Street with immediate effect, following the Government's advice that people should avoid public buildings.  Since then, and during the subsequent UK lockdown, we've been considering what that means for our audiences and our current programme of work.
It is with heavy hearts that we have decided to postpone, or cancel if absolutely necessary, all forthcoming events in our building before the end of August 2020.
We have also cancelled our co-production of the pop-up theatre Roundabout, with Paines Plough and York Theatre Royal, which was due to pop up outside Oldham's Queen Elizabeth Hall in June and July, with a programme including four new plays, comedy, music and local community events before heading onto the Edinburgh Fringe Festival (which is now also cancelled).
These decisions have been made with the wellbeing of our communities, audiences, staff, artists, and our theatre's great legacy at the forefront.
Right now, we are planning to open our new Autumn-Winter season in September with our annual Cultivate Festival, which has been rescheduled from June, followed by our production of Lee Hall's Cooking With Elvis which remains on sale and on its previously-advertised dates.
Our production of The Jungle Book was in the middle of its rehearsals when we closed and would have been on our stage this Easter. We've now confirmed new dates for The Jungle Book for Easter 2021, and we're working to reschedule the rest of our Spring-Summer 2020 season wherever possible as a matter of priority.
Our physical stages may be dark but we believe it's vital that we continue to serve our audiences and communities during this difficult time. We've already begun creating and sharing art digitally with the launch of our new Mini-Podcast Series on World Theatre Day, and we have many more plans and opportunities in the works, collaborating with other organisations in Oldham, the North West and nationally.
We know there are many people who have a long-standing relationship with the Coliseum but don't use digital technology to engage with the theatre, and so we're also considering new ways that we can continue to connect with them whilst the building is closed.
Our regular groups for young people: The Young Rep, TheatreLab delivered with Oldham Theatre Workshop, The Steering Group and Teaching Theatre Pathways; and for adults: Full Circle over 50s group and Dementia Friendly Workshops are all currently suspended, and our play reading and writing groups, Scripts & Scribbles, are moving online. In place of our usual sessions we're implementing a programme of activity to use this unprecedented experience as a spark for creativity, and our most vulnerable participants are receiving regular phone calls from our team in place of their regular social activities to help prevent loneliness and offer support.
The Coliseum also works with over 15 local secondary schools and colleges across Oldham, Rochdale and Tameside, using drama as a tool for learning as well as teaching theatre practice. Although the methods through which we are delivering our service has changed, we're quickly putting new plans into action to continue engaging with these students.
Oldham Coliseum Theatre has been serving Oldham and its communities for 135 years and has only closed once before.  In 1939 it was a group of passionate theatre lovers, the Oldham Repertory Theatre Club, that brought our theatre back to life and it will be passionate theatre lovers of all ages and backgrounds that will keep theatre alive in Oldham during this crisis.
We are incredibly grateful to Arts Council England, Greater Manchester Combined Authority and Oldham Council for the lifeline of support they have offered the Coliseum. We also thank each and every one of our audiences, participants, partners, patrons and sponsors for their generosity and patience during this time.
Without events and ticket sales, maintaining our business is very difficult. Like many theatres that have had to cancel performances we have set up a campaign to ask people who love the Coliseum as we do to consider donating all or part of their ticket costs for any cancelled events, or donate online to help support the theatre if they are able to at this difficult time, or simply help us by sharing our message.  #YourColiseumNeedsYou 
Our small but dedicated team is contacting ticket holders with rescheduled dates and information. If you have tickets for any events before the end of August please bear with us and don't try and call us. We're not able to operate in our usual way at the moment so it may take us some time to contact everyone but we're working to ensure this happens as quickly as possible.
We're already looking forward to welcoming our audiences back into the Coliseum in the Autumn. Until then stay safe, stay home, keep an eye out for our next announcement and keep in touch.  
  Chris Lawson  


Artistic Director

  Susan Wildman  


Chief Executive
---
New Mini-Podcast Series: Episode 1. 100 Word Plays (about Oldham)

The first episode of our new Mini-Podcast Series was released on World Theatre Day (27 March). 100 Word Plays (about Oldham) features 17 brilliant short plays by well-known and emerging writers and performed by 12 Greater Manchester actors and edited by our Digital Associate Grant Archer.
Last year we invited writers of all ages and levels of experience to submit short plays inspired by Oldham and consisting of 100 words or less. Throughout September the submitted plays were displayed around the theatre in crafty forms and creative places for audiences to discover and enjoy.
The Mini-Podcast episode 100 Word Plays (about Oldham) features 100 Word Plays written by well-known writers including Julie Hesmondhalgh (Coronation Street, Broadchurch and The Trouble with Maggie Cole alongside Dawn French), writers of previous Coliseum hits: Ian Kershaw (Bread & Roses, The Mist in the Mirror and Star-Cross'd) and Lindsey Williams (Meat Pie, Sausage Roll and Dreamers) and local emerging writers.
The plays were recorded remotely by a cast of Greater Manchester actors including: John Askew (Netflix's The English Game), Natalie Gavin (also Netflix's The English Game, plus Alma Capstick in ITV's Jericho), star of last year's pantomime Jack and the Beanstalk Sam Glen (also the Coliseum's productions of The Kitchen Sink and Star-Cross'd and BBC's Let it Shine with Gary Barlow), Darren Jeffries, Jack Radcliffe and Coliseum Associate and Supported Artists: Hafsah Aneela Bashir, RedBobble Arts (Kelly Munro-Fawcett, Louisa May Parker and Martha Simon), Fine Comb Theatre (Rachel McMurray and Catherine Morefield) and Sorcha McCaffrey.
Coliseum Artistic Director Chris Lawson commented: "Using great art to enrich people's lives is why the Coliseum exists as a theatre, so it's vital that we continue to serve our audiences and communities whilst our building is closed. It was always our intention to record some of the 100 Word Plays as part of a podcast, but the situation we currently find ourselves in has meant that we can use these wonderful short plays to not only bring art that celebrates our town into people's homes, but to also provide opportunities for twelve brilliant actors from our region. We have plans in place for the next Mini-Podcast episodes, so keep an eye on our Social Media channels for the next instalment.
The Coliseum's first Mini-Podcast Series episode 100 Word Plays (about Oldham) is available to listen to on our website here or on Soundcloud here.
(Pictured: Twelve actors who performed in 100 Wor

d Plays (about Oldham)
---
The Jungle Book will return next Easter

When the Coliseum closed on Monday 16 March our cast and creative team for The Jungle Book were midway through rehearsals. We've been working to reschedule the production as a matter of priority and we're thrilled to now have confirmed dates to share with you.
The Jungle Book will return next Easter, from Wednesday 31 March – Saturday 17 April 2021. Our team are contacting ticket holders with further details. The full list of rescheduled performances is as follows:
| Original date (2020)         | New Date (2021) |
| --- | --- |
| Fri 3 April, 7pm | Wed 31 March, 7pm |
| | Thu 1 April, 11am |
| Tue 7 April, 7.30pm | Thu 1 April, 7pm |
| | Sat 3 April, 2.30pm |
| Sat 4 April, 5pm | Sat 3 April, 7pm |
| Thu 9 April, 2pm | Thu 8 April, 2.30pm |
| Thu 9 April, 6pm | Thu 8 April, 7pm |
| Wed 8 April, 2pm | Fri 9 April, 2.30pm |
| Wed 8 April, 6pm | Fri 9 April, 7pm |
| Sat 11 April, 2.30pm | Sat 10 April, 2.30pm |
| Sat 11 April, 7.30pm | Sat 10 April, 7pm |
| Sun 19 April, 2.30pm | Sun 11 April, 2.30pm |
| | Tue 13 April, 7pm |
| Wed 15 April, 7.30pm | Wed 14 April, 7pm |
| Thu 16 April, 2.30pm | Thu 15 April, 2.30pm (Relaxed Performance) |
| Thu 16 April, 7.30pm | Thu 15 April, 7pm |
| Tue 7 April, 2.30pm | Fri 16 April, 2.30pm |
| Fri 17 April, 7pm | Fri 16 April, 7pm |
| Sat 18 April, 2.30pm | Sat 17 April, 2.30pm |
| Sat 18 April, 7.30pm | Sat 17 April, 7pm |
We were so excited to be working on our first family show outside of the festive season in almost 20 years and we're already looking forward to bringing the team together again early next year.
We filmed some of the on-stage rehearsals before we closed and we'd like to share this special sneak peek with you.
Our production of The Jungle Book is a modern musical adaptation by Olivier Award winning writer Jessica Swale, set to a soundtrack by Joe Stilgoe.
Join Mowgli the man cub, his wolf pack and his friends Baloo the bear and Bagheera the panther in this classic coming of age story, packed with memorable songs, humour and brilliant storytelling. Can Mowgli outwit the cruel and powerful Shere Khan? With the help of his friends he learns the law of the jungle and confronts the dangers in his past.
The Jungle Book explores the universal themes of family, belonging and identity. The design of the production is a meeting of worlds, set in an 'urban jungle' playground upon which the cast will climb and swing throughout the play.
Click here to learn more about The Jungle Book.
(Pictured: On stage rehearsals for The Jungle Book before the Coliseum closed)
---
Creative challenges from our Learning & Engagement Team

We may have temporarily closed our doors, but we're keeping creative spirits alive with a number of online activities and competitions. Our Learning & Engagement Team launched their first challenge earlier this month, with more to follow. 
The 'Off Out' Monologue Challenge took inspiration from the UK lockdown, asking young people to write a monologue about a character's once-daily trip out of the house, focusing on creativity and how the character's relationship to the 'outside' has changed.
All entrants for the 'Off Out' Monologue Challenge will be contacted with feedback on their monologues on Monday 20 April, when the top three entries will also be announced. Alongside winning a Waterstones voucher, the top three monologues will also be recorded by professional actors and published on the Coliseum's Social Media channels from Wednesday 22 – Friday 24 April.
Although the deadline for entries for this challenge has now passed (the deadline was midnight on Wednesday 15 April), we're looking forward to hearing the three monologues online. 
Keep an eye on our Twitter and Facebook channels for details of future challenges and how to get involved.   
(Pictured: Visitors, 2019)
---
Rescheduled events and an update from our Box Office

Our Box Office team are set up in their living rooms and kitchens, working from home to process rescheduled events, contact ticket holders and amend bookings. This isn't something we can automate as we need to process each ticket holder's individual preferences, but we're working as quickly as we can.
Our Box Office phone line is not in use whilst our team are out of the building. Please don't try to call us, but instead bear with us and we will contact all ticket holders with information on the event(s) they have booked for as soon as we are able.  
Some events are more complicated to reschedule than others, for example because they rely on the availability of more actors and creatives, or because they are part of a larger tour, and so we cannot guarantee that we will announce new dates for each show in chronological order. We can guarantee that every booker will hear from us as soon as we have confirmed new dates with options for how they would like us to handle their bookings. There are some events that will unfortunately have to be cancelled, and we will contact ticket holders when this information is confirmed.
The Coliseum, like many theatres that have been forced to cancel performances, is a charity; and whilst ticket holders are all entitled to a refund for cancelled performances, we would ask, if you can, to consider either: having your ticket money refunded to credit on your account – which is valid for 12 months and can be used on any other show at the Coliseum – or to donate all or part of your ticket money to the theatre to enable us to continue to make great theatre in Oldham as soon as we're able.  Your support is more vital than ever during this unprecedented time; it will help to ensure not only the Coliseum's financial sustainability, but also that of the artists, creatives and theatre makers we support. 
Here's a handy list of all the events we have so far rescheduled due to the Coronavirus crisis:
We're working on rescheduling the rest of our Spring-Summer season as a matter of priority and we'll be in touch with all ticket holders as soon as possible. Thank you for your patience.
(Pictured: Box Office Manager Ann-Marie Mason working at home)
---
GM Artist Hub: Supporting freelance artists

Arts organisations across Greater Manchester are joining forces to support local freelance artists during the COVID-19 crisis.
GM Artist Hub is a new project bringing together many of the city-region's most well-known organisations in an effort to support the independent performers, artists and companies that make up Greater Manchester's vibrant artistic community.
GM Artist Hub launched on Wednesday 8 April with opportunities for artists to sign up for sessions with artist development producers and directors from a range of different organisations to explore the challenges, ideas and opportunities these unprecedented times offer. We will also be seeking funding to support a wider programme of creative workshops, professional development activities, employment opportunities and commissioning that respond to the needs of the local creative community.
Claire Symonds, senior producer: artist development at The Lowry, says: "Greater Manchester is known for its brilliant creative ecology, from the established venues through to the independent performers, artists and companies who are out there making things happen on their own terms.
 "Independent artists and freelance creatives are carrying some of the biggest impacts in our industry, facing both an immediate loss of income with no notice as shows and projects are cancelled and the prospect of future cancellations as the situation progresses. But artists are the lifeblood of our industry. What's more, their creativity and ability to adapt will be absolutely critical as we all look for new ways of reaching out to audiences while social distancing is in place.
"As a group of organisations we can't protect every artist and freelance creative in Greater Manchester from the impacts of this crisis. But through GM Artist Hub we can stand with them, offering support or advice as they explore this new territory and listening and responding as they discover what they need.
"Whether you're an artist looking to get involved or an organisation that wants to join us in supporting Greater Manchester's independent sector, we'd love to hear from you through GM Artist Hub."
Participating venues and arts organisations are: Community Arts North West, Contact, HOME, The Lowry, Manchester International Festival, Octagon Theatre Bolton, Oldham Coliseum Theatre, Royal Exchange Theatre, SICK! Festival, STUN (Sustained Theatre Up North), Waterside Arts and Creative Industries Trafford, hÅb/Word of Warning and Z-arts.
Visit GM-ArtistHub.co.uk for more details.
---
Your Coliseum Needs You

Since 1885, the Coliseum has brought joy, entertainment and enrichment to Oldham through our work on stage and in the community. Oldham Coliseum Theatre is a Registered Charity (no. 508829) and we rely on income from tickets and bar sales. Closing the theatre makes maintaining our business extremely difficult.
We need your help to protect the Coliseum's great history and ensure that, once this crisis is over, the Coliseum can continue to serve Oldham and its communities for generations to come.
Our stage may be dark, but we're already working with artists, touring companies, our communities, participation teams and the rest of the theatre industry to work out how we can continue to create and share great theatre and projects during this unprecedented time.
Alongside our work on stage the Coliseum works with people across our communities including: over 15 local schools from Oldham, Rochdale and Tameside, including SEND (special educational needs and disabilities) schools for children with additional needs; disadvantaged young people who are not currently in full time work, education or employment; theatre-lovers aged over 50 who come together for creative activities; and a community of artists and theatre makers across the North West.
In its 135-year history the Coliseum has only closed once before. Following 46 years as a popular theatre and music hall, in 1931 the theatre was converted into a cinema, closing nine months later. In 1939 the Coliseum was reopened by passionate theatre lovers the Oldham Repertory Theatre Club, and during World War II our theatre hosted celebrated London companies Saddler's Wells Opera and the Old Vic.
Your Coliseum needs you to help keep theatre alive in Oldham. We urge you, if you can at this difficult time for everyone, to make a donation to support the theatre. Every donation makes a difference; and please don't forget to add GiftAid which will add an extra 25p for every £1 you donate, at absolutely no cost to you.
Click here to donate to the Coliseum.
If you are unable to donate right now, please help us by sharing our message.
(Pictured: The Hired Man, 2019)
---
Online theatre to watch at home

Our Artistic Director Chris Lawson has compiled a list of great theatre you can watch online from the safety and comfort of your home. All these brilliant shows are free to watch online, but the theatres ask that if you're able to, you consider donating to help support the UK theatre industry during this unprecedented crisis.
Mercury Theatre's Cinderella
Originally recorded in December 2019, when it was live streamed directly to local medical and care facilities, Mercury Theatre is streaming its pantomime of Cinderella on YouTube until this Sunday, 19 April. Everyone knows we love pantomime here at the Coliseum and this is a great way to keep kids of all ages entertained. Learn more here.
Told by an Idiot – Idiot Show Archive
Told by an Idiot are publishing a new show each week in their Idiot Show Archive. They said: "A filmed record of our work can of course never do justice to the live event, but in these difficult times we want to offer a glimpse into our Idiot archive. Each week we will be posting a different film, so keep checking back to see what Idiot film of the week will be!"
The first of their online shows is the smash hit My Perfect Mind, which ran twice at the Young Vic and toured the UK. Learn more here.
Pentabus Theatre – Live Recordings
Pentabus are a rural touring theatre company which has produced over 170 new plays. They are releasing a show from their archive of live play recordings every Friday at 2pm. So far they've released Crossings and Here I Belong.  Learn more here.
The National Theatre at Home
The National is streaming its NTLive shows, with a new show released every Thursday that is available on YouTube for a week. Over 200k people tuned in to watch their first stream One Man Two Guvnors featuring James Corden. The next shows include Jayne Eyre (last views today, 16 April), Treasure Island (16-23 April) and Twelfth Night (23-30 April). Learn more here. 
Hope Mill Theatre – Some Enchanted Evening
Manchester's Hope Mill Theatre are producing a virtual concert celebrating the music of Rodgers and Hammerstein.
Rodgers and Hammerstein's Cinderella would have been Hope Mill's first in-house production of the year. The virtual concert will feature the duo's songs from shows including Oklahoma, Carousel, South Pacific and Cinderella.
The concert will be pre-recorded and streamed on Hope Mill's YouTube channel and social media platforms at 7pm on 26 April. West End performers Maria Friedman, Louise Dearman and Sophie-Louise Dann are among those who will feature in the concert. Learn more here.
The English Game on Netflix
Not a theatre show, but we really enjoyed Netflix's new series The English Game. Set in the 19th century we follow football teams on opposite sides of the class divide – teams of millworkers from Darwen and Blackburn and a team of Eton graduates as they navigate professional and personal turmoil to change football, and England forever.
Two of the actors from our 100 Word Plays (about Oldham) Mini-Podcast episode appear in The English Game – John Askew plays Jack Hunter, a footballer on the Blackburn team, and Natalie Gavin plays Anne Stokes. Learn more here.
---

Whilst we're out of the building members of our team are helping out in the community during the crisis.
Stage Technician Kev Leach is litter picking whilst he's out for his daily walks.
Kev said: "I've filled over 7 bags and really have only just scratched the surface. I'm using it as my bit of daily exercise time as I don't sit well as a desk for long periods.
"I can't really volunteer with a group for anything as I live with vulnerable people but I have all the correct gear to do this safely."
Kev came to Coliseum Social Media fame last year after we published a photograph of him watering the set of A Skull in Connemara during the interval of a dress rehearsal. His job at the theatre involves working on (and above and under) the stage to ensure all of our events go as planned, with incredibly varied and unique tasks for each production.
(Pictured: Some of Kev's collected litter)
---
Our favourite Coliseum memories

With such a long history there are near countless fond memories of the Coliseum. We asked our team for some of theirs to share with you.
Development Manager John Edwards said: "Among many many fond memories of raising funds at the Coliseum over the past seven years some highlights include helping to launch the Teaching Theatre; a programme that delivers skills and confidence to young unemployed people, the amazing support from local businesses of all sizes and the fantastic ongoing partnership with major social housing provider Jigsaw Homes – providing culture and training on their doorstep for residents.
"But my personal favourite memory was helping to support work with young adults with learning difficulties to deliver a series of plays they devised and performed in front of staff, actors and on our main stage to the public. It was a privilege to play a small part in this amazing project and see the pride the performers felt in showcasing their work. I greatly look forward to delivering this work again in the future."     
(Pictured: Young adults from Somerset House performing on the Coliseum's Main Stage as part of our Community Partnership Scheme)
---
Oldham Coliseum Theatre gratefully acknowledges funding from:

Oldham Coliseum Theatre is a Registered Charity, No: 508829.
Oldham Coliseum Theatre Ltd Reg No: 1415547