April 2019 Newsletter
This month we open our production of Barney Norris' Visitors, marking the multi-award winning play's Northern premiere. We're also preparing to open satirical comedy Handbagged in May and we were thrilled to attend the launch event for The Jigsaw Foundation, a new fund aimed at improving neighbourhoods. 
Read all about it – plus even more updates on what's going on behind the scenes here at the Coliseum – below.
---
Visitors: Robin Herford on acting, directing and his history with the Coliseum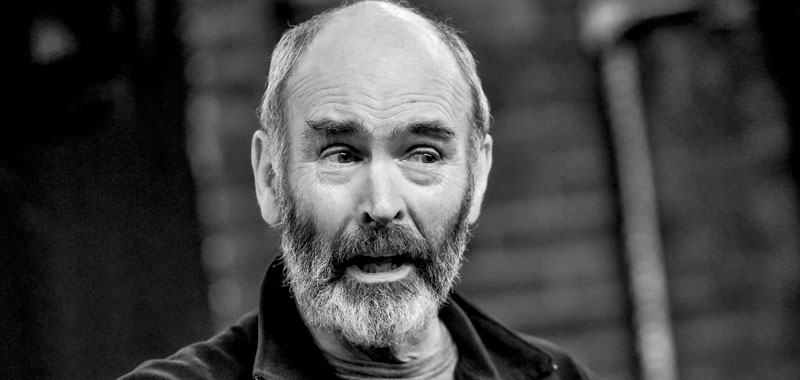 This evening we open the Northern premiere production of Visitors, a wryly comic love story set in the home of elderly couple Arthur and Edie. We're thrilled to have actor, director and former Artistic Director of the Stephen Joseph Theatre in Scarborough, Robin Herford, playing Arthur in Visitors, marking his first appearance as an actor on the Coliseum stage. Robin is best known as the director of the phenomenally successful The Woman in Black and Coliseum audiences may know him as one of our favourite visiting directors. He spoke to us about acting, directing and his history with the Coliseum.
"In this business no matter what you're doing its always lovely to be asked, so when Chris [Lawson, Coliseum Acting Artistic Director] asked me if I'd like to play Arthur in Visitors I was really flattered. I thought the play was fantastic so it was a no brainer really.
The lovely people who work on casting at the Coliseum have always asked when I was going to be an actor in one of the productions but the logistics of your diary as a director make it quite difficult to do acting work because you get booked ahead of time for a block; that often means that there isn't a space to fit in a rehearsal time and a run of a play. I've directed a show at the Coliseum almost every year since 2002 which has just been wonderful. You sort of fall into a pattern and so people tend to think of you as a director, and I have to say my career has gone very much that way. In this case I was available; I directed two shows back to back in January and February and then came straight here.
Before rehearsals started I was in London putting a new cast into the West End production of The Woman in Black and I knew that the writer Barney Norris lived in London, so we met up for a pint before the opening show of the new cast of The Woman in Black and we had a lovely time. Immediately we got on really well. When I was working at the Stephen Joseph Theatre in Scarborough we did a lot of new work so I've always had enormous respect and admiration for writers because I think they do an amazing job and I just love getting in their head. If I'm directing a show or if I'm going to be in a new show its lovely to talk to the playwright so you can ask them "why did you write this line?" As I director that's what I used to call my stupid question session, I would say "look this may seem crazy but why is he calling her Betty when her name is Beryl" and they'd say "Oh that's a misprint" or "well you see, the reason for that is…." It's one of my mantles: there is no such thing as a stupid question or any time too late in the process to ask it – that applies to actors, directors, stage managers, anyone – because plays are a mystery, you have to ask. I remember when I was at school and we were doing King Lear first year A Level and I thought "who's fighting who at the end?" but I thought I can't ask that question because I'll appear so stupid, so I didn't. As I got older I realised it is quite a tricky question, but I never dared to ask it, so I try and put that right."
As well as meeting Robin in London, playwright Barney Norris travelled to Oldham for the first day of Visitors rehearsals . We spoke to him about Visitors, playwriting and the Coliseum's production. Read the full interview here.
Robin describes his history with the Coliseum:
"When I first came to the Coliseum it was right out of the blue. I had a phone call from my agent saying they'd just had an enquiry from a theatre for me to direct Home by David Storey and I said: "Say yes! Where is it and who's asking?' – in that order. It's a play I've always loved and to be offered a beautiful play right out of the blue was fantastic. It was Kevin Shaw from Oldham who had asked and that was the start of one of the happiest theatrical associations I've had in my life with any theatre. From then on just about every year he asked me to do a show; and they'd be wonderful shows. We did the first regional production of Proof, which Gwyneth Paltrow had done at the Donmar Warehouse, and we were the first theatre do it after her.
I find Oldham audiences incredibly warm and supportive. For Oldham audiences their theatre is so important to them and so we've got to bust a gut every time to make sure we give them the very best possible show, I just love it. It's like a hug that you get from everyone at the Coliseum which I just think is amazing."
On his return to acting:
"I was trying to work it out and the last rehearsal room I was in that wasn't mine as a director was Alan Ayckbourn's and it was a play called Tons of Money which he then went on to do at The National and he was trying it out in Scarborough first. That was 1985 so just the other day really, 33 years ago. Occasionally I've gone on in productions of my own that I've directed when someone falls ill or something like that, and I've had to go on at very short notice, but that's different, this is the full experience.
I'd forgotten how hard acting was and it's quite a complex play because it's quite poetic and poignant and funny and sad and oblique. There's been quite a lot of discussion which has been great; everyone feels free to have a voice in the rehearsal room. It's been fascinating getting back into acting but to a large extent it just means that my respect for actors goes up and up. They're the most important people in the theatre because they're the people you pay to see. As a director I always feel that: How can I help them to be their best? – that's really what it's about. The whole theatre is there to support the actors because they're the people who when the whistle blows go over the top, you know, and it takes quite a lot of courage as I'm discovering.
It's quite an emotional part and I've now lived for 70 years so I have more life experience than I had when I was last acting which means I have that much more to draw on. That is quite painful but it's also quite fruitful. I lost my wife two or three years ago and this play is really about is a man who is facing the possibility, with his wife in the first stages of dementia, that they may not be together for much longer, and the anticipation of that loss is something which he doesn't want to contemplate so he holds it at arm's length as much as he can, but in another way he's forced to come to terms with it. I find I have things I can draw on then. Actors are all magpies. We use our own experience to try and find the truth of what we're trying to express.
It's always a joke amongst actors that when you have a Q&A with the audience quite often someone will ask how you learn your lines and people say: "well that's just part of the job" but actually as you get older it gets so much harder. You think, oh it's like riding a bicycle, you never forget how to ride a bicycle – well actually it's not a bit like riding a bicycle, it's like trying to climb up a very steep wall foothold by handhold and slipping back and having to start again and climbing back up. "Why won't that phrase go in? and why aren't I seeing the connection between that speech and that speech?" So approaching a new text for the first time since 1985 is quite a challenge for me and one I have taken on.  I relish it."
Robin's performance in Visitors is must-see. Our production runs from Thursday 18 April – Saturday 4 May. Click here to learn more and book tickets.
---
Trailer: Meet our Visitors cast and creative team
Visitors is a wryly comic love story set in the farmhouse of Arthur and Edie. It won the Critics Circle Award for Most Promising Playwright and the Off West End Award for Best New Play when it premiered in London in 2014.
The Coliseum's production is the play's Northern premiere. In our new trailer for the production, our cast: Robin Herford, Liz Crowther, Ben Porter and Kitty Douglas, director Chris Lawson, playwright Barney Norris and designer Sammy Dowson give insight to the play and the relatability that gives it its universal appeal:
Visitors runs from Thursday 18 April – Saturday 4 May. Click here to learn more and book tickets.
---
Coming Soon: Handbagged

It's tea at four and handbags at dawn as The Queen and Margaret Thatcher collide in the Coliseum's production of satirical comedy Handbagged, in co-production with Wiltshire Creative and York Theatre Royal, next month.
Handbagged goes behind the doors of Buckingham Palace to imagine what may have happened at the infamous weekly meetings between The Queen and the former Prime Minster. Talking us through the social and political events of Thatcher's time in office two versions of Queen Elizabeth and two versions of Margaret Thatcher at different stages of their lives comment and contradict each other with hilarious effect as they share their opposing views of Britain's role in the world.
Entertainingly told and packed with mischief and satirical humour, Handbagged premiered in London in 2013 and was nominated for Best Comedy at the 2015 Olivier Awards. Our production opened to rave reviews at our co-producers in Salisbury earlier this month.
"Mischievously funny, deftly directed and decidedly timely revival of Moira Buffini's play"
★★★★
– The Stage
Handbagged features Susan Penhaligon (The Importance of Being Earnest UK tour; A Fine Romance, ITV) as The Queen and Sarah Crowden (Grantchester, ITV) as Margaret Thatcher and Caroline Harker (Middlemarch, BBC) as a younger version of The Queen and Eve Matheson (May to December, BBC; Coram Boy, The National) as a younger version of Margaret Thatcher.
The cast is completed by Jahvel Hall (Astro Babies, Ovalhouse Theatre) and Andy Secombe (Killing Eve, BBC; Star Wars) who between them play a range of familiar characters including Ronald and Nancy Reagan, Gerry Adams, Arthur Scargill and the Duke of Edinburgh.
Handbagged opens at the Coliseum on Tuesday 14 May, running until Saturday 1 June. Click here to learn more and book tickets.
---
Coming soon: Open Auditions

Following the phenomenal response in 2018 we're holding Open Auditions again on Thursday 13 June as part of our second Cultivate Festival for theatre makers.
Not intended for any specific role, open auditions are a great opportunity for actors to meet industry professionals and a chance for us to meet you. Our panel of experts will include casting professionals from both theatre and television.
To learn more about Cultivate, take a look at our video from the inaugural Cultivate in 2018 below.
Keep an eye on our website and Social Media channels Facebook@OldhamColiseumTheatre and Twitter@OldhamColiseum for information on Cultivate and the Open Auditions, including how to apply for a slot, which will be announced later this month.
---
Visitors: Creative Tourist's Kristy Stott interviews Barney Norris and Chris Lawson
Kristy Stott, Theatre Editor of Creative Tourist, interviewed Visitors writer Barney Norris and director Chris Lawson on the first day of rehearsals for the production. Alongside her work with Creative Tourist Kristy has research interests in ageing and the performance of it on stage. She spoke to Chris and Barney about the different generations of people portrayed in the play and its inspiration.
.

One of the key actions in Visitors is the family's use of the Homeshare scheme, which brings blue-haired twenty-something stranger Kate into the family home. Used most frequently in big cities, Homeshare provides accomodation for young people in return for contact time for often elderly home owners, helping to battle isolation in the elder generation. For Kate, her Homeshare with Arthur and Edie offers her the opportunity for quiet so that she can take time to decide what to do with her life after graduation. From their first meeting, her bond with Arthur and Edie is heartwarming to watch.
Visitors runs from Thursday 18 April – Saturday 4 May. Click here to learn more and book tickets.
---
Cast announced for The Hired Man

This June we're presenting award-winning British musical The Hired Man, based on the novel by Melvyn Bragg with a musical score by Howard Goodall, composer of West End hits: Bend it like Beckham and Love Story.
Set in Cumbria in 1898, young married couple John and Emily have just moved to a new town to start their lives together. Whilst struggling to carve a living from the land, their story is a heroic tale of love, betrayal, loyalty and community.
Amongst the cast audiences may recognise Lauryn Redding, who plays Emily, from her previous performance in the Coliseum's productions of Bread & Roses, Up 'N' Under, Oh What A Lovely War and Dreamers.
Lauryn is joined by Oliver Hembrough as John; John Bonner as the famer Pennington; Lloyd Gorman as his son Jackson; TJ Holmes and Samuel Martin as John's brothers Seth and Isaac; Lara Lewis and James William Patterson and John and Emily's children May and Harry; Lucy Keirl as Sally, and Sufia Manya and Tom Self in the Ensemble.
The Hired Man was first published in 1969 and was adapted into a musical in 1984. This new production is a Queen's Theatre Hornchurch and Hull Truck Theatre production in association with Oldham Coliseum Theatre. It opens in Oldham on Thursday 20 June, running until Saturday 6 July. Click here to learn more and book tickets.
---
How to survive at your wit's end

On Friday 17 May Arc Stockton present Tensile Strength, a new play about stress, and why so many of us feel it to an unhealthy degree, in the Coliseum's Studio.
We've all been there, struggling with work, with relationships, feeling like things are all a bit too much… and then the cat goes missing.
Teesside based Holly Gallagher tells the stories of He, She & They, three people living in the same post-industrial northern town. As seasons pass, we follow them as they attempt to deal with the fear, pressure and uncertainty of everyday life.
Tensile Strength (or How To Survive At Your Wit's End) is a show about the world we live in now – we all worry about work, about family, about break ups, but why do they cause us to so feel stressed? This is a show which poses some urgent questions to a society which just can't seem to relax anymore.
Click here to learn more and book tickets. 
---
Fun for little-ones this Spring

In May the Coliseum welcomes two fantastic family shows sure to delight little-ones and their grownups: Northern Ballet's Puss in Boots and a stage adaptation of popular children's book The Tiger Who Came to Tea.
On Friday 10 May Northern Ballet present their 40 minute ballet for children based on the much-loved children's story Puss in Boots. Puss is no ordinary cat. Clever and charming, he takes life in his stride and befriends everyone he meets. The only thing is, he always seems to bring his master, Jack, bad luck. Join Puss and Jack on their adventure as they meet a flurry of loveable characters, and even come face-to-face with royalty.
With sell-out performances and a string of successful CBeebies TV adaptations, Northern Ballet's shows for children are the perfect opportunity for little ones to enjoy live ballet, music and theatre. Suitable for ages 3+ Click here to learn more and book tickets.
On Saturday 11 and Sunday 12 May we welcome a stunning stage adaptation of the classic tale of teatime mayhem  The Tiger Who Came To Tea. The doorbell rings just as Sophie and her mummy are sitting down to tea. Who could it possibly be? What they certainly don't expect to see is a big, stripy tiger!
Packed with oodles of magic, sing-a-long-songs and clumsy chaos this show comes to the Coliseum on tour direct from an Olivier nominated run on London's West End. Suitable for ages 3+. Click here to learn more and book tickets.
---
The Jigsaw Foundation
We were excited attend the launch of The Jigsaw Foundation earlier this month – an initiative allowing community groups, charities and Jigsaw Homes Group customers access to funding to improve their neighbourhoods.
The Coliseum has been in partnership with Jigsaw (previously New Charter Homes) for five years, and with their support we've been able to deliver training, theatre activities and access to brilliant plays for all people from our local communities.
Jigsaw marked its first anniversary since its merger with New Charter Group on 3 April by opening applications to its new £50,000 community fund and launching new action plans to improve neighbourhoods. Residents, charities, social enterprises, voluntary groups and local agencies are invited to bid for a share of the money towards projects involving health and well-being, employability, financial inclusion, the environment and encouraging enterprise and training.
Learn more about The Jigsaw Foundation here.
---
Three Emos: A new musical exploring dementia from the perspective of grandchildren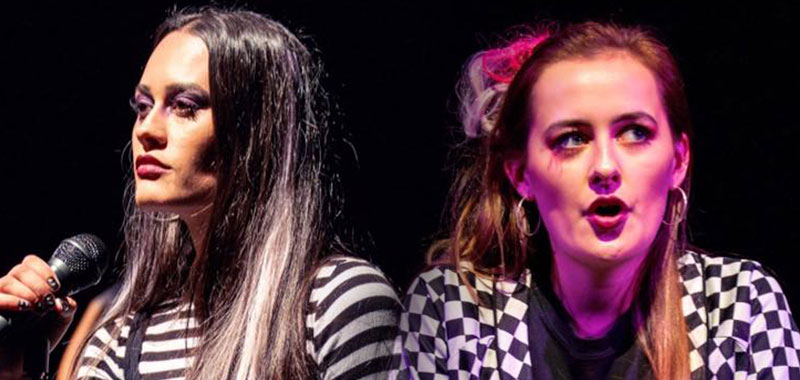 Next month the Coliseum welcomes Smashing Mirrors to our Studio Theatre with Three Emos, a new musical about gigs, grandparents and clashing generations.
Nat, Ruth and Liv spend their days working dead-end jobs and evenings playing open mic nights, but when Nat's Gran is diagnosed with dementia their lives change in ways they never could have imagined. With an original rock soundtrack, generations collide and come together in this tale of finding inspiration in the most unlikely of places.
Elizabeth Godber (daughter of prolific playwright John Godber) wrote Three Emos with the help of Dementia Friendly East Riding and Butterflies Memory Support Group. What emerged is an entertaining piece of drama with enjoyable songs and comedy, which also highlights the universal topic of dementia.
June from Butterflies Memory Support Group said: "Elizabeth got in touch with me before writing Three Emos, and the whole cast did the dementia training that we offer. One of the problems we have is the negative language often used when talking about dementia, but Three Emos takes a very positive, user-friendly approach."
Elizabeth Godber has previously written for Leeds Playhouse and Hull New Theatre and has had work performed at Hope Mill Theatre. Three Emos is her first national tour. It comes to the Coliseum Studio on Wednesday 15 May. Click here to learn more and book tickets.
---
Visitors: A story for every generation
Our new production of Visitors is about the relationships, differences and similarities between generations. We invited representatives from the older generation – former House Manager and Coliseum advocate David Rustidge – and the younger generation – Young Rep member Rowan Curran – to join us during rehearsals to hear the play and share their views. 
.

In the video above David Rustidge talks about the representation of older people in popular culture, whilst Rowan discusses mental health and how people coming of age today are more comfortable talking about it and seeking help than their parents and grandparents.  
The two men also discussed how the play spoke to them individually, as they each related to the characters who are their age. 
Visitors runs from Thursday 18 April – Saturday 4 May. Click here to learn more and book tickets.
---
Learning and Engagement: Get involved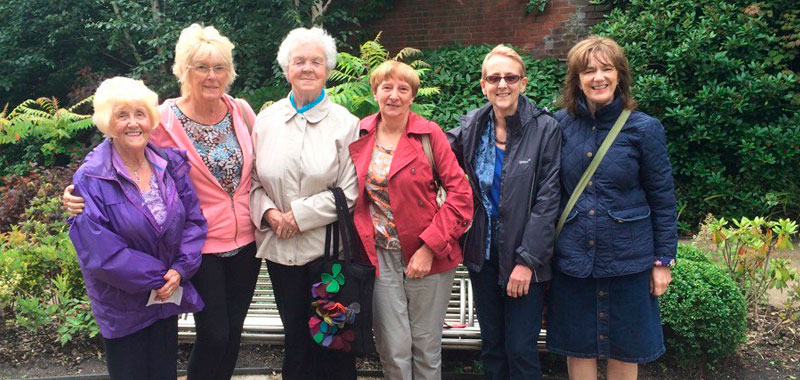 We're passionate about making the Coliseum an accessible and creative space for our community. As part of our Adults, Arts and Health programme we deliver a range of activities designed to bring people together both in the theatre and within community settings.
Full Circle Workshops
Full Circle is a thriving group for adults aged 50+ that meet every fortnight for a range of arts related talks and workshops. Sessions run from 10.45am – 1.15pm with lunch and social time until 1.45pm.
Upcoming dates:
30 April
14 May
28 May
25 June
9 July
23 July
6 August
Dementia Friendly
Our dementia friendly workshops focus on storytelling, puppetry and prop making and are delivered in partnership with Horse and Bamboo Theatre. The work will culminate in a small festival in the summer. Sessions run from 11am – 12pm.
Upcoming dates:
30 April
30 April
14 May
28 May
25 June
9 July
23 July
6 August
Booking is essential as places are limited. However, we know that things crop up and understand if you're unable to make it on the day. To book your place phone 0161 624 2829
Local Lives
We're working with Regenda Homes, who are leading on the Thriving Communities initiative in Hollinwood, to explore the lives of local people. Whilst developing a performance sharing based on people's relationships to the area and their life stories, the sessions aim to combat social isolation. If you live in Hollinwood and feel this project would benefit you or someone you know please contact Beckie Kirkland on 0151 703 3541 or email thrivinghollinwood@regenda.org.uk.
---
Relive Beatlemania with The Cavern Beatles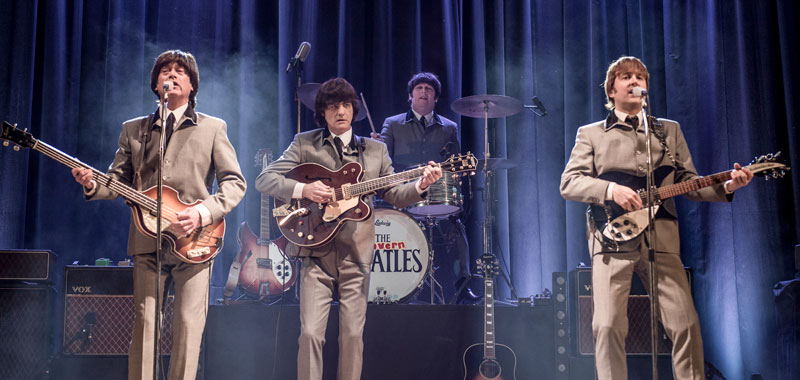 On Wednesday 8 May the excitement and energy of Beatlemania comes to the Coliseum with The Cavern Beatles.
On February 9th 1961, The Beatles made the first of their 292 appearances at the now legendary Cavern Club in Liverpool. The Cavern Beatles are a tribute Beatles band fully endorsed and licensed by The Cavern Club, presenting a magical history tour through the works of the greatest ever pop music phenomenon.
Four costume changes and lighting scenes compliment the changes in musical complexity through Beatlemania, the psychedelic era of Sgt. Pepper, and the creative masterpieces of The White Album and Abbey Road.
The Cavern Beatles are one of only a handful of Beatles tributes worldwide that executes their entire show completely live with just the four musicians. The band's cast members, as well as being talented instrumentalists and singers, are hugely dedicated Beatles fans, intent on recreating their individual character on stage and are widely regarded as being as close to the real thing as possible.
Click here to learn more and book tickets.
---
Race for Life in Oldham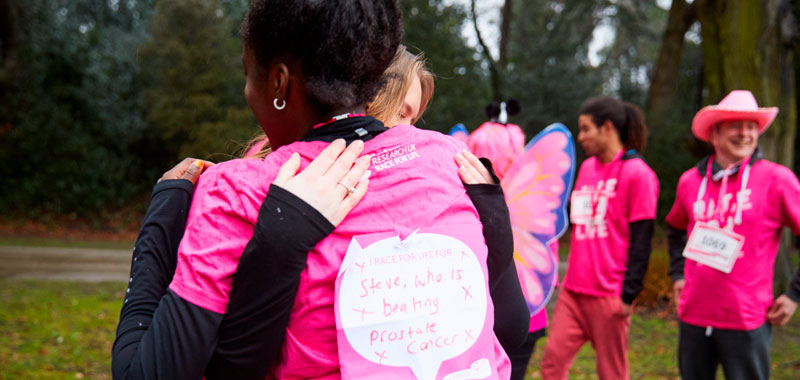 This year, for the first time, Cancer Research UK is inviting everyone in Oldham – women, men and children – to join Race for Life in Alexandra Park on Sunday 23 June.
Race for Life is anything but a race. It's a time to get together with friends and family and show cancer it won't win. It's not about being the fittest or the fastest, it's about crossing the finish line any way you want. Beating cancer doesn't take gold medal-winning athletes. It takes someone much more important; you. 
Taking part in Race For Life costs just £14.99 for adults and £10 for children (under 6's go free). Whether you take part because cancer has affected you or someone close to you, you're motivated to beat it. That's all you need. 
If you would like to support Race For Life as a volunteer on the day, whatever time and skills you have to share, there is the perfect role for you. Bring your energy, smiles and passion to the party and you can help to join the fight against cancer.   
For more information and to join the Race for Life visit raceforlife.org.
---
Spotlight on: Caitlin Gleeson, Women's Group Facilitator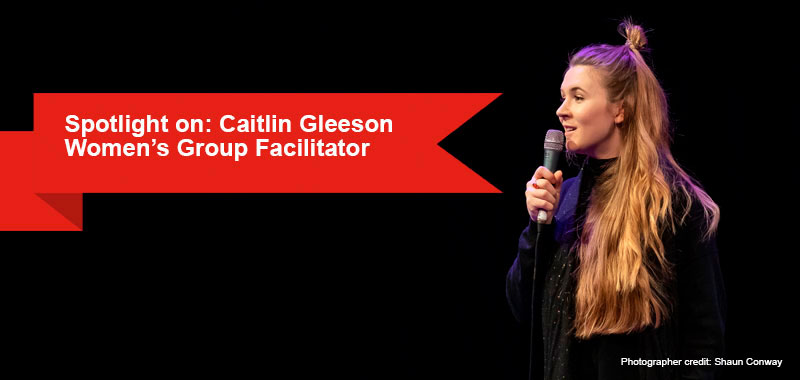 Introducing Caitlin, our facilitator for the Coliseum's weekly Women's Group in association with Jigsaw Homes. 
How long have you worked at the Coliseum?
Two and a bit years.
What is your favourite production that you've seen at the Coliseum?
I really enjoyed the Community Partnerships event last year. It was brilliant seeing insightful, clever and beautiful shows from so many different community groups, and the pride and joy they had in taking over the main house to share their creations.
What is your favourite aspect of working at the Coliseum?
It's hard to pick one! I absolutely love my role. The ladies I get to work with are a huge part of this – they are so brilliantly creative and throughout my time working here I've got to know them really well. It's lovely being able to come up with projects together and we make shows and installations that interest them, that develop new creative skills, and that question and adapt well known stories. I also love being part of the amazing Learning and Engagement team who are always really supportive and inspire me to think differently about my work.
What are you currently working on?
This term we've been looking at the story of Hansel and Gretel – we've explored different characters, themes, and how we might adapt the story for a modern audience. As well as discussion and storytelling we've been doing lots of visual arts – in particular how we can create the fairytale world that the story takes place in, and have nearly finished creating a mini installation to showcase our work. We've even built a model gingerbread house.
What are you currently looking forward to?
I'm looking forward to sharing our work with an audience. I also can't wait to start a new project next term inspired by Lotte Reiniger who created the most beautiful animations in the 1920s and 30s.
Can you tell us an interesting fact about yourself?
I'm currently making a show about astrophysics and the discoverer of dark matter, Vera Rubin.
---
Customer Experience Volunteers: Join us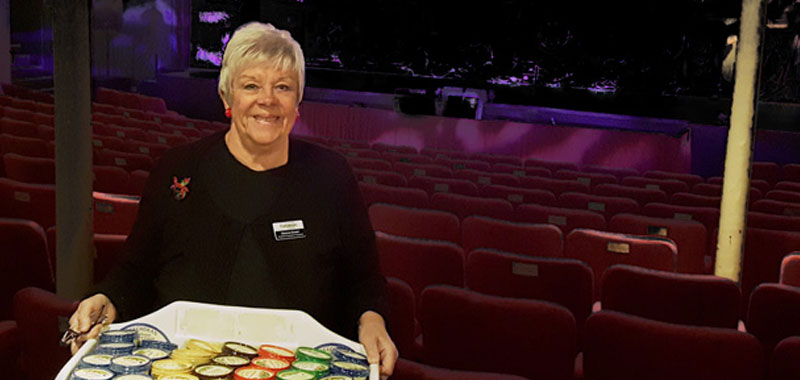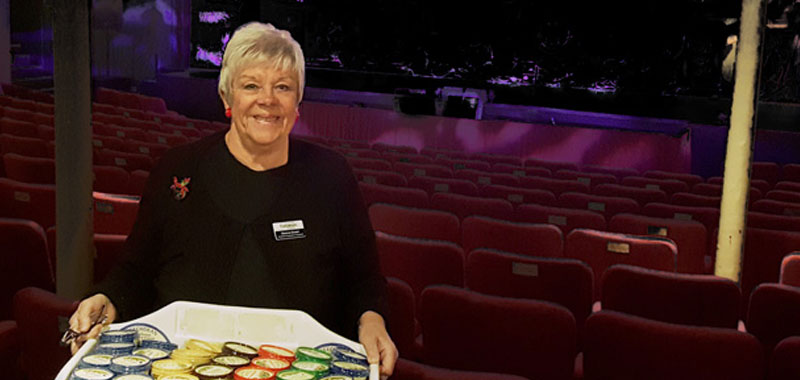 We're always on the lookout for friendly and reliable people to join our team of Customer Experience Volunteers, who help to look after our audiences from greeting them in the foyer, to selling programmes and ice creams, taking them to their seats and much more.
Customer Experience Volunteers must be 18+ and able to commit to a minimum of three months volunteering with us. No experience is needed as full training is provided.
Click here to learn more about becoming an Oldham Coliseum Theatre Customer Experience Volunteer or contact Heather Shaw, House Manager,  by phone on 0161 785 7021 or email heathershaw@coliseum.org.uk.
---
Oldham Coliseum Theatre gratefully acknowledges funding from:

Oldham Coliseum Theatre is a Registered Charity, No: 508829.
Oldham Coliseum Theatre Ltd Reg No: 1415547