April 2018 Newsletter
This month we opened our production of Relatively Speaking, welcomed community and youth groups from across the borough to perform on our stage and started preparations for our next production, Shelagh Delaney's A Taste of Honey. 
We're also imploring everyone who enjoys coming to the Coliseum to sign the petition and help spread the word about the #SaveStageLighting campaign to protect the futures of all theatres and venues.
Read all about it – plus even more updates on what's going on behind the scenes here at the Coliseum – below.
See you in the stalls,
Kevin Shaw
Chief Executive & Artistic Director.
---
Relatively Speaking is a masterclass in comedy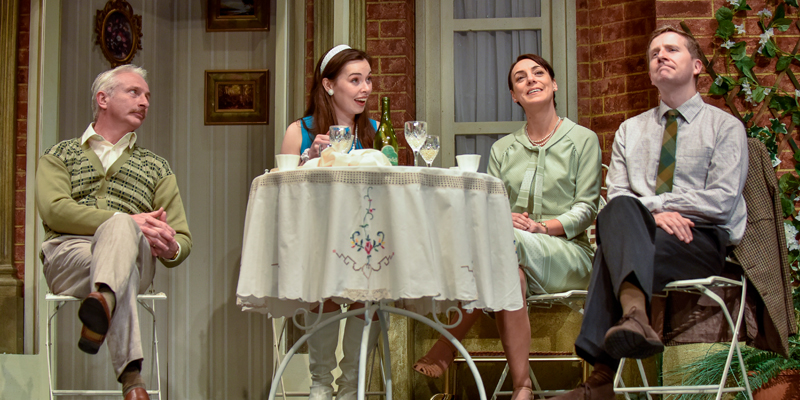 We opened our production of Relatively Speaking last week to rave reviews from audiences. Alan Ayckbourn's comedy of misunderstanding involves two couples, one young and cohabiting, and the other married and frought. When Greg finds a pair of strange slippers under the bed he decides to follow girlfriend, Ginny, thinking that she's visiting her parents. What follows is a combination of twists and turns, plus a smattering of infidelity…
"A masterclass in comic misunderstanding"
★★★★
–The Stage
Relatively Speaking was Ayckbourn's first West End hit. It first opened in July 1965 as Meet My Father at the Library Theatre, Scarborough, directed by Stephen Joseph. On 29 March 1967 it transferred to the Duke of York's Theatre in London's West End, where, under the new title of Relatively Speaking, it ran for more than 350 performances.
Our production is directed by Robin Herford, who spent much of his early career working with Alan Ayckbourn at the Stephen Joseph Theatre in Scarborough and has appeared in the original production of more Ayckbourn plays than any other actor. In 1977, Robin performed as Greg in Relatively Speaking at the Stephen Joseph Theatre, directed by Ayckbourn himself.
"A very entertaining production"
– British Theatre Guide
"The laughometer certainly moves up several gears"
★★★★
– Remote Goat
Relatively Speaking runs until Saturday 5 May. Tickets are available online here, at Box Office or by phoning 0161 624 2829.
---
#SaveStageLighting: Help protect the future of the entertainment industry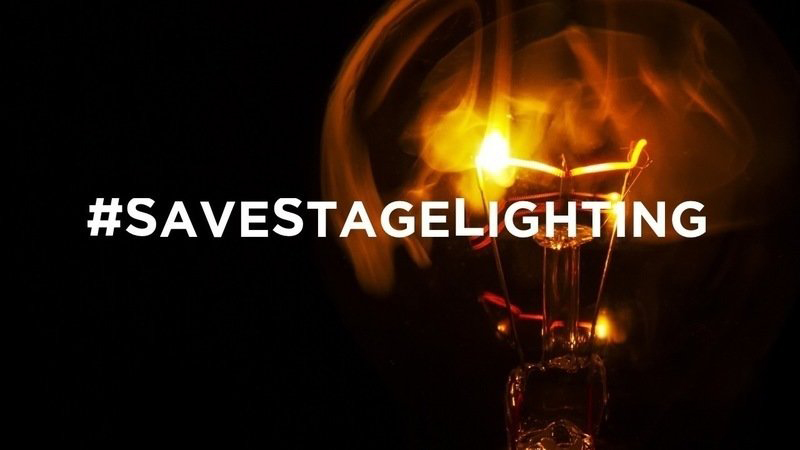 The Coliseum has over 300 lights, which we use to light our Main Auditorium and Studio Theatres, but a current threat being made to the way theatrical productions are presented would make them all obsolete. The Association of Lighting Designers has launched a campaign to protect the futures of venues and theatres across Europe. If you love going to the theatre, music gigs, festivals or events, please read on…
The European Union (EU) is proposing to change the rules that govern the light sources used in theatrical productions, bringing the vast majority of quality theatre lights under the same rules that govern domestic and office and industrial lighting. The existing version of these regulations includes an exemption for stage lighting, but  these changes will dramatically affect the equipment available, and in doing so have a hugely detrimental effect on the whole entertainment industry.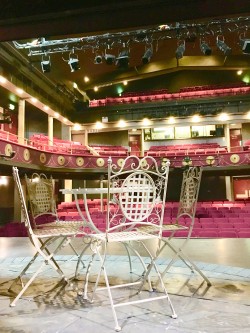 "Some of the lights being used in Relatively Speaking are up to 70 years old, others are brand new this year, and we maintain them here at the Coliseum. They still light just as beautifully as they did back then and they would all be headed for the bin if these new legislations came in. At the moment there are no replacements for those that would pass the requirements of the new law."  
– Lorna Munden, Chief Electrician, Oldham Coliseum Theatre
Under the proposed new regulations, which are due to come into force in 2020, the minimum efficiency requirement is unobtainable by all current theatre lighting fixtures which use traditional tungsten light bulbs. It also turns out to be unobtainable by many of the new generation of specialist LED theatre lighting fixtures, and the general opinion from manufacturers is that achieving these energy standards will be impossible by 2020, and possibly beyond.
"This means the quality of lighting across the country would drop entirely. Even the big West End theatres or those with huge subsidies would not be able to light their shows well, since the high quality LED replacements that have been developed over the last few years would be obsolete."
The goal of the new regulations is to improve the efficiency of lighting products, however studies in recent years have shown that stage lighting typically accounts for less than 5% of a theatre's total energy consumption. This is because each lighting fixture used for a production has a particular function; the fixtures are rarely, if ever, all on at the same time. And performance lighting is usually only on for a few hours a day, during a performance. The money spent on replacement of existing theatre lighting systems with poorer quality equipment is money not being spent on reducing the other 95% of a theatre's energy consumption, where much greater energy savings are possible.
Please help by signing the petition
The #SaveStageLighting Campaign aims to demonstrate to the EU Energy Directorate the widest possible cultural opposition to the new proposals. We are encouraging everyone to sign and share the petition here 
To learn more about the #SaveStageLighting Campaign visit the ALD website
---
Next up: A Taste of Honey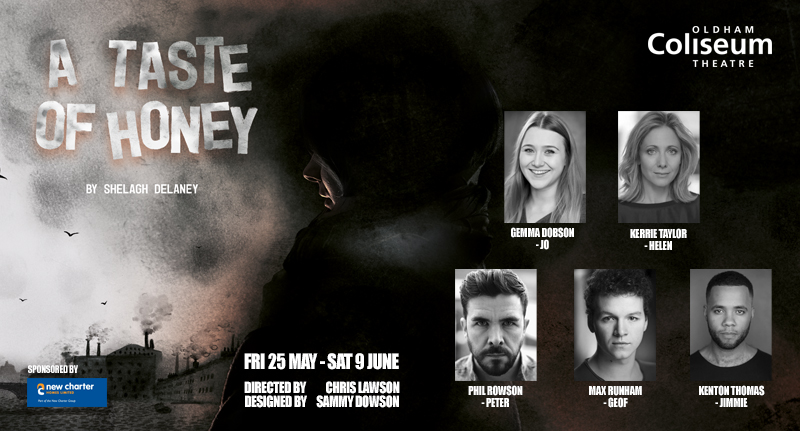 60 years ago, a teenage writer from Salford took the world by storm with her groundbreaking debut play, A Taste of Honey. Shelagh Delaney was Britain's first working-class female playwright, and her play caused an immediate sensation with its unflinching depiction of class, sexuality and race.
Recognised as the pre-cursor to Corornation Street and one of Morrisey's lyrical inspriations, A Taste of Honey is a gritty play about a mother and daughter trapped in a destructive and resentful love-hate relationship. Jo's ambition is to separate herself from her alcoholic mother, Helen, who dominates her life. Can she stop herself from becoming the one thing she never wanted to be – just like her?
A Taste of Honey was one of the finest examples of the 'kitchen sink drama' born in the 1950s; in the wake of the Second World War a new breed of writers decided that it was time to give working class characters, and working class stories, a heart and soul. It premiered at Theatre Royal Stratford East in 1958 and transferred to the West End the following year. In 1961 it was adapted in to a classic film starring Rita Tushingham and Dora Bryan.
The Coliseum's production of A Taste of Honey will be directed by Associate Director, Chris Lawson, and features Gemma Dobson – who made her professional stage debut as Sue in the famous re-instated run of Rita, Sue and Bob Too at the Royal Court, London earlier this year, as Jo; and Kerrie Taylor, who is best known for her previous role as Beth Enright / Beresford in ITV's Where The Heart Is, as Helen.
A Taste of Honey runs at the Coliseum from Friday 25 May – Saturday 9 June. Learn more and book online here.
---
Studio Theatre: Rogue Bones takeover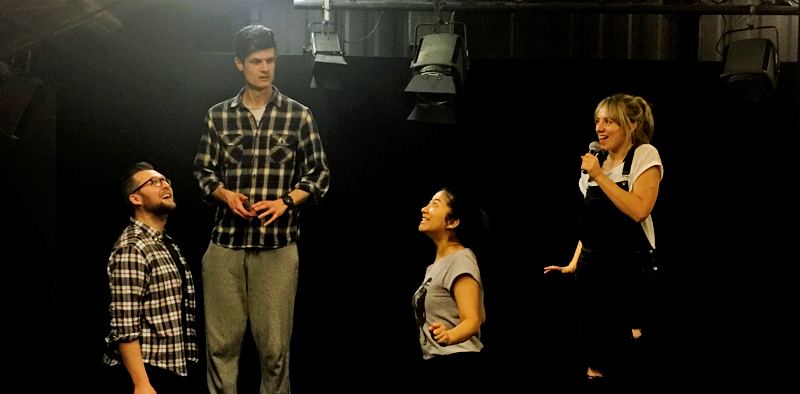 This week Rogue Bones have been at the Coliseum as part of our new studio take over programme. On Wednesday they presented Selfies Kill More People than Sharks, and this evening is their rehearsed reading of Making Love by Amie George.
Selfies Kill More People than Sharks is a show which takes an irreverent look how we use social media and smart phones. The brilliant cast of local actors include:  Ryan Gilmartin (who recently wrote a piece for the Coliseum's Secondary Education Partnership Scheme), Amie George, Houmi Miura and Charlie Ryan. Making Love is a work in progress, developed through the London's Royal Court Writers Programme. It looks at love in the modern age, loneliness and err… silicone dolls. Is it possible to have a relationship with someone who isn't real?
Rogue Bones formed in 2016 and coordinated Shoots Scratch Nights at The Lowry, showcasing new work.  This was also performed at Paines Plough's Roundabout for the opening of the award-winning show Growth by Luke Norris. As part of Greater Manchester Fringe Festival 2017, they premiered their production of Vinay Patel's Free Fall. 
The company was founded by Amie George and Kash Arshad. In addition to co-directing Rogue Bones, Amie is a writer and actor whose work has featured before at the Coliseum as part of the First Break Festival 2017. She will also be leading our Scribbles play writing workshops this term. Kash is currently Trainee Artistic Director at Freedom Studios and Associate Director on Ben Tagoe's When We Were Brothers. He was also, once upon a time, an Assistant House Manager at the Coliseum.
Learn more about Making Love and book tickets here.
Learn more about Rogue Bones on their website.
See what's coming up in the Coliseum Studio.
---
Civic Night welcomes Oldham's business community to world premiere production

The Coliseum's annual Civic Night welcomed friends and supporters from Oldham's vibrant business community and Oldham's Mayor, Councillor Shadab Qumer, and Mayoress, Sobia Arshi.
Guests from Capita, Oldham Hulme Grammar School, Innovative Technology, Jigsaw Housing and The Stoller Charitable Trust joined the Coliseum's team and our Council colleagues to enjoy the theatre's world premiere adaptation of Whisky Galore. At an interval reception guests heard from Cllr Shadab Qumer and Chair of the Board, Gail Richards, who discussed how culture and the arts play a key role in Oldham's future and success.
"The theatre strives to serve all Oldham communities and our relationship with businesses is no different, where delivering impactful positive partnerships is central to the Coliseum's activity as a key assist for Oldham."
– John Edwards, Development Manager & Lead Capital Fundraiser
Philip Goulding's new adaptation of Compton Mackenzie's comedy classic proved a hit with audiences, with a cast of seven women playing a total of 26 characters.
Following its three week run on the Coliseum's stage, Whisky Galore is now on a national tour, visiting eight theatres across Britain including: The Haymarket, Basingstoke; York Theatre Royal; Hull Truck Theatre; New Vic Theatre, Newcastle-under-Lyme; Theatre Royal Bury St Edmunds; Cast, Doncaster; Belgrade Theatre, Coventry and Salisbury Playhouse.
To discuss opportunities for how your business can partner with the theatre please contact Development Manager and Lead Capital Fundraiser, John Edwards, on 0161 785 7018 or email johnedwards@coliseum.org.uk
---
Script & Scribbles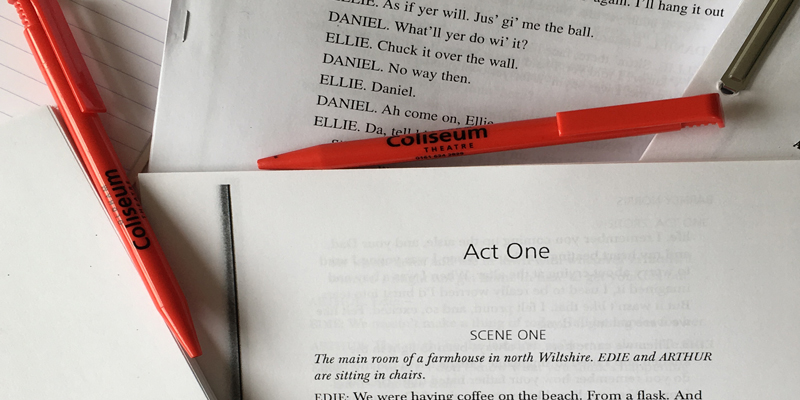 The Summer term of Scripts & Scribbles has just begun with sessions running fortnightly on Wednesdays, 11-1pm at the theatre.
This week was the first session of Scribbles, our writing group for anyone who has an interest in writing for the stage from absolute beginners to published writers. Whether you want to learn different techniques, meet other writers or make the commitment to writing regularly, Scribbles is suitable for you. This term, the group will be led by Amie George, Co-Artistic Director of Rogue Bones Theatre Company. Amie's play Making Love will be performed as a rehearsed reading in the Coliseum's studio on Thursday 26 April. Her work was also featured in last year's First Break New Writing Festival.
The next session of Scripts will be on the Wednesday 2  May. Scripts is a friendly play reading group, exploring a variety of texts chosen by Associate Director, Chris Lawson. During the last term, the group looked at everything from well-known texts such as Alan Ayckbourn's Confusions to Milk by Ross Dunmore which was recently performed at the Edinburgh Fringe Festival.
Pat Merchant, Scripts participant and workshop assistant, has attended the sessions since they began two years ago and read alongside professional actors for the Scribbles performance last year:
"Reading a script out loud brings it to life even though we're not physically acting it out. It means we can have fun reading roles we may not be suitable for, but we can voice with conviction. And if we are not masters of regional or national accents, we just carry on using our own natural one!
As well as reading the scripts we discuss their merits. As a group we have a love for theatre as writers, performers or just regular audience members, so we enjoy a bit of analysis and speculation about how something might work for staging in the Coliseum spaces.
You don't have to read a character part if you would just prefer to listen. You might even find that it increases your confidence for speaking or performing."
This year, the Scripts and Scribbles groups will be working together, producing scripts and reading as part of Cultivate Festival (Monday 25-30 June).  The Scribbles sessions from now until the end of the term will focus on developing short pieces for performances, with guidance from Amie George and feedback opportunities with the other members of the group. The Scripts group will have the opportunity to take part in the performance by reading the final pieces.
Cultivate will take the place of First Break Festival, offering a wide range of workshops and participatory opportunities over a week.  Associate Director Chris Lawson works closely with emerging artists across the Coliseum's programme.
"Cultivate festival provides a great opportunity for those that have attended Scripts and Scribbles to come together and share an afternoon of 'scratch' work, written and performed by the group." – Chris Lawson, Coliseum Associate Director
Scripts and Scribbles sessions are £3 and can be booked through the Box Office. The Cultivate show will be on sale soon, so if you're not able to attend the sessions, come along and watch!
If you have any questions about Scripts or Scribbles, please contact Rose Sergent, Admin Officer, on rosesergent@coliseum.org.uk. to book, contact  Box Office on 0161 624 2829.
---
Season Launch: Be the first to know
On Monday 14 May at 7.30pm we'll be announcing our programme of plays and events for Autumn/Winter 2018-19 at our twice-yearly Season Launch event.
Season Launch is a free evening at the Coliseum where our Chief Executive & Artistic Director, Kevin Shaw, discusses upcoming productions – with special guests, live entertainment and a question and answer session, giving audiences the opportunity to ask Kevin about past, present and future plays and future plans for the theatre.
At May's Season Launch we'll be announcing the plays and events that are coming to the Coliseum stage between September 2018 – March 2019.
Season Launch also gives audiences the opportunity to be the first to book Season Tickets and ensure they get their favourite seats. Box Office is open before and after the event and during the interval. All events for the season will go on general sale the following day.
Tickets for Season Launch are free but must be booked. Book your place at this special event by calling in at Box Office or phoning 0161 624 2829.
---
Learning and Engagement: Community Partnership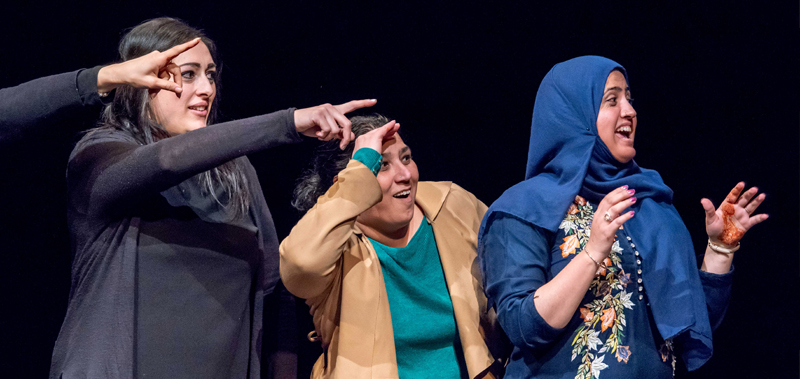 On Tuesday 10 April, the Coliseum welcomed five community and youth groups from across the borough to perform on our Main Stage as part of the Community Partnership Scheme.
Launched in 2015, with funding from Respect Our Community Awards (ROCA), the Community Partnership Scheme gives groups the opportunity to create and share a performance based on the themes of a play in the Coliseum's programme.  The performances celebrate the collective identities of the groups involved and bring them together on Oldham's historic stage.
This year, Northmoor Academy Coffee Morning Group, Oldham Young Carers, 42nd Street Creative Agents, First Choice Homes with Greenacres Primary School & Waterhead Academy and AKSA & New Charter Homes Women's Group created performances in response to Tom Wells' The Kitchen Sink, a modern family drama which had a hit run at the Coliseum in February this year. Featuring a performance from each of the five groups, Home  explored traditions, families, neighborhoods, memories, communities and aspirations.
We spoke to Minaz Aslam, Community Development Officer at Jigsaw Homes, about the AKSA & New Charter Homes Women's Group's performance. 
AKSA & New Charter Homes Women's Group meet at the Coliseum  every week to share and discuss issues that are important to them and get involved in creative activities. Working with theatre maker Caitlin Gleeson, their performance, The Moon, The Stars And Eid, shared  and celebrated their favourite parts of Eid at home through storytelling, movement and comedy.
Why did you decide to get involved in the Community Partnership Scheme?
The ladies have grown in confidence over the last year and were keen to give this a go. It was something new for all the ladies and it sounded like lots of fun. Sommerset house were involved in the Community Partnership Scheme last year from New Charter and they loved it.
How did you come up with the ideas for your performance?
As a group we discussed different positive themes that linked to home and family events that we could easily showcase and we all voted on Eid. Some of the other considerations were a family wedding, a family trip to Blackpool and a family dinner party.
How was your experience performing on the Coliseum's main stage?
It was a great experience and we were able to practice for the main show. It was so nice to be able to put voiceovers, lighting and music to our performance. Performing was fun and we received a great reception from the audience.
What will you take away from your experience being involved in the Community Partnership Scheme?
The ladies have tightened their friendships within the group by working on this performance, everyone played a part and has grown in confidence. They would welcome getting involved in something similar again in the future.
If you'd like to learn more about the work of the Coliseum's Learning and Engagement department, contact LED@coliseum.org.uk
---
Spotlight on: Tom Mackintosh, Box Office Assistant and Front of House Duty Manager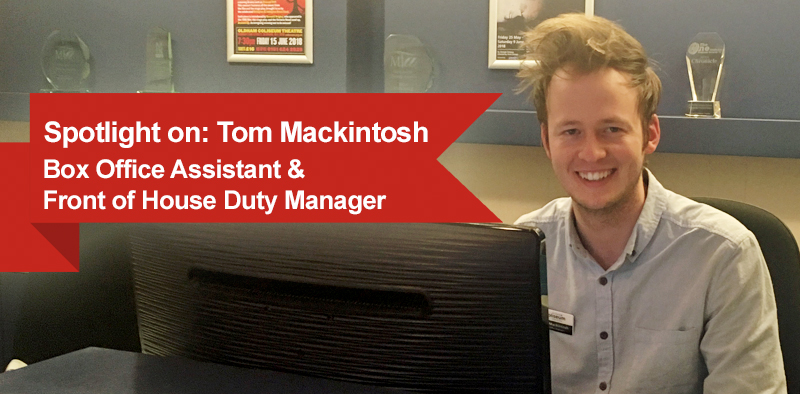 Introducing Tom: Box Office Assistant, Front of House Duty Manager, former Front of House Assistant and script writer.
How long have you worked at the Coliseum?
I joined the Coliseum in November 2016 to help out with the pantomime that year, Sleeping Beauty, and then I was asked to stay and soon became a Duty Manager.
What has been your favourite production since working at the Coliseum?
I was gutted to miss out on Gaslight last year, which everyone told me was brilliant. I think Spring and Port Wine was probably my favourite that I have seen. I get to see all the sets, and Spring and Port Wine was only typical and indicative of the great sets and production value which the Coliseum always produces.
What is your favourite aspect of working at the Coliseum?
I love the people and learning new things constantly. It's great to have the opportunity to witness the inner workings of theatre production, marketing and administration in several areas at several levels, seeing how it all comes together to produce what the Coliseum produces very well. As well as this, as an employee here I hugely value being able to frequently see the work produced all year round.
What are you currently working on?
I now work in both Front-of-House and Box Office and really enjoy being able to work cross-departmentally at the Coliseum, and have enjoyed and valued being able to continually progress here.
What are you currently looking forward to?
I'm massively looking forward to A Taste of Honey. It was a play that I fleetingly came across at university and I can't wait to see it fully for the first time.
Can you tell us an interesting fact about yourself?
I'm from Teesside and I love writing and have had two of my plays produced, as well as two short films. I'm working on a series of further short films later this year. Oh, and I can juggle.
---
Access: Infrared Assisted Listening System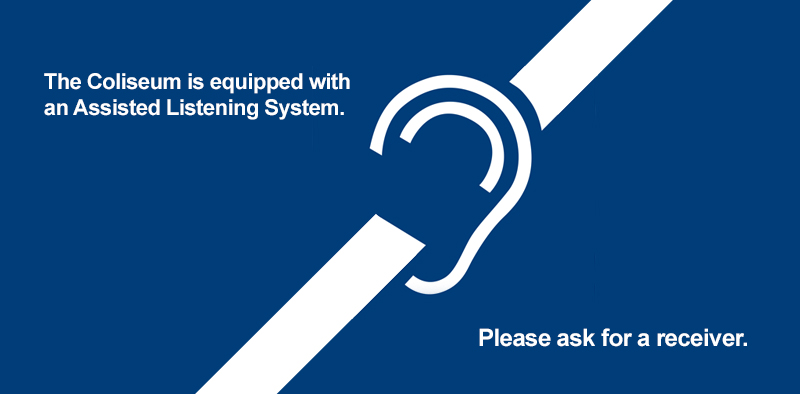 Here at the Coliseum, we're committed to being an accessible venue for all our visitors. As part of this, we have an Infrared Assisted Listening System which helps audience members pick up sounds from our performances more clearly.
The Infrared Assisted Listening System is helpful for anyone who struggles to hear performances, even if you don't wear a hearing aid. It works by reducing background noise and enhancing the volume of the performance via headsets or audience members' own hearing aids. A microphone picks up sound from the stage and transmits it to headsets or hearing aids via the use of our necklace loop receivers.
This means you can focus on sounds, such as an actor speaking on stage, from the receiver rather than all noises in the auditorium.
Our Front of House and Box Office staff are happy to offer you further information and assistance. For full details on the Infrared Assisted Listening System and the best seats to book to use this facility, visit the Access page on our website here.
---
Customer Experience Volunteers: Meet the Team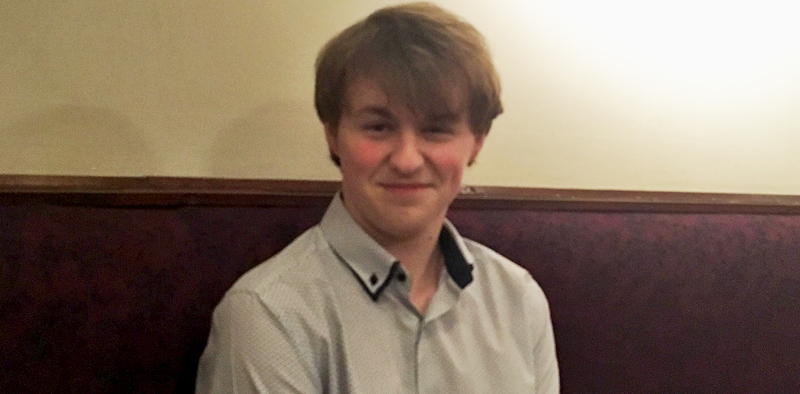 Regular visitors to the Coliseum may recognise Kyle Wilcock, one of our Customer Experience Volunteers   who help to look after our audiences before, during and after performances.
We spoke to Kyle about how he got involved with the theatre:
What are your hobbies and interests?
I've always been interested in history – especially the Victorians. I used to volunteer in a museum with my Grandad so maybe it started there. In September, I'll be starting my degree in History. I'm also a theatre fan and help out at the amateur dramatics society in Milnrow whenever I can.
How long have you been involved with the Coliseum and how did you first get involved?
I've been a volunteer with the Coliseum since 2015 although my Gran and Grandad always took me to watch the panto when I was younger. As I got older, I started watching the season shows with them too and it was then I saw a poster advertising volunteer roles at the theatre.
Why did you become a volunteer?
I always thought the Coliseum had a friendly atmosphere and was different from some of the more commercial venues. It's always been somewhere that's been important to me and I've been involved with different opportunities including TheatreLAB and performing a reading for the theatre's 125th anniversary.
What's the best thing about volunteering here?
I like meeting members of the audiences and chatting to them about the shows, they always have interesting stories and memories of the theatre!
What's been your favourite show since you started volunteering?
I've always loved the pantomime so volunteering with that is fun. I also really enjoyed Hot Stuff; I thought the set and costumes were really good!
Have you learnt new skills since becoming a volunteer?
Volunteering has definitely helped me to become more confident.
What are you looking forward to?
I'm looking forward to the new building, I had a look at the plans at the Fun Palace open day and will be interested to see how the spirit of the Coliseum is incorporated in the new build.
Tell me an interesting fact about yourself
I started volunteering at the age of seven! I used to help my Grandad at the museum he worked at.
Click here to learn more about becoming an Oldham Coliseum Theatre Customer Experience Volunteer or contact Heather Shaw, House Manager,  by phone on 0161 785 7021 or email heathershaw@coliseum.org.uk
---
Customer Experience Volunteers: Get Oldham Working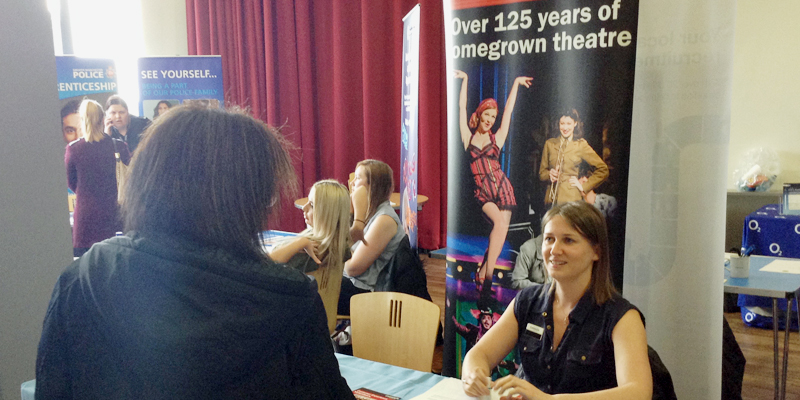 Coliseum House Manager, Heather Shaw, visited the Get Oldham Working event at Oldham Library and Lifelong Learning Centre last week to talk about volunteering opportunities at the theatre. 
Get Oldham Working has created over 3,000 jobs, Apprenticeships and work experience places in Oldham since 2013. It offers people the chance can get right to the heart of the local job market with twice yearly jobs fairs and specialist employer events, and offers help with CV writing and job applications with local job clubs across the borough.
"There was a great turn out for the event and a lot of people took an interest in our Customer Experience Volunteer role. Not only do we provide experience in retail, customer service and offer references it's a great way to make friends and get up close and personal with Coliseum productions."
– Heather Shaw, House Manager, Oldham Coliseum Theatre
We're always on the lookout for friendly and reliable people to join our team of Customer Experience Volunteers, who help to look after our audiences from greeting them in the foyer, to selling programmes and ice creams, taking them to their seats and much more.
Customer Experience Volunteers must be 18+ and able to commit to a minimum of three months volunteering with us. No experience is needed as full training is provided.
Click here to learn more about becoming an Oldham Coliseum Theatre Customer Experience Volunteer or contact Heather Shaw, House Manager,  by phone on 0161 785 7021 or email heathershaw@coliseum.org.uk.
---
Oldham Coliseum Theatre gratefully acknowledges funding from:

Oldham Coliseum Theatre is a Registered Charity, No: 508829.
Oldham Coliseum Theatre Ltd Reg No: 1415547