A look back at Cultivate 2019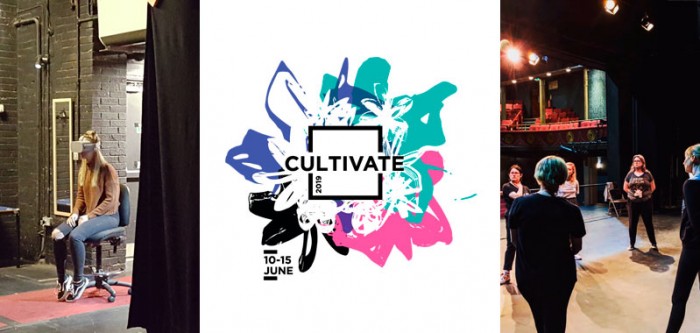 Our second annual Cultivate Festival ran From Monday 10 – Friday 14 June, welcoming 200 people into the building for a host of workshops, talks, experiences and opportunities for theatre upskilling.
Chris Lawson, Acting Artistic Director of Oldham Coliseum Theatre, commented: "Cultivate is a celebration of all elements of theatre including making and an unmissable opportunity for anyone interested in working in the industry. We're proud to contribute toward meeting the demand for accessible and affordable training opportunities in our region."
The packed week kicked off with a creative Puppetry Workshop from Horse + Bamboo on Monday morning where participants were introduced to the key principles of puppetry through the use of simple materials and everyday household objects and then created and manipulated their own paper puppets.
In the afternoon one of the most studied and praised theatre companies working today, Frantic Assembly, led a Physical Theatre Workshop on our Main Stage, an active exploration of the Frantic method of devising, based in empowering people to be better at making theatre from a physical starting point.
Tuesday was a day of Virtual Reality with The Understudy, a VR Theatre Experience by digital artist Grant Archer taking place throughout the day. The Understudy brought one audience member at a time into the role of a new theatre employee, beginning with an introduction to the stage by a Stage Manager, who provided them with a headset for their Health and Safety induction. All was not how it seemed however, as once the induction had started the audience was thrust into the virtual reality of life backstage in the run up to a performance, with actors and creatives all around them preparing to put on a show.
On Wednesday Kaitlin Howard, one of only three women on the Equity Register of Fight Directors, led An Introduction to Unarmed Stage Combat for theatrical and film purposes exploring techniques and safety aspects needed to stage unarmed violent moments convincingly. Participants were put through their paces learning punches, tackles and falls culminating in a short fight sequence.
Later that afternoon Scribbles, the Coliseum's writing group, presented a scene from each of their full length plays in our Studio. The quality of the writers' work was brilliant including a variety of themes and styles and a packed Studio audience warmly offered their feedback.
Thursday saw the Coliseum Cultivate 2019 Open Auditions, where a panel of experts: Chris Lawson, Acting Artistic Director of the Coliseum; Sarah Punshon, current Artistic Director of The Dukes, Lancaster; Casting Director Claire Bleasdale and Joanne Moss from ITV Coronation Street Casting met with 60 actors over the course of the day.
We also welcomed Box Of Tricks Theatre for two workshops: An Actor's Introduction to New Plays and Producing New Work on the Small Scale. An Actor's Introduction to New Plays was a practical workshop focussed on tools, techniques and exercises to unlock scripts and find a route into creating a role, whilst Producing New Work on the Small Scale looked at putting together a team, finding funding and securing venues.
The final day of Cultivate 2019 welcomed Girl Gang Manchester for a theatre-upskilling spin on their popular speed-mating events, Creative Matchmaking. Taking inspiration from dating shows, bad business meetings, teenage sleepovers, Art Attack and agony aunts Creative Matchmaking rebelled against traditional networking events to get people in a room together, meeting new people and having fun.
That evening our Associate Company Rogue Bones hosted their second Write Here, Write Now event, a new writing night with a difference. The writers were been provided with a provocation and only eight days to write a short script and the varied and creative final pieces were served up with tea and biscuits for an audience ready and willing to give feedback on how each performance made them feel.
Here's just some of what people have said about this year's festival:
#Cultivate2019 @OldhamColiseum is a much needed theatre festival, giving back to the artist community in Manchester. Theatre upskilling workshops that are accessible for all & much more. I did @HorseandBamboopuppetry then @franticassembly with the lovely @SeanHollands, learnt lots!
Amazing Physical Theatre workshop with @SeanHollands from @franticassembly. Learnt so much!! #Cultivate2019 @OldhamColiseum is such a great opportunity to learn new skills and meet new people! So excited for my next workshop this afternoon.
A big thank you to @OldhamColiseum and @franticassembly for a brilliant workshop today. Loved learning more about devising through Physical theatre. Can't wait to do more!
Big thank you @KaitlinJHoward @OldhamColiseum for the Stage Combat workshop at #CultivateFestival. I had a brill time, even if I'm feeling the aftermath today! But seriously learnt so much in such a short amount of time…has left me wanting more!
Been feeling the 'rejections' recently cause I'm human that. Just got home from a workshop with @bottc at @OldhamColiseum part of their Cultivate Festival and I feel revived! Thanks for such an engaging, informative morning. Mint when people give up their time to give you guidance