Young People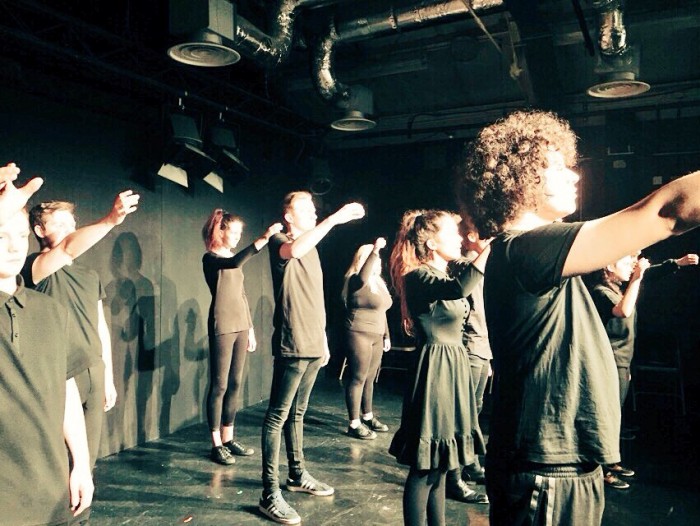 TheatreLAB
From January, TheatreLAB will be working towards staging a condensed version of the Broadway Musical: 13. Working with Ben Hallworth, Learning and Engagement Officer: Young People, the group will use various performance elements to tell the hilarious coming-of-age story about discovering that 'cool' is sometimes where we least expect it.
TheatreLAB is for 13-21 year olds with an interest in theatre and runs on Tuesday evenings, 6pm – 8pm, at a cost of £3 per session or pay what you can. If you have any questions about next term or want to get involved as either performer or part of the creative team, email benhallworth@coliseum.org.uk or call 0161 785 7000.
Rehearsals will be at Oldham Coliseum Theatre on the following Tuesdays in 2018:
9 January
16 January
23 January
30 January
6 February
20 February
27 February
6 March
13 March
The performance will be at 7.30pm on Tuesday 20 March 2018. Tickets can be booked in advance at the cost of £3 via box office on 0161 624 2829.
The Steering Group (TSG)
We're looking for young people aged 13-25 who are passionate about theatre and the community to join our Youth Steering Group. Your voice is critical in helping to shape the projects, initiatives and performances and you'll work on a range of projects and represent the Coliseum at Press Nights (when we launch our shows to the media and to the public). You'll work alongside a specialist mentor who will support you in your continuing learning and development.
This term TSG will be exploring the role of Theatre Producer, and will be producing the main stage TheatreLAB production.  You'll learn all about pitching your ideas for shows, licensing, and programming.
Joining the Steering Group will:
Develop your communication and team working skills
Enhance your personal statement for your UCAS application or CV
Develop your ability to plan and deliver projects
Give you the opportunity to represent the Coliseum and receive free tickets for all press nights
Contribute towards Pledge 10 of the Children's University
The Steering Group is free and takes place on the same Tuesdays as TheatreLAB above from 5pm – 6pm. To join, email benhallworth@coliseum.org.uk or call 0161 785 7000.
Young Rep Company
Our Young Rep Company is an award-winning group of twenty local young actors between the ages of 16-25 who tour high quality children's theatre to family audiences across the North West during school holidays, as well as creating devised work for in house performances. The company was awarded a finalists' prize for Best Group at the Pride in Oldham Awards and three National Awards at The Family Arts Festival, including Best Family Event.
The Young Rep tours are free and usually take place during half term holidays. To find out about upcoming dates please send your name and contact details to LED@Coliseum.org.uk and pop 'Keep me Informed' into the subject line.  Also follow us on social media – Twitter and Facebook to find out when the shows are on.
Next term the company will tour their show, 22 Treasure Lane, across Greater Manchester libraries during the February half term holiday. O2 Think Big have also commissioned the company to devise a performance using digital and technical elements; exploring the link between homelessness and mental health. The performance will be at 7.30pm on Thursday 8 February 2018. To book your seat, contact Box Office on 0161 624 2829.
Play In Two Days: The Lost Treasure
This is our school holiday activity for 8-12 year olds and will run on Thursday 15 and Friday 16 February 2018 between 10am – 4.30pm on both days.
In response to our February Young Rep tour of 22 Treasure Lane, we invite you to journey the Seven Seas in search of missing treasure. Over two days, through drama games and activities, you'll devise your own pirate themed performance.
Play In Two Days costs £20 and the performance will be at 4pm on Friday 16 February 2018. For more information or to book a place please contact Box Office on 0161 624 2829.