Young People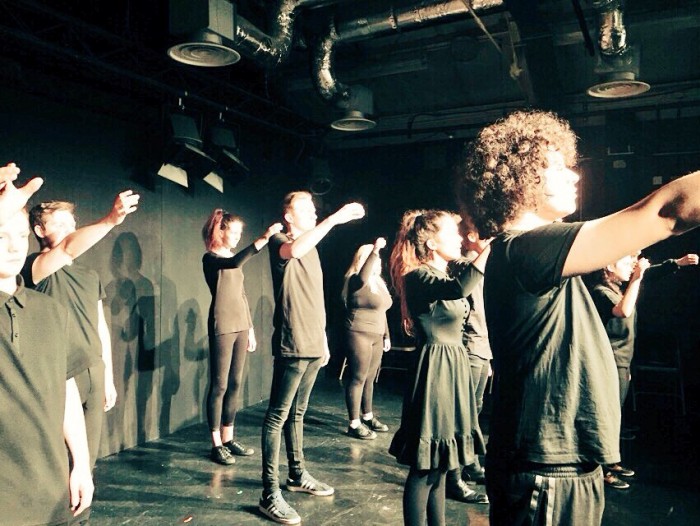 Young Rep Company
16 – 25 Year Olds
The Young Rep is an award winning company of aspiring young actors given access to high quality development and training. 2017-2018 saw the company tour three children's theatre productions around the North West, receive commissioning from O2 to devise a production exploring the impact of mental health on young people, and have access to free workshops at the theatre with a West End Director and other industry professionals. The company was awarded a finalists' prize for Best Group at the Pride in Oldham Awards and three National Awards at The Family Arts Festival, including Best Family Event.
This year the company will embark on a Summer tour in response to the Summer Reading Challenge, and produce their own main stage production. If you are interested in auditioning for the company, email benhallworth@coliseum.org.uk or call 0161 785 7000.
TheatreLAB
13 – 21 year olds
TheatreLAB is our Youth Theatre for 13 – 21 year olds which runs on a Tuesday evening from 6-8pm at a cost of £3 per session or pay what you can. The group explore different forms of theatre and from April 2018 will be working on a main stage production of the Arthur Miller classic and performing 'Extracts From The Crucible'.
If you have any questions about next term or want to get involved as either performer or part of the creative team, email benhallworth@coliseum.org.uk or call 0161 785 7000.
Rehearsals will be at Oldham Coliseum Theatre on the following Tuesdays in 2018:
17 April
24 April
1 May
8 May
15 May
22 May
HALF TERM – Potential additional rehearsal on 29 May
5 June
12 June
19 June
26 June
3 July
17 July
The performance will be at 7.30pm on Saturday 21 July 2018. Tickets can be booked in advance at the cost of £3 via box office on 0161 624 2829.
The Steering Group (TSG)
13 – 25 years old
Free
Our Youth Steering Group runs on a Tuesday evening from 5-6pm and is for young people passionate about theatre. The group have a critical voice in helping to shape projects, initiatives and performances whilst representing the Coliseum at Press Nights. From April 2018 the group will have the opportunity to shadow a UK based theatre company as part of our Cultivate Festival.
Get in! Days
16 – 25 years old
We have recently introduced a 'Day in the Life' where young people have the opportunity to spend a day shadowing one of the following department on one of their most interesting days of the year:
WARDROBE – Monday 21 May 2018
TECHNICAL – Tuesday 22 May 2018
STAGE MANAGEMENT – Wednesday 6 June 2018
PRODUCTION – Thursday 30/ Friday 31 August 2018 (date TBC)
Only two places are available for each day so interest needs to be registered at the earliest convenience.
Arts Award
12 – 21 years old
Beginning in September 2018, a weekly arts award session will run at the theatre on a Tuesday afternoon from 4-5pm where young people can explore an art form of their choice whilst working towards their Bronze or Silver certification.
Summer Youth Project
13 – 25 years old
Following last year's success, join us once again from Monday 20 – Friday 24 August between 10-4pm for an intensive week devising a production from scratch using the lyrics from the Beatles song 'She's Leaving Home' as inspiration. The final show will be performed on the main stage in front of a panel of industry professionals, culminating in individual advice and feedback on your performance. Cost is £20.
If you or your child are interested in any of the above projects, contact Ben Hallworth at benhallworth@coliseum.org.uk or by calling 0161 785 7000
Work Experience Week & College Placements
The theatre is opening up to young people on the following dates for a glimpse into the workings of a producing theatre. This is a chance to meet staff from all departments and get an insight into how they operate on a day-to-day basis through talks and practical workshops whilst also having the opportunity to work on and watch a main stage production at the theatre.
Work Experience Week this year will run for Year 10 students from Monday 2 July – Friday 6 July 2018, 10-4pm.
For Year 12 students and above our College Placement Days will run on Tuesday 26 and Wednesday 27 June 2018, 10-4pm.
To register your interest, or for more information, contact Ben Hallworth on 0161 785 7000 or email benhallworth@coliseum.org.uk.