Emerging Artists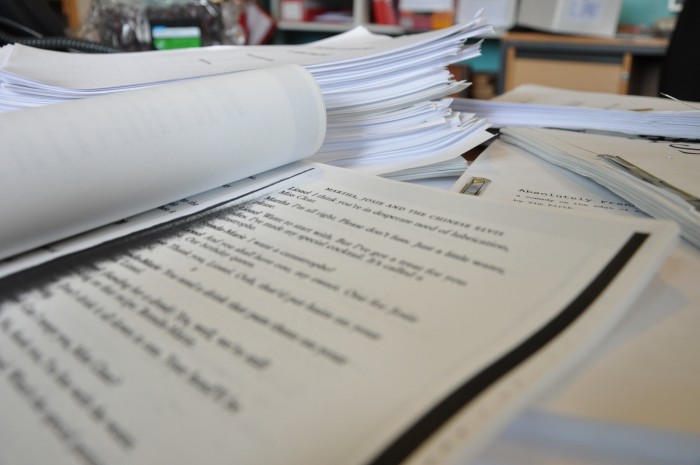 Oldham Coliseum Theatre Studio Artist Development Programme 2017
Oldham Coliseum Theatre Studio is an intimate 50 seat space that's available to artists at different stages of their careers. We want to support artists' work and development and to build mutually beneficial working relationships.  The Coliseum is an active member of the Greater Manchester Producing Theatre Group, which delivers a coordinated and complementary programme of work across the city-region.  The producing theatres work to nurture and support artists and practitioners based in the North, maintaining a critical mass of talent that has established the city-region as a potent alternative of theatre production outside of London.
We're aware of the limitations of our studio space – hence the need for the move to the Union Street site in 2020  – however, Oldham has excellent transport links into city centre Manchester with a tram every six minutes plus we offer a friendly, supportive environment.
2017 Studio Season
The 2017 Studio season runs March – June and September – October.  We don't offer the Studio for hires as our programme is a curated one in line with our overall artistic programming.  We place a particular emphasis on programming companies from across the UK; work with contemporary themes and work that explore issues that impact on our local area.   We also bring work to Greater Manchester that's received critical and audience acclaim at festivals such as the Brighton Fringe and Edinburgh Fringe Festival.
First Break
First Break is our annual festival celebrating and presenting new work, placing artists of all career stages alongside each other to facilitate a lively creative ecology.  There's a mix of completed shows, as well as work that's still in development in the form of rehearsed readings and scratch pieces.  The festival also features workshops and panel discussions.  2017's First Break Festival will run from Thursday 22 – Friday 30 June.
New Writing
We continue to support writers at all levels and have increased our programme for 2017.  Our writers' group Scribbles – led by Cathy Crab, co-writer with Lindsay Williams of our Main Stage shows, Dreamers and Meat Pie, Sausage Roll – runs every other Wednesday in term time beginning on 18 January 2017, 6pm – 7.30pm. (link)   We've partnered with Box of Tricks to support their New Tricks programme.  Our sponsorship continues of Manchester ADP supporting actors, writers and directors.
Workshops and Masterclasses
Workshops and masterclasses are key to developing the theatre maker; we'll be announcing our programme for 2017 very soon where you'll get to work with visiting artists and companies.
Script Reading
We're a small team but we'll read all scripts we receive aiming to return a report within four months.  Please see our script reading service (link) for more details.  We also run a fortnightly play reading group Scripts.  This group gives writers insight into the work that's suitable for producing on our Main Stage or Studio.  The next term starts on Wednesday 25 January 2017, 6pm – 7.30pm.
Spare Room
Although our Studio is at a premium – our space also doubles as our rehearsal room – we offer the space, when available, to artists and companies for R&D and rehearsal at no cost.  This is on a first come, first served basis (just remember to switch the lights off!) and, occasionally, subject to organisational capacity, we can offer those companies who've been part of Spare Room the opportunity of a rehearsed reading so their work is performed in front of a supportive audience.
Secondary Partnership Scheme: Emerging Playwrights opportunity
Oldham Coliseum Theatre is committed to developing the work of emerging artists and companies from across the region. The Coliseum offers a safe and welcoming creative environment to take your work to the next level.
We're calling for early-career writers to get involved in the Secondary Partnership Scheme. The Secondary Partnership Scheme engages many secondary schools across Oldham, Tameside, Rochdale and Manchester. We are looking for four emerging writers; aged 18-30 years to create a 15 minute play in response to a main stage show which will be performed by young people aged 11 to 16.
The fee is £200 for each playwright.
The writers will also benefit from:
A half day introductory workshop with playwright, Rob Johnston, that will focus on the process of writing for young people and developing works for large casts.
Dramaturgical support from the Coliseum, this includes supporting you to structure your piece, write dialogue and build pace in a scene. We will mentor you through the development of your work.
Your play will be performed by three school groups on the main stage at the Oldham Coliseum Theatre.
Networking opportunities with other writers and industry contacts.
You will need to be available for workshops in July or August.
To apply, please email two examples of your work (up to five pages for each example), a 500 word statement of interest and your CV with contact details. Please send your applications with the subject line 'Secondary Partnership Scheme Writing' to saraheastaff@coliseum.org.uk.
The closing date for receipt of entries is: Monday 26 June.
Talk To Us
If you'd like to invite someone from Oldham Coliseum Theatre to come and see your work, please drop us a line.  Before inviting us, please consider whether your work is in line with what we programme in our Studio and our artistic policy.  Please note, although we can support rehearsed readings and can sometimes offer support in kind, we seldom produce plays in our studio.  Let us know what you're doing and where and we'll do our best to come along.
Oldham Coliseum Theatre is proud to be part of Venues North, please download the Routes In Guide 2017 to help you make a successful approach to venues to present your work in their studio.  This guide will help you make an approach to us.
Chris Lawson – Associate Director